BAL | BUF | CIN | CLE | DEN | HOU | IND | JAX | KC | LAC | MIA | NE | NYJ | OAK | PIT | TEN

On occasion, it's good to set limits.

Of course, I'm talking about fantasy. (Outside of illegal activities, I am very much a person who supports thinking outside the box. If that comes as a surprise, perhaps you are new to my work.) Seriously though, how can we honestly expect to keep fantasy projections realistic if we don't analyze things from a macro perspective? Anyone can say David Johnson is going to get 300-plus carries or Antonio Brown will see 150 targets, but in order to give ourselves a chance to identify the players that typically win leagues - those middle-to-late rounders who outperform their draft position - it helps to be able to see how their workload could actually fit into the construct of their actual NFL team for the coming season.

Over the last two weeks, I went through the process of breaking down offensive coordinator tendencies in the AFC and NFC, highlighting backfield and target shares. That work set the table for this week, as I attempt to use that information to lay the foundation for how much players might be utilized this year. The problem with a lot of fantasy football projections is the math doesn't add up to a realistic team total in the end. Unless you are keeping a close eye on the overall play total for every team in a computer program (like I do with Microsoft Excel), it's easy to have one team finishing with 800 offensive plays and another going over 1,200 when all the individual numbers are calculated. (As a point of reference, most teams run somewhere between 950 and 1,050 offensive plays per season. A few will exceed 1,100, while a handful tend to finish with just over 900.)

As I stated two weeks ago, the one area in which my attribute-based PMA method needed to improve the most was in predicting actual opportunity. I believe I have corrected that flaw with the work I am doing this week, assuming it was even a problem to begin with. It all comes to a head next week, when I begin unleashing Big Boards like they are going out of style.

Especially for this week, I wanted to keep everything short, simple and to the point. The goal: provide quick analysis on one or two of the "team issues" that played a factor into the way I divided the workload for each team. As was the case over the last two weeks, the bolded numbers near the top are the totals for each column. While I tried to accurately project how many pass attempts each quarterback might throw, I ask that you pay more attention to the actual pass attempts and less to the individual breakdown. Also, just about every team finishes a season with several more pass attempts than targets, so if you are wondering why the targets and attempts aren't the same, that is why.

2017 Projected Total Offensive Plays: 1,003
2016 Total: 1,079

With Kenneth Dixon's season-ending knee injury, Flacco's back issue and the team already down four tight ends, it is difficult to nail down a projection of what this roster might look like, much less figure out how the touches and targets will be distributed. Woodhead figures to be as heavily involved as he ever has in his career, while Perriman could join Maclin and Wallace in 100-plus target club if they can all stay healthy.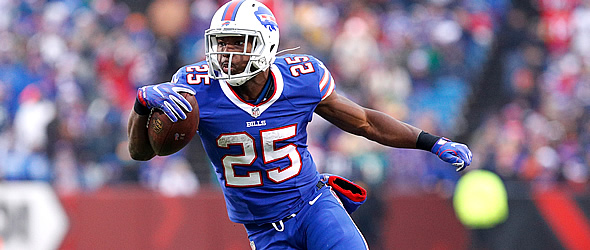 With Jonathan Williams the only real threat for playing time, McCoy is in for another big workload.
2017 Projected Total Offensive Plays: 986
2016 Total: 1,012
McCoy just turned 29, has racked up a fair number of lower-body injuries over the last two seasons (three hamstring pulls, torn MCL and high-ankle sprain) and is already past the troublesome 1,800-carrry mark in his career (1,898, to be exact). The Bills are wise about involving him more as a receiver, but the temptation to overuse him as a runner will be strong. Williams is the only back on the roster besides McCoy capable of giving the team a capable running game, which is a problem for an offense that will strive for balance.
Speaking of injury risks, Watkins' projection assumes he will play at least 14 games - a huge assumption to make. Rookie receivers like Jones don't often push for 100 targets, but the Bills aren't going to have much choice but to look his way if Watkins fails to hold up yet again. McCoy has to stay healthy for more than 12 games for the first time in three years (he was far less than 100 percent in at least three contests last season) and isn't going to draw many more targets than what he is projected for here. Clay is a regular on the injury report. In other words, a number of likely events could take place which would provide Jones a path to 10 targets per game.
2017 Projected Total Offensive Plays: 1,030
2016 Total: 1,050
The debate about how touches will be distributed in the Bengals' backfield figures to remain a hot topic in fantasy well into the season. There is the narrative that suggest Cincinnati would not have opened itself up to all the criticism it knew it would receive for drafting Mixon if it did not intend on featuring him. There is also the recent history of the Bengals, who have recorded at least 446 rushing attempts and given running backs roughly a 20-percent target share in each of the last three years. (All told, that's roughly in the neighborhood of 550 potential touches at a minimum.) Hill figures to remain a fixture in short-yardage and goal-line situations, while Bernard has been so impressive early in camp that the team may have no choice but to give him more work than expected. Last but not least, Mixon handled a total of 300 carries in two seasons at Oklahoma. Sure, he has all kinds of ability and is built like a feature back, but wouldn't we like to see him handle a huge workload in at least one season before we pronounce him the every-down back in Cincinnati?
2017 Projected Total Offensive Plays: 976
2016 Total: 983
Mary Kay Cabot of the Cleveland Plain Dealer recently suggested Johnson is the leading candidate to win the slot receiver job for the Browns. If this turns out to be the case, Johnson's already minimal role as a runner could decrease (even if he continues to serve as Crowell's backup on the depth chart), leaving Wilds and Dayes as the potential early-down replacements for Crowell. HC Hue Jackson publicly called himself out this offseason for not sticking with the run long enough in 2016. The potential shift of Johnson to more of an "offensive weapon" role and the lack of proven depth behind him means Crowell has a great shot at seeing a significant increase in work.
Owners in deep leagues who don't mind carrying two tight ends really need to consider DeValve. Njoku is the future of the position, but the Browns figure to use two-tight sets just about as much as any team in 2017. The team has raved about DeValve all spring and summer, and it is never a bad idea to chase a tight end who comes attached to a young quarterback (or two, in this case) on a team that lacks playmakers.
2017 Projected Total Offensive Plays: 1,014
2016 Total: 1,020
The projection above suggests Anderson will be unable to finish yet another season. With that said, the move away from Gary Kubiak's outside zone-running system to one that features more man-blocking principles should allow Booker to blossom in 2017. The additions of LT Garrett Bolles and RG Ronald Leary should help as well.) Expecting anyone to take control of this backfield - given the talent and OC Mike McCoy's recent history - is probably asking too much, which is why it is probably safe to avoid everyone at their current draft cost except for maybe Booker.
Perhaps even more than the DeValve recommendation above, Derby is worth your consideration late in deeper leagues as well. Dating back to his first tour of duty in Denver, McCoy has been able to coax decent seasons out of Jacob Tamme, Joel Dreessen and Tony Scheffler - none of whom bring as much talent to the table as Derby. Green has shown he is not going to be a receiving threat in this league, while fifth-round draft pick Jake Butt is recovering from an ACL tear last winter and may miss the first half of the season.
2017 Projected Total Offensive Plays: 1,038
2016 Total: 1,071
If the Texans are going to hold off the Titans (and possibly the Colts) for their fifth AFC South title in seven years, it will likely be because two players who are almost completely off the radar in most redraft leagues took the next step in their career: Braxton Miller and Anderson. Miller is a phenomenal athlete who is still learning his position, but his continued growth as a slot receiver will take this offense to another level. Remember all the passes that went to Fiedorowicz and Griffin last year? Many of those same throws could go to Miller this year. Unlike Fiedorowicz and Griffin, Miller can create big plays on short passes.
Anderson (6-3. 230) may never be big enough to be the full-time tight end in Houston given HC Bill O'Brien's desire to run the ball, but he gives the team a different dimension than Fiedorowicz and Griffin and could end up leading the position in receptions if the Texans ever decide they can open things up (presumably with Watson leading the way at some point).
2017 Projected Total Offensive Plays: 1,030
2016 Total: 1,037
The Colts continue to do a bang-up job in hiding their concern about Luck, but he has yet to throw a football … and that's obviously a problem. Indianapolis remains a flawed team built around a team with a quarterback whose shoulder isn't 100 percent, a 34-year-old lead running back who cannot be expected to hold off Father Time much longer and a defense that still figures to be mediocre despite a number of solid offseason additions. Obviously, the projections above suggest Luck will find a way to be ready for Week 1 (or close to it). And Indy needs it, because there is no way Hilton, Moncrief or Doyle have a chance to live up to their current ADPs in fantasy if he doesn't.
2017 Projected Total Offensive Plays: 980
2016 Total: 1,052
Jacksonville has made no secret it wants to run the ball this year. Unlike Tennessee and Dallas before them, the Jaguars have the kind of talent of defense to make it work but lack the dominant offensive line and capable quarterback. In other words, whereas the Titans and Cowboys made their defense look better by keeping them off the field, Jacksonville will try to use a volume running game and its defense to try to hide an average front five and mistake-prone quarterback. As with any team hoping to run the ball roughly 500 times, there are going to be plenty of opportunities for someone besides Fournette to tote the rock. The rookie is actually one of the safer early-round running backs given his path to high volume and a defense that should keep the Jags in just about every game, but he can only be expected to handle roughly 60 percent of the 600 touches this offense needs from its backs. In other words, the main backup (likely Yeldon) should remain more involved than most second-string running backs and obviously has significant upside should Fournette get hurt.
2017 Projected Total Offensive Plays: 975
2016 Total: 990
Since Hill has little choice but to emerge as the lead receiver in this passing game, I'll focus my attention on the running game. Ware is a favorite of HC Andy Reid, so he's almost certainly going to remain involved. But Hunt is the money pick and the best bet of the two to achieve RB2 value by the end of the season, even if Ware holds onto short-yardage/goal-line work. The Chiefs are not spoon-feeding the rookie, which is a clear indication they want him to play at least an equal role to Ware. The fact he is a more explosive and dynamic player should push him over the top.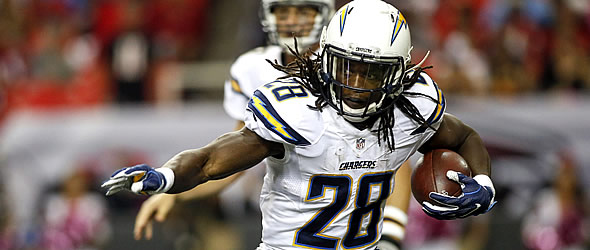 While still an RB1, Melvin Gordon's usage may not be on the level of some of the elite fantasy backs.
2017 Projected Total Offensive Plays: 1,019
2016 Total: 1,014
While owners need not fear a backfield committee in Los Angeles, ESPN's Eric D. Williams recently suggested Andre Williams will play a role, possibly in short-yardage, and said the team does not want Gordon approaching 300 carries. For a team with a defense capable of creating favorable situations in which to run the ball on a regular basis and a coach in Anthony Lynn who wants to take Gordon to "another level", it stands to reason the message here is the Chargers, who plan to use more outside zone runs this season, want to keep their top back fresh by sprinkling in Oliver on passing downs and letting Williams handle the inside runs. This should not be a panic situation for Gordon owners, but perhaps more of an acknowledgment his usage won't be on the level of some of the elite fantasy backs.
2017 Projected Total Offensive Plays: 974
2016 Total: 913
Landry averaged 10.4 targets prior to Ajayi's Week 6 breakout last year and 7.5 targets after, signaling a shift in offensive philosophy that served the Dolphins well down the stretch. Then Miami added Thomas and failed to put much effort into extending Landry's contract. Ajayi has reportedly made huge strides as a receiver to boot, which give the Dolphins a lot of players capable of cutting into the short-area targets that have made Landry a PPR superstar. Right or wrong, it wouldn't be overly surprising if Parker overtakes Landry as the top receiver in Miami because he will be fighting fewer players (Stills) for more valuable targets (down the field and in the red zone). Landry is a poor bet to live up to his early fourth-round ADP.
2017 Projected Total Offensive Plays: 1,061
2016 Total: 1,056
In case their backfield hasn't been unpredictable enough over the last 10 or so years, it's conceivable the Patriots will try to find a way to get all four of their running backs at least 100 touches in 2017. Game script figures to be in their favor enough to keep Gillislee (and possibly Burkhead) happy, while New England's heavy use of running backs in the passing game dating back to Kevin Faulk could mean enough work for White and Lewis.
There seems to be plenty of concern about Cooks' potential involvement in this offense, but owners should probably be more worried about Edelman, whose season really didn't take off last year until Gronkowski was finished. Edelman averaged eight targets through the first nine games of the season and 12.6 over the seven games in which Gronk was either limited or ruled out to end 2016. Cooks can succeed consistently on all three levels of a defense and poses all kinds of problems for defenses with his speed, while Edelman lives mostly within 10 yards of the line of scrimmage.
2017 Projected Total Offensive Plays: 930
2016 Total: 1,003
Perhaps new OC John Morton - a Sean Payton protégé - will utilize his running backs in the same way New Orleans does, because there figures to be plenty of garbage-time production to be had on the Jets' offense this year. Especially considering the lack of proven talent at receiver and the quarterback situation, throwing the ball to the running back may end up being the best way for Gang Green to move the ball. I've projected a Saints-like 24.2-percent target share for the position, but it is possible that rather high bar is still not high enough.
Give Seferian-Jenkins one more chance once he gets off his two-week suspension to begin the season. Just do it. It will cost you next to nothing and could pay off in a big way. He is a former second-round pick who appears to have a handle on the drinking problem that has kept his career from taking off. He reportedly lost 25 pounds in part because he sought help for his dependency issues and is easily the most talented veteran playmaker the team has in the passing game.
2017 Projected Total Offensive Plays: 1,021
2016 Total: 1,040
Traditional fantasy logic suggests players who miss a season for whatever reason need time to shake off the rust and running backs over the age of 30 are bad investments. In Lynch, we have a player who meets both qualifications and was injured for most of the last season in which he did play (2015). So why is he going in the second and third rounds of fantasy drafts? A good offensive line isn't enough justification for that kind of investment. It's hard to imagine he's going to be significantly more effective than Latavius Murray was last year and even harder to believe Washington and Richard aren't going to maintain a similar workload, if only because they bring more explosiveness to the offense. In short, owners are betting on enough short-yardage scores to overcome the distinct possibility Lynch may not reach 200 carries in order to justify a top-30 pick on him. No thanks.
2017 Projected Total Offensive Plays: 989
2016 Total: 1,026
Be it due to injury or design (or part of both), Bell has yet to top 300 carries in a season. This year should be no different, if only because this offense has a chance to be so efficient that it may not require him to be used that much. Additionally, the return of Bryant figures to reduce the Steelers' dependency on Bell, as does the arrival of Conner. Fear not, he will probably finish among the top two or three running backs in the league in terms of overall usage regardless.
2017 Projected Total Offensive Plays: 971
2016 Total: 1,008
HC Mike Mularkey has a long history of feeding his top back, giving the RB1 at least 55 percent of the carries in eight of his 13 seasons as a play-caller. In two of those "non-55" years, the lead back was limited to 11 games and was easily on pace to hit that mark. In the other three, Antonio Andrews, Amos Zereoue, and Rashad Jennings were his lead backs. Thus, rolling the dice on Henry in fantasy this season is a bet on Murray getting hurt and not one on him overtaking the veteran.
Unlike last season, the Titans have a decision to make: maintain their "exotic smash-mouth" philosophy or begin the ever-so-subtle process of turning the offense over to their multitalented third-year quarterback to whom they supplied with a plethora of weapons in the offseason. As you can probably tell from the numbers above, I'm favoring the latter. The real shock would be if any of the receivers or tight ends can exceed 100 targets. That seems highly unlikely in a passing game which may not throw the ball 500 times. More likely, there will be a glut of three or four receivers or tight ends who finish with 50-65 catches.
AFC | NFC
---
Doug Orth has written for FF Today since 2006 and been featured in USA Today's Fantasy Football Preview magazine since 2010. He hosted USA Today's hour-long, pre-kickoff fantasy football internet chat every Sunday in 2012-13 and appears as a guest analyst on a number of national sports radio shows, including Sirius XM's "Fantasy Drive". Doug is also a member of the Fantasy Sports Writers Association.