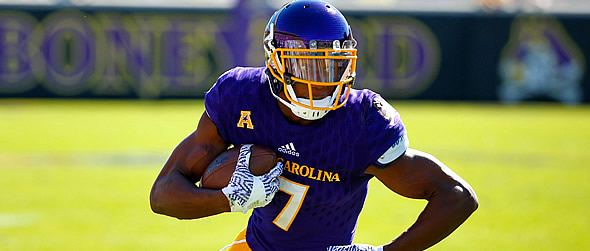 Jones' consistency makes him a solid No.2 WR. At his best, his career could rival Michael Crabtree's.




Vitals



College: East Carolina
Height/Weight: 6'2"/201
Hands: 9"



Important NFL Combine Numbers



40-Yard Dash: 4.45
Vertical Jump: 36.5"
Broad Jump: 11'1"
20-Yard Shuttle: 4.01
3-Cone: 6.79



Background

(College Stats)

The son of three-time Super Bowl champion linebacker Robert Jones (Dallas Cowboys) and nephew of longtime NFL quarterback Jeff Blake, Zay immediately made his presence felt as a freshman, drawing eight starts and finishing second on the team (62 catches, 604 yards and five scores) behind only eventual all-time FBS receptions leader Justin Hardy. Despite playing second fiddle to Hardy again as a sophomore, Jones provided a glimpse of what he was about to become in 2014, finishing third among the American Athletic Conference leaders in receptions (81) and sixth in receiving yards (830). With Hardy moving on to the NFL following the season, Jones became the unquestioned focal point of the offense in 2015, taking home second-team all-conference honors after posting a 98-1,099-5 line as a junior. Perhaps most impressively, he registered a 78.4 percent catch rate and was responsible for 57 first downs. Still, it pales in comparison to his final college season. Jones broke the FBS single-season record in receptions (158) and ranked second in receiving yards (1,746) while breaking Hardy's school and conference single-season records for receptions and receiving yards. Along the way, he also set a school and league single-game record for receptions with 22 against South Carolina, one shy of matching another FBS mark.

High-end NFL Player Comp(s): Michael Crabtree
Low-end NFL Player Comp(s): Mohamed Sanu

Best Scheme Fit: Although he can go deep, Jones would be best suited in a West Coast-style of offense. Short and intermediate routes are his bread-and-butter, and his size/willingness to block should make him an asset as a blocker in the running game as well as an above-average red zone option.

Note: All times listed in parentheses in strengths/weaknesses section reflect the start time on video - via Draft Breakdown - that displays that skill/trait.

Strengths
Effortless hands-catcher who rarely commits a drop and equally comfortable working outside or in the slot (dropped only six of 164 catchable passes in 2016, according to Pro Football Focus).
Loves to work in traffic and over the middle of the field (1:05, 2:47, 3:08, 3:19, 10:18); has no problem adjusting to low/poor throw. (0:12, 1:14, 5:44, 7:13, 9:04)
Understands the nuances of setting up routes (1:53) and settles nicely into or finds hole easily in zone coverage. (3:42, 9:33)
Knows how to use his size, strength and smarts (1:55, 11:04) and wins more than his share of the few 50/50 opportunities he received (3:01, 4:55); few have a better sense of where the first-down marker is.
Not a dynamic blocker but gives great effort and generally does more than enough to make his man a non-factor in the running game. (1:13, 4:25)
Highly regarded among his college coaches for work ethic, character and conditioning.
Weaknesses
Doesn't play to his timed speed; while he has shown an ability to get deep (Senior Bowl, for example) (1:00, 7:30), he figures to make his living on short and intermediate routes.
Precise route-runner but not necessarily make many sharp cuts, due in part to a lack of "twitchiness"; does not create much separation against press/man coverage.
Although he shows a great sense of field presence along the sidelines (2:52, 4:22, 6:53), he occasionally allows himself to drift toward the sideline, which forces the quarterback to make a perfect throw or him to make a brilliant catch. (1:55, 2:52, 3:45, 7:15)
Generally makes the first man miss, is quick to make the transition from catch to run and will put his head down to power through tacklers but is unlikely to create many yards after the catch.
Bottom Line

There are some players who impress with their ability to create "wow" plays, while others turn heads because they are so consistent. Perhaps there was no Division I receiver who was more consistent than Jones in 2016, not only based on his production, but the way he did it. The formula was simple: run a five-to-10 yard route, catch the ball with your hands and repeat. He is almost a machine in that respect; in six of the seven 2016 games I reviewed, I did not see a single focus drop - something I cannot remember saying about any other receiver prospect I've profiled over the years. (He had some balls hit his hands against SMU that were not caught, although I considered all but one of them uncatchable. He has the best hands of any college prospect I've seen in as long as I can remember. That alone may not make him a Pro Bowl receiver, but it sure will make him one of his quarterback's favorite options every week.
Jones is an interesting case in that his triangle numbers (40, vertical jump and broad jump) suggest he should be a much more dynamic athlete than he appears on tape. (After all, a player with 399 career catches should have been able to score more than 23 touchdowns and average more than 10.8 yards per catch, no?) He showed that ability at the practices and game at the Senior Bowl, however, which suggests he was simply playing his high-volume role at East Carolina and didn't beg the coaching staff to feature him in the end zone or use him to stretch the field.
There is no question Jones' numbers are inflated based on the offense he played in and, more specifically, by the number of "pop" passes and bubble screens he caught throughout his career. Be that as it may, Florida boasted four current or future NFL defensive backs in 2015 (S Marcus Maye, CB Brian Poole, CB Teez Tabor and CB Quincy Wilson), and Jones roasted that secondary for 14 catches, 135 yards and a touchdown as a junior. He also had the 22-reception performance against South Carolina. But the fact of the matter is just about every defense knew he was the primary (only?) weapon East Carolina had over the final two seasons of his career. If Jones is the receiver I saw toward the end of the season and at the Senior Bowl (as in he is a vertical threat in addition to the short-range game he showed in college), he needs included among the three receivers who are generally recognized as first-round picks in this draft (Clemson's Mike Williams, Western Michigan's Corey Davis and Washington's John Ross). He's the only one of the bunch that isn't either recuperating from a serious injury or doesn't have one in his past. Yes, Williams is bigger, Davis is more dynamic and Ross is faster, but I feel pretty good about Jones' chances of enjoying a more productive career than at least one of the three, if not the whole bunch. He's at worst a team's highly dependable second receiver. At his best, his career could rival Crabtree's.

---
Doug Orth has written for FF Today since 2006 and been featured in USA Today's Fantasy Football Preview magazine since 2010. He hosted USA Today's hour-long, pre-kickoff fantasy football internet chat every Sunday in 2012-13 and appears as a guest analyst on a number of national sports radio shows, including Sirius XM's "Fantasy Drive". Doug is also a member of the Fantasy Sports Writers Association.