Editor's note: Predict the top ten picks of the NFL Draft for a chance to win FFToday prizes. Enter our NFL Draft Contest now.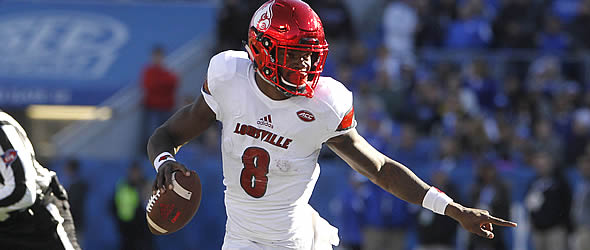 Lamar Jackson: He's among the best athletes in this draft class regardless of position.




Vitals



College: Louisville
Height/Weight: 6'2"/216
Hands: N/A



Important NFL Combine Numbers



40-Yard Dash: N/A
Vertical Jump: N/A
Broad Jump: N/A
20-Yard Shuttle: N/A
3-Cone: N/A



Bio/Background

(College Stats)

Took over the starting job for good in the fourth game of his freshman season and ended the campaign by capturing 2015 Music City Bowl MVP honors after compiling 453 yards of total offense - including a bowl-record 226 rushing yards - to go along with four total touchdowns.


Accumulated 610 yards of total offense and eight combined touchdowns in only one half of action during the 2016 season opener against Charlotte.


Became the first player in FBS history with 3,500 yards passing and 1,500 yards rushing in a season en route to becoming the youngest player to win the Heisman Trophy in 2016, then topped each of his yardage totals as a junior in 2017.


Became only the second player in FBS history and first non-senior to accumulate 4,000 yards rushing and 9,000 passing yards in his career.


Finished his career with 20 straight games with at least one rushing touchdown and one passing touchdown.


Owns 17 ACC and 42 school records.
High-end NFL Player Comp(s): Michael Vick
Low-end NFL Player Comp(s): Steve McNair
Best Scheme Fit: Either a spread offense with heavy run-pass option (RPO) elements or an offense similar to the one Gary Kubiak used to run with significant bootleg action.

Note: All times listed in parentheses in strengths/weaknesses section reflect the start time on video - via Draft Breakdown - that displays that skill/trait.
Strengths
As good of an athlete as there is at the quarterback position and among the best athletes in this draft class regardless of position.


Boasts the same kind of speed, explosiveness and elusiveness as some of the NFL's best scatbacks (0:21, 0:42, 2:08, 2:59, 3:16, 6:21); dynamic runner who can create something out of nothing with his athleticism. (0:18, 2:59, 3:29, 4:09, 10:09, 13:33)


Shows considerable poise in the pocket against the rush (0:44, 1:59, 3:03, 9:43, 9:44, 10:40); manipulates the pocket when necessary and feels pressure in the pocket better than advertised. (1:59, 4:16, 10:25, 12:10)


Occasionally flashes the ability to look off safety/linebacker and move through progressions. (1:37, 1:42, 3:03, 3:20, 9:44)


Much more accurate downfield pocket passer than he is given credit for. (1:42, 2:14, 2:54, 5:28, 8:33, 9:11, 12:01, 12:46, 13:21)


Does not usually default into running mode at the first sign of pressure and is very good at keeping his eyes downfield while on the move (7:49, 9:01, 11:33); understands how his athleticism benefits him passing as much as it does running. (2:33, 2:37)


College offense gave him good exposure to NFL passing fundamentals (high-low reads, pro route concepts, etc.) than many current draft-eligible quarterbacks get in college.
Concerns
Was he used too much in college? Over his final full two seasons as a starter, he amassed a total of 1,331 passing attempts and rushing attempts, including 492 carries.


Will need to exercise more caution as a runner at the next level and avoid situations in which he tries to deliver the blow as a runner (0:24, 2:25, 3:17, 12:56) or otherwise comprising positions. (0:57, 4:37, 7:14)


Struggles with bouts of inaccuracy (his feet are often too close together when this happens), particularly on perimeter passes from the pocket. (0:01, 0:21, 0:51, 1:29, 2:32, 3:03, 5:01, 6:10)


Too many instances in which he either didn't see as much of the field as he should have or put too much faith in his arm strength. (0:58, 5:22, 6:13, 7:22, 9:00, 13:51)


Tried to bail out of the pocket too early at times, especially against opponents with high-end talent on the defensive line (0:26, 3:09, 3:22); sometimes gave up too much ground while waiting for something to open up downfield. (2:22, 5:03, 10:39)


Short-arm thrower who flicks the ball with his wrist more than he passes it in a traditional manner.


Spent 8.4 percent (72 snaps) of his time under center in 2017.
Bottom Line

General managers talk incessantly about adding/acquiring game-breaking offensive talent that can dictate matchups just by their mere presence on the field, then occasionally snub their noses at those players around draft time because they don't fit a certain prototype. For all of their usual faults (usually when it comes to accuracy and general overall feel inside the pocket), quarterbacks like Jackson can be worth their weight in gold because they open up the playbook as much as for offensive play-callers as they limit what defensive coordinators can dial up. Playing zone is almost a must in order to keep 11 sets of eyes on him and disciplined "mush rushes" are almost mandatory, meaning defenses must often play conservatively and hope Jackson makes a mistake. Most of the time, it is a running back or receiver - and a "generational" talent such as Randy Moss or Adrian Peterson at that - who dictates terms to the defense. It is incredibly rare to find a quarterback who can do that. Vick was one of those players and Jackson could very well be the next, but the reality is there has never been a quarterback prospect - at least none I could find - who has been asked to assume the kind of workload he has over the last two seasons. (There are nearly 130 Division I football teams, so consider how incredible it is that one quarterback could finish inside the top 30 in pass attempts and rush attempts in the same season. Jackson did so twice.)
Although he was fortunate to play for a coach like Bobby Petrino at Louisville from the standpoint that most NFL concepts won't be all that foreign to him, Jackson still has much work to do in the passing game to realize his vast potential. He struggled from time to time in college with linebackers and safeties baiting him into throws, and that figures to be a trend that will only occur more often in the NFL. When teams with talented defensive lines like Clemson or North Carolina State were able to get pressure on him with a disciplined four-man rush and had enough team speed on the back end to somewhat contain Jackson, those were the games in which he seemed a bit uneasy in the pocket and looked to escape a second or two quicker. His accuracy is a bit hit-or-miss. The Florida native will also need to learn when he has maximized a running play in order to avoid the injury-prone tag that became attached to Vick.
Pro football has been and probably will always be a game that is won largely from the pocket, so it's important not to lose track of that just because we are talking about an incredible athlete. While Jackson still has plenty of room to grow in terms of his footwork inside the pocket, he may be the most poised and advanced passer of all the true game-breaking "mobile quarterbacks" I can remember. Like all of the quarterbacks I've analyzed this year with the exception of Josh Rosen, it would probably be best for Jackson's development if he was able to treat 2018 as a redshirt year. With that said, he's really not nearly the project some might have you believe and could probably be ready to start sooner than later. There are certain to be really high peaks and really low valleys with him in the beginning if he is forced to start in 2018 - to be expected from any rookie signal-caller - but I'd rather work with him if I'm an offensive coordinator - or hate to coach against him if I'm the defensive coordinator - than any other blue-chip quarterback in this draft. Assuming he learns how to protect himself better as a runner and finds a play-caller willing to build an offense around his unique talents, Jackson could very well be the poster boy for the next generation of NFL quarterbacks.

---
Doug Orth has written for FF Today since 2006 and been featured in USA Today's Fantasy Football Preview magazine since 2010. He hosted USA Today's hour-long, pre-kickoff fantasy football internet chat every Sunday in 2012-13 and appears as a guest analyst on a number of national sports radio shows, including Sirius XM's "Fantasy Drive". Doug is also a member of the Fantasy Sports Writers Association.