It seems so logical. The more passes thrown your way, the more catches you are likely to make. More receptions should equal more receiving yards and more touchdowns and by default fantasy points. Your wide receiver should be in fantasy heaven, right?

Unfortunately, the numbers don't exactly back up the theory.
Based on the data collected here at FFToday over the past four seasons, only 52 percent of the top-10 fantasy receivers finished in the top-10 in targets (21-of-40). That's barely over half.

It is, however, a great indicator for tight ends. Since 2011, 33 of the 40 top fantasy tight ends (82.5 percent) have also finished in the top-10 in targets.

With that in mind let's look at which tight ends should finish in the top-10 in targets next season.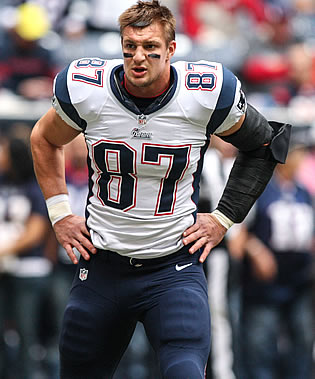 Gronk led all tight ends in targets with 131 last season.

Rob Gronkowski, New England – When you have the best tight end in football, you don't stop throwing him the ball. Plus, the Patriots receiving corps is only slightly above average. "Gronk" should lead the position in targets and fantasy points for the second consecutive season.

Martellus Bennett, Chicago – Bennett was the beneficiary of injuries to both wide receivers last season and posted career highs in targets, receptions, receiving yards and touchdowns. With Brandon Marshall replaced by a rookie speedster Kevin White, the middle of the field should open up even more for Bennett. Quarterback Jay Cutler, on a short leash this season, is likely to throw most of his passes to guys he trusts and that means Bennett, Alshon Jeffery and Matt Forte.

Greg Olsen, Carolina – The Panthers have added two young receivers over the past two seasons in Kelvin Benjamin and Devin Funchess, but Cam Newton's tight end has been, and will continue, to be a primary weapon. His targets have increased in each of the last four seasons in Carolina and he's averaging 106 per season. The trend should continue in 2015.

Jimmy Graham, Seattle – Graham was traded from the team that threw the second-most passes in 2014 (659) to the team that threw the fewest passes (454). This means, the man who finished in the top three in targets in each of the last four seasons, is likely to take a significant hit. He'll still see 100-plus targets and be a top-10 fantasy option, just not the No. 1 choice.

Travis Kelce, Kansas City – The addition of Jeremy Maclin on the outside should do wonders for Kelce in the middle of the field. Kelce saw 87 targets in 2014 with only Dwayne Bowe to stretch the defense, but should crack triple-digits in 2015 because the Chiefs still have one of the worst sets of wide receivers in the NFL.

Julius Thomas, Jacksonville – The Jaguars didn't spend all that money (five years, $46 million) to make Thomas a decoy. The 26-year-old has elite ball skills and pass-catching ability and throwing shorter passes may help keep young Blake Bortles from getting killed. The Jaguars' tight ends saw a combined 94 targets last season, but Thomas should reach that number in 2015, all by himself.

Charles Clay, Buffalo – Clay's move to Buffalo has been largely unnoticed around the league, but fantasy owners should pay attention. Despite not being healthy for most of 2014 he still saw 84 targets last season. He was targeted 103 times in 2013 and posted fantasy-worthy numbers that season. Matt Cassel knows how to feature a tight end and Clay should return to 2013 target and production levels.

Coby Fleener, Indianapolis – Despite being No. 2 on the depth chart last season, Fleener was the Colts No. 1 receiving tight end. That's because the Andrew Luck-to-Fleener combination has been working well together for six seasons – three in Indianapolis and three at Stanford. Luck trusts him and therefore so must we. The addition of Andre Johnson and rookie Phillip Dorsett could take targets from T.Y. Hilton and Donte Moncrief, but shouldn't hurt Fleener's fantasy value.

Zach Ertz, Philadelphia – It doesn't hurt anybody on the Eagles that the team runs a ridiculous number of plays. Last season they led the league with 1127 plays, more than 100 above the league average. Many thought Ertz would have a breakout season in 2014, but they were one year too early. Despite sharing time with blocker Brent Celek, Ertz saw 88 targets in 2014 and that number should increase in 2015.

Josh Hill, New Orleans – Just because Saints quarterback Drew Brees doesn't have Jimmy Graham on his team doesn't mean he'll stop throwing to his tight ends. It just means he'll be throwing to a different tight end and for the most part that should be Hill. Hill caught just 14 passes last season, but five were for scores, which tied him for 11th at the position. No, he won't post Graham-like numbers, but you should expect he'll see 85 or more targets and have top-10 fantasy value.
---
Steve Schwarz served as the fantasy sports editor of The Sports Network and is the 2014 FSWA Football Writer of the Year.