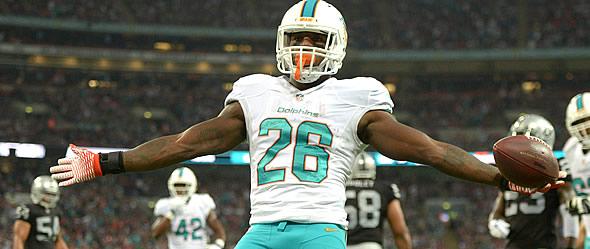 After getting 20 carries just once last season, Lamar Miller should see an uptick in usage with Houston.




Fantasy impact in Miami



According to the Houston Chronicle, newly-signed Texans running back Lamar Miller "had grown weary of being underutilized in the Dolphins' offense."

How underutilized?

Well, he rushed for more yards (1,272) and more attempts (227) in twelve games at the University of Miami in 2011 than in any of his 16-game NFL seasons with the Dolphins. Over his final three seasons on South Beach, Miller averaged just 12.2 attempts per game. After a 1,099-yard 2014 season, Miller become more of a pass receiver in 2015 and that obviously didnít sit well with the 215 lb. running back.

He also ran behind a very questionable offensive line. No, thatís not right. To be more accurate he ran behind a bad offensive line. According to Pro Football Focus they ranked 31st overall and last in run-blocking.

No wonder he quickly left town and headed west.



Projected impact in Houston



In Bill OíBrienís first season at the helm, the head coach called 551 rushing plays. Last year, after star running back Arian Foster went down to a season-ending injury, the Alfred Blue-led backfield saw just 472 rushing attempts.

The heavier workload should return in 2016. This despite a drop in efficiency according to PFF. The Texans offensive line ranked fifth in 2014, but fell to 18th last season. That included a 24th-ranking as a run-blocking unit. Still, thatís a lot better than what he ran behind in Miami.

Houston also lost two key members of last seasonís offensive line. Brandon Brooks signed with Philadelphia and Ben Jones heads to division rival Tennessee, but the team immediately filled those two spots with free agents Jeff Allen and Tony Bergstrom.

Still, the coach will try to protect his new starting quarterback, Brock Osweiler, so that means sticking with the running game. Remember, despite the fact that Osweiler will begin his fifth NFL season, heís still very inexperienced. The former Denver Broncos quarterback has started just seven games and thrown all of 305 passes in his career.

Millerís four-year, $26 million deal, including $14 million guaranteed, shouts workhorse. So does his skill set. He is a solid runner and a very good receiver.

Sound familiar? It should. It describes Fosterís skill set too.

Millerís 2016 fantasy value

The addition of Miller to the Texans backfield should do wonders for his fantasy value. OíBrienís Texans have rushed the ball more than any team not named Seattle over the past two seasons. Miller will see a majority of the rushing workload and doesnít figure to leave the field in passing situations either.

"I know in this offense, they get their running backs involved," Miller said recently. "I just wanted to be a part of that."

From 2010-15 Foster averaged 20 rushing attempts per game. Miller should at least average 18 rushing attempts and three receptions per week. Given Millerís career averages of 4.6 yards-per-carry and 7.6 yards-per-reception, that projects to 1,324 rushing yards and 364 yards receiving. Heís still not a bruising running back, so eight touchdowns is a reasonable goal with low double-digits the upper limit.

Doug Martin combined for a similar yardage total in 2015 with seven scores to his credit and finished third among fantasy running backs. Millerís explosiveness along with the coachís affinity for the running game should put him in elite territory next season and will certainly make him a top-five fantasy running back in 2016.

---
Steve Schwarz served as the fantasy sports editor of The Sports Network and is the 2014 FSWA Football Writer of the Year.