It's finally here – the fantasy playoffs!

Your team must perform at peak efficiency for the next few weeks. This is not the time to start a struggling high-profile player because their name looks good in your lineup. It's win or go home, therefore only start the players who will score the most points - even if that means sitting someone you selected much higher on Draft Day. This is no time to let ego get in the way of winning.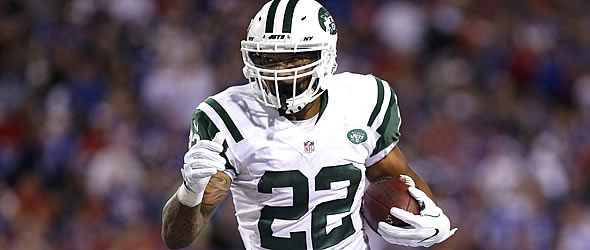 He's got the dream matchup against the 49ers but is Matt Forte a must start in Week 14?

Truths

"Integrity is telling myself the truth. And honesty is telling the truth to other people." – Spencer Johnson

1) There may be better fantasy quarterbacks than Philip Rivers, but none of them have a better fantasy playoff schedule.

Rivers has been throwing too many interceptions of late (7 over the last three games), but he'll face three of the league's bottom seven defenses versus opposing quarterbacks. The Chargers schedule over the three playoff games from Week 14-16 is; at Carolina (yielding 23.2 QB FPts/G), home against Oakland (23.0) and at Cleveland (23.7).

2) In the copycat NFL, general managers will follow Dallas' lead by picking running backs early and often.

True. The 11-1 Cowboys have shown that a great running back can help hide a subpar defense. The success of Ezekiel Elliott in 2016 is likely to manifest itself in running backs going early in the 2017 draft and fantasy owners need to be prepared for this situation. It doesn't mean you automatically take the top rookie running backs early in your draft (likely Leonard Fournette, Dalvin Cook and Christian McCaffrey) - unless they are selected by a team with an above average offensive line.

3) Kirk Cousins has developed into the player the Redskins had hoped for when they drafted Robert Griffin III in 2012.

In his magical rookie season RGIII averaged 24.2 FPts/G. After a slow start, Cousins is still better than that, averaging 24.3 FPts/G and 28.1 FPts/G over his last six starts. He'll face the suddenly toothless Eagles defense this Sunday (more about them later), then Carolina and Chicago.

4) Mike Evans was disappointing in Week 13, but he's a huge bounce-back candidate.

True. Evans has averaged 13.4 FPts/G this season, but he's averaging 18.8 FPts/G after scoring less than his season average the previous weekend. He's also facing New Orleans at home this weekend.

5) Matt Forte is a must start in Week 14.

Sure, he hasn't scored double-digits since Week 10 and he's sharing snaps with Bilal Powell, but the Jets play in San Francisco this weekend and that's a running back's surest recipe for success. The 49ers are, by far, the worst running defense in the league allowing 28.0 FPts/G to opposing backs. That's almost 20-percent more than the next team (Cleveland). San Francisco yielded 29.7 points last weekend to the man who replaced Forte in Chicago (Jordan Howard).
Lies

"Disinformation is distinguished from misinformation in that it is intentionally fraudulent." – Ellen P. Lacter

1) Following his monster 32-117-3 game in Week 13, Howard has become a top-five running back option.

Not so fast, every running back has dominated the San Francisco run defense. Fifteen running backs have scored double-digits in just 12 games this season and the 49ers average yielding a league-worst 28 FPts per game. Howard will face a couple of tougher run defenses in Detroit (ranked-11th) and Green Bay (eighth) over the next two weekends. As we enter the playoffs, my fantasy top-five at running back is; David Johnson, Le'Veon Bell, Ezekiel Elliott, Melvin Gordon and LeSean McCoy.

2) Fantasy owners who gave up on Carson Palmer were right to move on.

Not so fast. After averaging an ugly 19 FPts/G through the first six games, he's averaging 24.6 FPts/G over his last five starts. He'll face the Miami Dolphins in a favorable matchup Sunday, as they have yielded 28.3, 38.1 and 35.1 quarterback points over the past three games to Rivers, Colin Kaepernick and Joe Flacco. That's not exactly an elite passing trio. A hot Palmer should light it up in the first round of the playoffs this Sunday.

3) Fantasy studs Russell Wilson and Ben Roethlisberger are must start quarterbacks.

Better check the numbers before you blurt out the wrong answer. Over the past three weekends, Wilson is averaging just 18.6 FPts/G and Big Ben 17.6 FPts/G. They rank 25th and 27th, respectively over that span. Both quarterbacks could have difficult assignments this Sunday with Seattle in Green Bay (flurries and 27 degree weather) and Pittsburgh in Buffalo (flurries and windy).

4) The Philadelphia Eagles defense/special teams is a top-10 unit.

For the season, yes, the Eagles still rank No. 8, but they have been living off their early production for weeks, like the Minnesota Vikings. Philadelphia hasn't done anything worthwhile the past five games, averaging just 1.8 FPts/G. They are 28th in sacks (4), 17th in fumble recoveries (2), 20th in interceptions (3) and 30th in points allowed (128) with zero defensive or special teams touchdowns. Sunday should be a big game for the Washington offense.

5) In the preseason I showed concern about whether David Johnson could produce for a full season as he did over the final five games of 2015 (658 combined yards, 5 TDs).

I was wrong. Johnson has been the best fantasy running back in the NFL this season. He's combined for 1,709 yards from scrimmage and 15 touchdowns through 12 games and averaged a league-leading 21.7 FPts/G. Just as important for fantasy owners is Johnson's worst game is still double-digits – he's been a consistent producer from Gm 1 against New England to last weekend versus Washington. He's become even more valuable to PPR league owners where he's posted 44 receptions for 439 yards and four scores over the past six games. Johnson should be the favorite to be the No. 1 overall fantasy selection in 2017.


---
Steve Schwarz served as the fantasy sports editor of The Sports Network and is the 2014 FSWA Football Writer of the Year.