The "bye season" continues with Jacksonville, Kansas City, New Orleans and Seattle watching the action. That's a lot of quarterback talent on the sidelines, so the return of Tom Brady is particularly important. If you stashed TB12 and you were still competitive, take a bow. Then trade your current starter to bolster another position.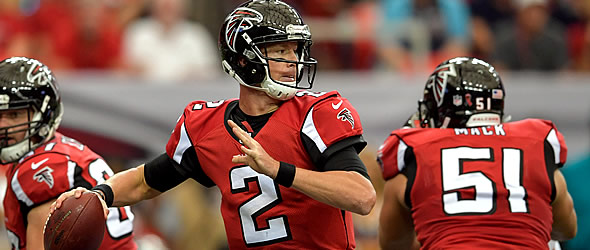 Matt Ryan sits atop the fantasy QB rankings but the schedule looks grim over the next couple weeks.




Truths



"When you have eliminated the impossible, whatever remains, however improbable, must be the truth." - Sir Arthur Conan Doyle



1) Cam Newton's showboating cost fantasy owners points.



Newton's point total was a lot smaller after missing the final nine minutes of the blowout loss to Atlanta because the quarterback was dumb. Instead of diving into the end zone for a successful two-point conversion, he let up at the goal line and took a game-ending hit from Falcons linebacker Deion Jones. Backup quarterback Derek Anderson came on to throw for 172 yards and a pair of touchdown passes … statistics that should have been added to Newton's total 14-for-25 for 165 yards and one TD. It's not the first time Newton has chosen style over his personal safety and likely won't be the last. This one, however, could cost him his availability in Week 5 due to the league's concussion protocol.



2) Matt Ryan should probably be avoided over the next two weeks.



Ryan leads the league passing yards (1,473), touchdowns (11) and FPts/G (30.6) but the Falcons schedule is rough with Denver and Seattle next up. Denver has yielded just 169.5 ypg and has given up the seventh fewest fantasy points to quarterbacks. Seattle is fourth in passing yards (183.8) and third in QB points allowed. Don't consider trading Ryan, however, because the schedule gets a lot easier after the next two games with San Diego (29th), Green Bay (28th) and Tampa Bay (22nd) on tap.



3) Ezekiel Elliott is getting better with each game.



True. It's not just the numbers which have progressed from 11.2 to 14.7 to 16.0 to 21.7 last weekend. He's using his blockers better, showing patience and is becoming the consistent every-week performer expected of a late first round fantasy selection. The next four games could be a bit tougher facing Cincinnati, Cleveland, Philadelphia and Baltimore, but he's going to be a fantasy stud for as long as he and the Cowboys top-ranked offensive line stays healthy.



4) Rumors of DeMarco Murray's demise in Philadelphia were greatly exaggerated.



Murray leads all fantasy running backs averaging 19.9 FPts/G. The problem obviously wasn't with the player, but the inflexible head coach/de facto general manager. Chip Kelly signed the former Cowboys running back, then played an offense that didn't fit his talents and wouldn't change no matter how obvious the solution. Of course, Kelly also didn't let his veteran quarterback (Sam Bradford) audible when needed. Kelly's reign in San Francisco is likely to be just as unbending and equally as short. His return to college football is inevitable.



5) Eddie Lacy will never be as good as he was in his first two seasons when he averaged 14.0 and 14.7 fantasy points.



Lacy is averaging a career-high 5.0 ypc, but he's 0-for-9 in the red zone. After scoring 11 rushing touchdowns in 2013, he scored nine times in 2014 on 8-for-40 (20%) red zone attempts and just three times on 3-for-20 tries (15%) last season. The progression is clear and Green Bay has obviously decided they would rather put the ball in Aaron Rodgers' hands. Based on the numbers below … wouldn't you?


Green Bay in the Redzone
Year
Rush Att.
TDs
Pct.
Pass Att.
TDs
Pct.
2016
13
0
0%
18
6
33.3%
2015
39
7
17.9%
102
25
24.5%
2014
71
12
16.9%
110
24
21.8%




Lies



"There are three types of lies – lies, damn lies and statistics." Benjamin Disraeli

1) The Philadelphia Eagles rushing defense is the second-best in the league based on yielding just 12.1 FPts/G to date.

False. Teams are actually rushing very well against the Eagles defense when they try - producing an above-league-average 4.3 ypc. It's just that through three games the opposition has only run the ball 49 times (16.3 attempts-per-game) because they have been far behind (Eagles average winning margin is 21.7 ppg). Down the road when the games are close, fantasy running backs should be able to put up decent numbers against Philadelphia.



2) LeGarrette Blount will continue to be a top-20 back throughout the season.



False. He's currently ranked eighth, producing 14.9 FPts/G, but Blount has a couple of roadblocks standing in his way. The first is his inability to catch the ball and a quarterback in Brady who loves to throw the short, ball-control pass to his backs and tight ends. Dion Lewis (12.3 FPts/G last season) is eligible to return in Week 7, though a more likely date is after the Patriots' bye week (Week 11) and Lewis fits this offense better than a grinder like Blount.



3) Amari Cooper is the Raiders No. 1 fantasy receiver.



False. Cooper is the team's most talented receiver, but Michael Crabtree is the best fantasy option. He was last year too, averaging 9.1 FPts/G to Cooper's 8.9. Opposing teams are more scared of Cooper and double team him or slide the zone in his direction which allows Crabtree to flourish. Crabtree (13.7 FPts/G) has caught 70.2% of his targets in 2016 (26-of-37) including all three red zone targets for touchdowns.



4) Sell Odell Beckham Jr.



No! No! No! How many times must I tell you it's "buy low, sell high" not "buy high, sell low"? Everyone knows how much he's struggled in the first four games (zero touchdowns, 7.6 FPts/G), including on national television Monday night against the Vikings. Beckham Jr. and his Giants face a Green Bay pass defense that has given up the third most fantasy points to wide receivers (30.4 FPts/G) and I expect him to be a "squeaky wheel" the next five days. He should have his best game of the season this Sunday and you can sell him for a lot more next week … if you still want to.



5) Now that Brady is back, it's safe to start Rob Gronkowski and expect great results.



False. It's not getting much media attention, but Gronkowski's hamstring injury is apparently not healed. He played 14-of-62 plays in Week 3 and 39-of-56 last Sunday, but he's managed just three targets and one reception in 53 total snaps. Under normal conditions a date with Cleveland (giving up the sixth most fantasy points to TEs) should mean monster production for "Gronk" but I'm not sure he's healthy enough to do it. And we know for sure, Bill Belichick isn't going to give us any enlightening information this week.


---
Steve Schwarz served as the fantasy sports editor of The Sports Network and is the 2014 FSWA Football Writer of the Year.