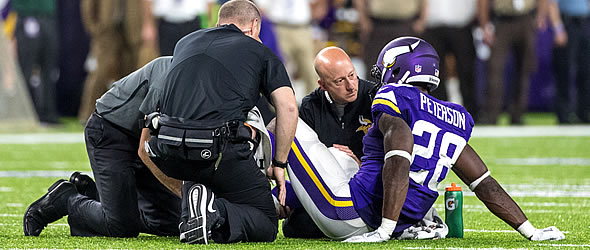 Adrian Peterson only played in the 3 games in 2016 and his age brings in serious durability questions.
Having found no Super Bowl contender interested in adding the services of a 32-year-old running back, and for that matter, any NFL team ready to give him the ball 20-plus times a game, free agent Adrian Peterson was forced to take a less-than-optimal contract with the New Orleans Saints this week.

Fantasy owners canít be happy with this move.

AP joins a team that loves to throw the ball behind future Hall-of-Fame quarterback Drew Brees. In his 11 seasons throwing for the Saints, Brees has averaged 631 passing attempts per season, including an NFL-high 673 attempts in 2016.

By contrast, Petersonís Vikings averaged 504 passing attempts per season from 2007-16 and a high of 588 times in the ten years since he was drafted out of Oklahoma.

Now add that, at best, Peterson has questionable hands. Heís never been known as even a good pass-receiving back. Heís never caught more than 43 passes in any season.

And Peterson is a 32-year-old running back with a lot of wear and tear (2,418 career carries for 11,747 yards) in a league that starts to devalue that position when a player hits the 30-year-old mark.

But the bad news for fantasy owners is only beginning.

Heís going to a team that already had a solid running back in Mark Ingram. Ingram finished 2016 as the No. 10 fantasy back with 196.3 fantasy points (12.3 FPts/g). He played in 16 games for just the second time in his six-year career. Ingram has, by far, better hands than Peterson.

In my opinion, this deal is a very bad fit. At best, Peterson is a two-down back on a pass-happy team. At worst heís a part-time backup and insurance for Ingram, although that running back does have a checkered injury history.

Unfortunately, it was probably the only option Peterson had at this time. He needed to sign before the draft or teams would have filled their needs with a youngster and AP would have been left waiting by the phone for a call which likely wouldnít have come until the first back suffered a season-ending injury.

My guess is that Saints management thinks a healthy Peterson, running the ball, could keep their suspect defense (Iím being kind) off the field similar to how rookie Ezekiel Elliottís presence helped the Cowboys defense last season.

So where does that leave the four-time, first-team All-Pro and 2012 MVP? And what of Ingram?
Ingramís 2016 season was good enough to be a starter (205-1044-6 and 46-319-4), but Peterson is likely to see plenty of work too.

Barring injury, their season-long rushing numbers should be split fairly evenly while Ingram will dominate the passing game numbers. Still, the addition of Peterson leaves me no option but to label both running backs with an RB2 status. Ingramís expected 163 fantasy points would rank him 16th last season while Petersonís 139 points would leave him at No. 24.

Adrian Peterson Ė 212 rushes, 890 yards, 7 TDs and 12 receptions, 84 yards, 0 TDs = 139 fantasy points.

Mark Ingram Ė 178 rushes, 872 yards, 5 TDs and 50 receptions, 349 yards, 2 TDs = 163 fantasy points.


---
Steve Schwarz served as the fantasy sports editor of The Sports Network and is the 2014 FSWA Football Writer of the Year.