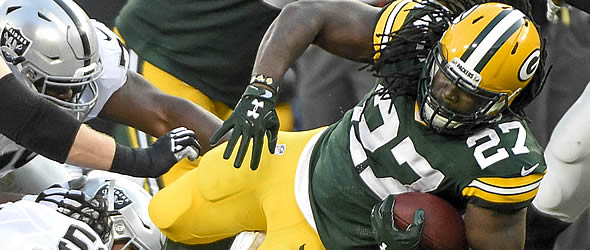 Lacy will attempt to revive his career in Seattle after a production dip the last two seasons in GB.
Projected Impact with the Seahawks

Although Seattle went 10-5-1 and won the NFC West Division in 2016, this was not the same Seahawks offense that we have come to expect. From 2012-15, with Marshawn Lynch as the team's workhorse running back, the Seahawks were a run-oriented offense averaging 517 rushing attempts per season versus 442 passing attempts. They averaged 2,449 rushing yards and 25.7 ppg.

Last season, with Lynch having hung up his jersey, the offense was primarily based on Russell Wilson's right arm. The team threw the ball 567 times while rushing just 403 times. The result of this imbalance was the Seahawks finished 18th in scoring (22.1 ppg), its worst performance since 2011 when Tarvaris Jackson was the starting quarterback.

So it's no wonder the team looked to bring in another running back this offseason. The surprise, from my point of view, is that their choice was the rotund Eddie Lacy. Lacy signed a one-year "prove it" contract and will join Thomas Rawls and C.J. Prosise in the backfield.

Fantasy Impact with the Seahawks

Let's be clear right from the beginning, Lacy is no Lynch.

Actually, at his current weight which is rumored to be more than 265 lbs., Lacy appears more like the answer to the team's offensive line needs, not a star tailback.

There are so many red flags you might think you are at Red Square May Day Parade.
Lacy missed 11 games last season after ankle surgery forced him out following Week 6. Over his career he's dealt with additional ankle, rib and hamstring issues that have kept him from playing at full strength.

He has been playing about 25 pounds over his "normal" weight the past two seasons and it shows in his statistical production. After entering the league at about 231 pounds, Lacy averaged 265 rushes for 1158 yards and 10 scores in 2013 and 2014. He added weight the following offseason and over the next two seasons has averaged just 559 rushing yards and posted three rushing touchdowns in 17 games.

Lacy's pass-catching skills are mediocre, though he's not likely to be in on the field for passing downs with the talented hands of Prosise waiting in the wings. Prosise has wide receiver skills and caught 17 of 19 targets out of the backfield last season for 208 yards (12.2 ypr) in six games.

Lacy owns a solid 4.4 ypc average over his four NFL seasons. Given that he's been running behind All-Pro Aaron Rodgers and a dynamic Packers passing offense that scares the heck out of defensive coordinators throughout the league, that number is a bit deceiving. Converted wideout Ty Montgomery averaged 5.9 ypc last season. Even fullback Aaron Ripkowski averaged 4.4 ypc in 2016.
Lacy's Fantasy Projection

Seahawks coach Pete Carroll described Lacy this way on the team's website, "a big back in classic fashion. He's an exciting guy to add to the mix." The key phrase for fantasy owners is "add to the mix." Those are words no fantasy owners wants to here. It screams RBBC - running-back-by-committee.

The Seahawks have obviously decided that the Rawls isn't the answer. After a dynamic 2015 in which he averaged a NFL-leading 5.6 ypc (147-830-4), the number shrank to 3.2 ypc in last season (109-349-3). Lacy has the talent to beat out the fragile Rawls, but he'll have to be in shape and ready to show the world he wants to keep playing in this league.

Even if Lacy does win the battle, he's still going to share the early down opportunities with Rawls and will be severely limited as a fantasy running back. Give him a total of 160 rushing attempts at 4.2 ypc for 672 yards and five touchdowns. He'll be mostly ignored in the passing game so markup Lacy for a total of 104 fantasy points which in 2016 would slot in as the No. 33 running back just ahead of Rashad Jennings. Lacy is an RB3 … at best.

---
Steve Schwarz served as the fantasy sports editor of The Sports Network and is the 2014 FSWA Football Writer of the Year.