8/11/08



For years, the fantasy football rule of thumb has been that a running back will experience a serious decline in his production after turning 30 years old. In the following, we look at this belief and also check other factors that may be used to predict when the end of a running back's career may be near. In addition to age, we will look at the number of f/carries, high workload seasons, total seasons, and career games. F/carries, or formulated carries, is defined as the number of rushing attempts plus half the number of receptions.

First, we need to set a benchmark to determine when running backs are still useful in fantasy football. We will use a scoring system of 1 FP per 10 yards rushing or receiving and 6 FP per touchdown. Over the last four seasons, the 24th ranked running back has scored an average of 148.75 FP. Therefore, we will use a 150 FP season as the cut-off.

Historical RB Production

The following table shows the data for eight running backs that have retired in recent years. The totals are up to and including the last season that the running back scored at least 150 FP. The one exception to this is Eddie George's 149 FP 2003 season, which is also included.



In addition to recent retirees, let's look at the all-time leaders in f/carries so we can get a feel for the absolute limits in addition to the typical limits. Again, these totals are up to and including the last season when a runner scored 150 FP.


All-Time Leaders In F/Carries
Name
Seasons
Rushes
Receptions
F/Carries
Age at Year
W/ 150 FP
Career
Games
Years w/ 370+
F/Carries
Years w/ 300 to
369 F/Carries
Emmitt Smith
15
4409
515
4666.5
35
226
4
5
Walter Payton
12
3692
459
3921.5
32
178
2
8
Curtis Martin
10
3298
460
3528
31
156
4
4
Jerome Bettis
12
3369
196
3467
32
180
1
6
Marcus Allen
15
2898
576
3186
36
206
1
2
Barry Sanders
10
3062
352
3238
30
153
0
7
Marshall Faulk
10
2576
673
2912.5
30
146
0
4
Eric Dickerson
7
2450
202
2551
29
105
4
2
Tony Dorsett
9
2441
338
2610
31
132
0
5
Thurman Thomas
9
2566
397
2764.5
30
138
1
4

Emmitt Smith clearly stands out as the longevity king. His totals for carries and f/carries are by far the highest. More importantly, he was productive to the very end of his fifteen-year career. Marcus Allen's career also lasted significantly longer than normal. We should be careful not to let a few exceptions throw off our outlook for more typical players.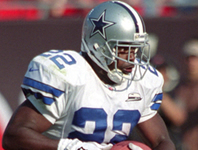 Exception to the rule: Smith was a fantasy relevant through age 35.

The number of seasons played varies from 7 to 15. If we exclude Smith and Allen, then it still ranges from 7 to 12. Six of the 16 players listed were productive through 10 seasons and 14 of the 16 lasted no more than 10 seasons. It appears that 10 seasons is the most that we can reasonably expect from a running back, although some will no longer be effective even before this.

The number of career f/carries ranges from 1568 to 3921.5 (excluding Smith's mind-blowing 4666.5.) Again, this range is to great to be an effective prediction tool. The best we can say is that we should be careful when forecasting a running back to be effective after 3,000 f/carries since only six backs have accomplished this feat in the past.

The range of ages falls into a much tighter grouping, with 11 of the 18 players having their final productive season at the age of 30 or 31. If the range is expanded to 29 to 32, then it includes everyone except Smith and Allen.

There is quite a range in the number of career games played, from 102 for Priest Holmes to 226 for Emmitt Smith. Even if we remove a few outliers, the range looks to be too great to make any reasonable forecasts. Similarly, the number of heavy workload years ranges from zero for Charlie Garner to 10 for Walter Payton. Thus, no clear trends are apparent for the number of games played or the number of heavy workload years.

Conclusions

As we have seen, heavy workload years may be a good indicator of a drop in fantasy production for the next year, but it there is not a correlation between heavy workload and the end of a fantasy running back's career. With four exceptions (Smith, Allen, Walter Payton, and Jerome Bettis), the best indicators for the end of a successful fantasy career appear to be age, the number of seasons played, and the total number of f/carries. Of these three factors, age (30 to 31) looks to be the best prognosticator with upper limits provided by seasons (10) and f/carries (3,000).

Predictions for 2008

Now that we have looked at the past, let's make some predictions for the future. As of opening day, there will be eight running backs that are 30 or older and have or have had fantasy relevance. Of these eight, three will probably not get drafted in most leagues. They are Ahman Green, Reuben Droughns, and Shaun Alexander. Green is in a crowded backfield already bothered by a groin inury, Droughns is buried on the depth chart, and Alexander doesn't even have a team at this time. The other five running backs are Edgerrin James, Thomas Jones, Fred Taylor, Ricky Williams, and Warrick Dunn.

30+
Name
Seasons
Rushes
Receptions
F/Carries
Age
Career
Games
Years w/ 370+
F/Carries
Years w/ 300 to
369 F/Carries
Edgerrin James
9
2849
418
3058
30.1
128
3
5
Thomas Jones
8
1659
243
1780.5
30.1
116
0
3
Fred Taylor
10
2285
270
2420
32.6
127
0
3
Ricky Williams
8
1763
246
1886
31.3
83
2
1
Warrick Dunn
11
2483
463
2714.5
33.7
166
0
0
Edgerrin James - James has been solid but not spectacular since moving to the desert. FFtoday currently predicts he will have 184 FP in 2008, placing him 15th for running backs. Unfortunately for him, he is 30 years old, entering his tenth season, and has 3,058 career f/carries. That puts him at twelfth all time for most f/carries. Two (age and number of seasons) of our tools say this will be his last productive year. One (career f/carries) says the end has already come. Expect this to be Edge's last year of fantasy relevance.
Thomas Jones - Despite a slow start to his career, Jones has turned into a productive back. Current predictions call for him scoring 161 FP, good for 22nd place on the running back list and making him a decent #2 fantasy RB. He is 30 and entering his ninth season, so he might have two more years left in him.
Fred Taylor - Although known in fantasy circles as "Fragile Freddy", Taylor has started 14 or more games in five of the last six seasons. He is also 32 and entering his eleventh season. Taylor may be the exception to the "31 or 10 seasons" rule, but history says you should not count on it.
Ricky Williams - Unless there is an injury to Ronnie Brown, Williams will not be starting in 2008. He still has value as a handcuff, but his days of fantasy glory look to be over. Due to his time out of football for partaking of various recreational herbs, his number of seasons played and career f/carries are low, but his age (31) can not be denied.
Warrick Dunn - Like Williams, Dunn still has fantasy value as a handcuff or bye week fill-in, but his starting days are over. His age (33) and number of seasons played (11) show that 2006 was his last hurrah in fantasy circles.
Keeper and Dynasty Leagues

There are seven significant running backs that will be 29 by the end of the season. They are LaDainian Tomlinson, Jamal Lewis, Rudi Johnson, Brian Westbrook, Larry Johnson, Deuce McAllister, and Ladell Betts. I don't mean to suggest that these players should be traded for pennies on the dollar, but Shaun Alexander has shown us just how quickly fantasy fortunes can change for a player. Given their situations, I would probably look to trade high at the first reasonable opportunity with Larry Johnson, McAllister, and Betts. I would be more tempted to keep the others for another year or two. Just remember that these players will probably be leading teams to fantasy glory for at most three more years.