Odds makers in Las Vegas sports books are some of the most knowledgeable and skilled prognosticators when it comes to predicting the score and outcome of an NFL game. After all, it is their job to try to make money off people betting the games. Setting the correct point spread and over/under for each game is critical for generating the right amount of action while not giving too much of an advantage for potential bettors.

The betting lines posted by the Vegas sports books is an excellent tool for daily fantasy players looking to target high scoring games with potential breakout fantasy performances. A game with an over/under of more than 50 points is an indication that Vegas believes the two teams playing will be in a shootout, and can be a nice place for DFS owners to invest their salary.

But there is more to consider that just the over/under when looking for games and players to target. The spread tells you which team is favored and by how much, which used in conjunction with the over/under can tell you which players on each team you should consider.

For instance, a high scoring game with one team favored by more than seven points tells you that Vegas believes it will be a high scoring contest, but they think the favored team will have a sizable lead late and could be an excellent opportunity for the running back of the winning team to get clock-killing carries down the stretch.

A game with a high over/under but a close spread presents an opportunity for owners to target the quarterback and skill position players on both teams, as Vegas bookies believe it will be a shootout.

In addition, a game with a relatively low over/under with a team heavily favored can also present an opportunity when selecting a quarterback for owners in head-to-head contests looking for solid and high-floor plays.

Using the free information provided by Las Vegas sports books is just another tool for DFS owners to utilize when setting their lineups each week. It is especially helpful in weeks like this where there are no clear cut shootouts. There are no games in Week 3 with an over/under of 50 or higher, but you can still utilize Vegas odds to identify value plays this week. Here are a few players to consider based on the factors discussed above.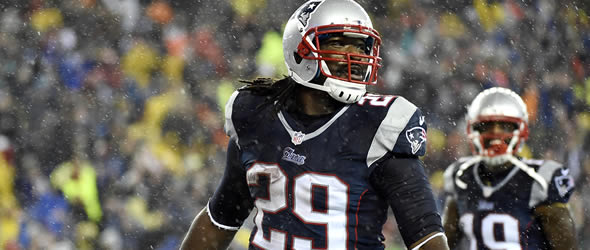 The Patriots-Jaguars betting line suggests LeGarrette Blount may enjoy some success this Sunday.
RB LeGarrette Blount ($5,900 on Fanduel)
Blount played sparingly in his return to action from a one-game suspension, posting just four yards on two carries, while Dion Lewis played 70 snaps and carried the ball seven times for 40 yards and a TD. Game flow and the Patriots plan to pass on the Bills played a big part in why Blount played only seven offensive snaps in Week 2. This may change dramatically Week 3 when the Patriots host Jacksonville and second year quarterback Blake Bortles.
The over/under on the game is 47.5 points, with the Patriots heavily favored by two touchdowns. Based on the theory mentioned above, the Pats will likely be up early on the Jags and will rely on the run game to close out the Jags in the second half. This bodes well for Blount to see a dramatic increase in carries and the possibility of a garbage time rushing TD or two. At just $5,900 on Fanduel, Blount is a sneaky play for owners who spend heavily on WR and QB.
WR James Jones ($5,700 on Fanduel)
The Monday Night Football contest between the Packers and Chiefs is projected to be the highest scoring game of the week by Vegas odds makers with an over/under of 49 points. With the Packers favored by only 6.5 points, those same odds makers believe that both teams will be able to put up points in the prime time game.
Aaron Rodgers is the most expensive QB this week and for good reason, as he has been the model of consistency with two straight 20-point performances, and the 6.5 spread suggests that he will still be passing deep into the second half of the game. For owners who want a part of that action but donít want to spend $9,100 on a QB, wide receiver James Jones and his $5,700 price tag is a nice alternative. The Chiefs have struggled in the first two weeks to stop opposing passing attacks and Jones is a clear red zone favorite for Rodgers.
QB Nick Foles ($6,500 on Fanduel)
With an over/under of 48 points and a spread of just one point, Vegas sports books view this game as a high scoring affair that can go either way. The Steelers offense is potent and has proven to be able to score against even the best defenses, with Big Ben, Le'Veon Bell and Antonio Brown obvious plays, even at their high salaries.
But looking on the other side of the football is where value can be found this week, as Nick Foles is a cheap upside play that could deliver big dividends for owners who go heavy on other skill positions. Foles scored 19 points at home against the Seahawks Week 1, leading me to believe he could put up similar numbers at home against a Steelers defense that is much less formidable than Seattle's.
This is a high-risk/high return play in DFS, which is the perfect option for large tournament players looking to aim high. Going with an inexpensive QB like Foles in an advantageous matchup gives owners flexibility to target other high dollar WRs and RBs.