I want to begin this weekís DFS lineup review with an apology to all the DeAndre Hopkins owners in season-long leagues and those poor souls, who like myself, decided to pull the trigger on him this week against the Saints.

As a ridiculous, if not borderline crazy person when it comes to sports-related superstitions, I can find no other reasonable explanation other than my ownership jinx as to why Hopkins would manage only five catches for 36 yards and zero touchdowns.

It is my fault. I must have jinxed him. And for that, fellow owners, I am sorry.

Hopkins had been nothing short of amazing this season, with five finishes in the top five for wide receivers and double-digit performances in every game prior to Sunday. He averaged 24 points over the past three weeks, including five catches for 118 yards and two scores against Darrelle Revis.

The Vegas odds makers had this game as a shootout with an over/under of 49. Hopkins had scored at least 20 points in all of his home games prior to Sunday. And the Saints defense allowed 133 combined points in their three-previous games. All the stats and all the metrics that I use to identify players in DFS had Hopkins as a no-brainer play with a high ceiling and a high floor.

Of course I donít really believe I cursed Hopkins and his owners. But I do think this is an interesting topic for DFS, because in some cases, the no-brainer, canít-miss player we all think will do well may not come through for a myriad of reasons.

Game flow, weather, injuries to opponents and subsequent changes in scheme, and just bad luck can negate the performance of even great players.

In the case of Hopkins, the Saints offense was putrid along with their defense, allowing the Texans to score two early touchdowns and limiting the need for Brian Hoyer to air it out for a good portion of the second half. A broken play passing touchdown to Ryan Griffin and rare rushing TD to a wide receiver was all the Texans needed on offense.

I could spend the next few hours scouring stats and articles trying to find out what I missed in my assessment of Hopkins, but I think the best thing to do is chalk this up to one of those weeks when despite all of the flags pointing in your favor, sometimes guys just donít produce.

It happens in real life football and fantasy. Learn from it and move on to the next week, but donít let it overly sway your feelings against a player. Hopkins will be on a roster of mine in the near future, perhaps even this week.

The following roster review is for a losing Arizona stack in the DraftKings.com millionaire maker GPP. In addition to bombing on Hopkins, I was burned by Carson Palmer and the Cardinals after they barely beat the Niners.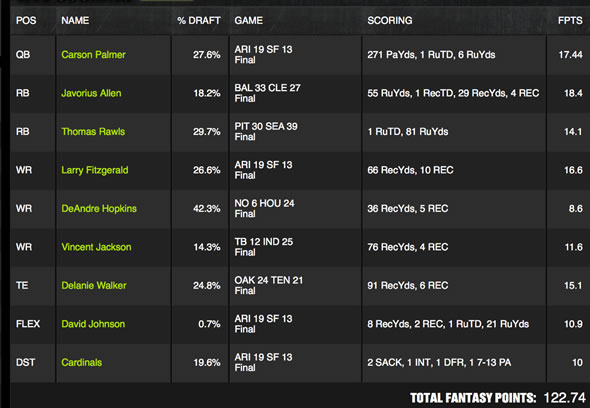 Quarterback: Carson Palmer
DraftKings Points: 17.4
Grade: D
After a few solid weeks of building my bankroll in cash games, I decided to enter a mega GPP game in hopes of hitting a winning lottery ticket. I try to limit my spending on these games to a few each year, and a gut feeling of a contrarian Cardinals stack against a 49ers team at home seemed like a fun gamble.
I felt like the Cardinals stack against the Niners on the road was a contrarian play based on the fact that San Francisco allows an average of 15.8 points at home compared to 35.2 on the road. In addition, the Cardinals were winless against the Niners in San Francisco (Santa Clara) since 2008.
With all of those negatives against them, I had a feeling that Palmer was matchup proof on the road after his 26.2 points against the Seahawks at the Link week 10. I also had a hunch Bruce Arians and the Cardinals coaching staff would have a strong game plan to limit Blaine Gabbert and the 49er offense, making this a one-sided affair with Palmer posting at least three TDís, with a minimum of one going to Fitzgerald.
Instead, Palmer posted his worst DFS game of the season, salvaging 17.4 points because of a late rushing TD. It was the first time all season he failed to throw a touchdown pass. Not exactly what you are looking for when building a stack.
Running Backs: Thomas Rawls & Javorius Allen
DraftKings combined points: 32.5
Grade C
I decided to go cheap and young with my running backs this week. I liked Allen on Monday night against the Browns due to the fact that he was inexpensive at $4,600, and the Browns are terrible against the run.
The Rawls pick seemed like a solid move as I anticipated he would score and get lots of action against the Steelers at home. Both players scored and gave me and average of 16 points, but that was clearly not enough in a home run or bust format like a Millionaire Maker contest.
Wide Receivers: Larry Fitzgerald, DeAndre Hopkins, Vincent Jackson
DraftKings combined points: 36.8
Grade: D
Although Palmer failed to connect for a passing TD to Fitzgerald, Fitz did post ten receptions for 66 yards. It was disappointing to see him fail to reach the end zone or the century mark for yards, as Fitz had 134 yards and two TDs against San Francisco in Week 3.
The afore-mentioned Hopkins debacle turned out to be a moot point due to the fact that my risky move of going with a Cardinals stack was a complete fail. Even if Hopkins had delivered an average Nuk-like game, I still would have been way out of contention for cashing. But it doesnít make me feel much better about the erroneous pick, as I could have used his salary elsewhere on a better third receiver, instead of Vincent Jackson.
I chose Jackson against Indy because he was affordable at $4,700, and he delivered a decent performance the week before against the Eagles. Jackson did outperform Hopkins with 4 catches for 76 yards, but his lack of a touchdown was a disappointment.
Tight End: Delanie Walker
DraftKings Points: 15.1
Grade: B
I canít help but wonder if the weather in Nashville played a part in limiting the passing game for the Titans 24-21 loss to the Raiders. A better explanation for Walkerís average performance against an Oakland team that has struggled against tight ends is the fact that Mariota threw a TD to Craig Stevens, his other tight end.
Walker did still deliver 91-yards on 6 catches for 15.1 points, but production like that in a game in which you need to have the best or second-best player at all positions will not cut it. Gates against the Jags would have been the best play and would have saved me $700 to use elsewhere.
Flex: RB David Johnson
DraftKings Points: 10.9
Grade: D
This is where my stack love for the Cardinals simply got out of hand. I didnít have much money left and I was looking for a boom or bust guy who might get a chance for two touchdowns.
My guess was that based on the fact that I believed the Cardinals would blowout the Niners, Johnson would get tons of second half work and get a couple garbage TDís. At $3,900, he seemed like a nice risk.
He did score and looks like a nice play this week due to injuries to Chris Johnson and Andre Ellington, but that doesnít really help me much on this roster.
Defense: Arizona
DraftKings Points: 10
Grade: C
I chose Arizona based on the fact that I felt like the Cardinals would blow out the Niners, forcing Gabbert to throw in the second half with an increased chance of a turnover or pick six. With ten points on two sacks and a fumble, they turned out to be a nice cash game play, but they did not provide the top performance of the week I was hoping for in my golden ticket lineup.
Conclusion
The roster construction for this lineup was clearly a boom or bust play that is typical for GPP millionaire maker contests, as I chose to forgo looking for consistent plays in favor of a stack based on what appeared to be an advantageous and contrarian match up.
Unfortunately, the foundation of my stack stunk and failed to throw a touchdown for the first time this season, which killed the production of the other players in the stack. In addition, my expensive, no-brainer pick at wide receiver was anything but worth the hefty price tag.
Back to the drawing board for Week 13, and back to my comfort zone of cash games.