As the NFL season winds down to the three final games of the year with the two remaining conference title games and the big game on February 7th, DFS players looking to continue building their bankroll are faced with the choice of playing football games with small player pools, or migrating to other games like basketball, hockey, golf, and soccer.

While I am sure there is some merit in playing those other games, I have little knowledge of those sports and all of them except for basketball are painful as heck for me to watch, so I will stick with football for two more weeks until baseball starts.

For those owners who agree with me on playing short-slate football DFS over other options, there are a few new things to consider when building your lineup.

The first and most obvious fact is that with a player pool of only four teams and two games, the chance of you finding that GPP sleeper that no one else chooses is much smaller than in a normal 16-game slate. You may hit on a breakout play like Jaron Brown having a big game against the Panthers, but a small player pool increases the probability that other owners will also make that play.

If you are playing in large contests with hundreds of thousands of other DFS players, the divisional round forces you to go even deeper. Perhaps a home run play like J.J. Nelson ($2,000 on DraftKings) catching a deep pass from Carson Palmer may be the way to go.

In cash games, it is important to to allocate your budget on a few players that are the most likely to deliver points regardless of the cost. Ownership percentages of players like Gronk against Denver (11th most points to opposing tight ends) will be sky high, but you will still want to invest in him because you want a high floor of production that will keep to close to your opponents.

In both types of contests, only four games to choose from means that stacking is almost a must for most owners. Just be sure that you don't stack a team with a quarterback that struggles, as it will sink the remaining players in the stack. For this reason, I am avoiding Broncos players against the Patriots due to the fact that the I think Peyton Manning has the best chance of delivering a stinker, especially considering his history of playing against Belichick defenses in cold weather.

Conversely, I think the Patriots stack against the Broncos is a great option, even though the Denver-D has been solid this year. While I don't think Talib and Harris will play as soft of coverage against the Patriots like they did against the Steelers, Edelman will log close to ten catches underneath and Gronk will be able to exploit the Denver linebackers.

I also think that Steven Jackson will find it tough to run against the Broncos front seven, forcing Brady to throw more short passes. The Broncos allowed the 8th-most catches to running backs this season, which could bode well for James White owners in one point per catch formats like DraftKings.

Good luck this week and thank you for reading this column over the course of the past four months. I was able to build my bankroll up a few hundred dollars using the principles discussed each week. Hopefully things worked out just as well for you in your contests.

The following winning roster is from a head-to-head contest against an opponent who picked Peyton Manning as his quarterback.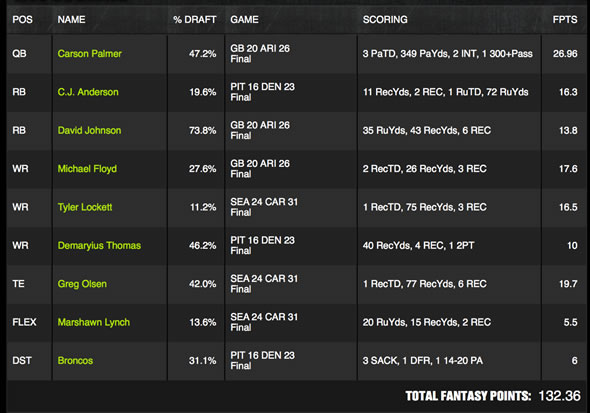 Quarterback: Carson Palmer
Points: 27
Grade: A
Of the eight quarterbacks in the divisional series, Carson Palmer and Tom Brady seemed to have the highest floor that I search for when building a head-to-head roster. Both players were at home, but I liked the defensive matchup the Cardinals had against the Packers, and I thought that Packers had a decent shot of scoring points against Arizona now that the Green Bay offensive line is healthy.
Both assumptions proved to be correct as Palmer threw for 349 yards and three touchdowns. Although he did throw two interceptions, Palmerís big game compared to Manning scoring only 10 was the main reason I won.
The important thing to keep in mind is that I went for the player with the highest floor while my opponent went with what I assume was a high ceiling play. In head-to-head games like this, always go for the high floor guy at quarterback.
Running Back: C.J. Anderson and David Johnson
Combined Points: 31
Grade: C
Perhaps I rode the David Johnson train one too many weeks. While I wasnít expecting a 47.9 point game like he delivered Week 15 against the Eagles, a 21 point game similar to what he did at home against Green Bay week 16 seemed like a baseline floor.
Instead, the rookie from Norther Iowa managed only 35 yards and a 2.3 yard per carry average, and was not as active in the passing game as I had hoped. 13 points isnít terrible from a cheap play, but I spent a hefty $6000 on him and was not pleased with the results.
C.J. Anderson and his $3700 price tag made me fill better about Johnsonís short comings. Anderson rushed for 72 yards on 15 carries, including the game-winning TD run late.
Wide Receiver: Michael Floyd, Tyler Lockett and Demaryius Thomas
Combined Points: 44.1
Grade: D
Thomas was an expensive play based on his production this season. I read into the fact that this was the first game his mom would see in person since her release from jail, and I assumed that it would lead to Thomas having a big game for the Broncos.
A case of the dropsies, something that has plagued Thomas this season, cost him a few big plays and more fantasy points from my team. Luckily Floyd managed to score two touchdowns from Palmer and Lockett caught a deep TD pass late against Carolina.
Motivational games like this one and revenge games like Andre Johnsonís two TD game against Houston earlier in the season can work out in your favor. They can also blow up in your face. Unfortunately, it was the latter for me with regards to Thomas playing for his mom.

Tight End: Greg Olsen
Points: 19.7
Grade: A
The small player pool forced me to consider only two expensive options in Gronk and Olsen, or a cheap upside play like Heath Miller against Denver. The other options seemed like too much of a stretch for a head-to-head game.
Gronkís injuries, whether real or made up shenanigans from Belichick, made me a bit nervous to go with him, and although Miller against Denver seemed logical based on Benís shoulder injury and the need to dump off passes, I went with Olsen. He seemed due for a big game based off of his recent contests and the Seahawks struggled against him earlier this year.
Flex: Marshawn Lynch
Points: 5.5
Grade: F
File this pick under the read too much into it folder, similar to my pick of Thomas playing in front of his mom. The chance of this being Lynchís last game as a Seahawk was high, as Seattle may move away from his large contract due to Lynchís age and the emergence of Rawls.
For that reason, I had a hunch Lynch would deliver a solid game against even a tough defense like Carolina. That hunch proved to be dead wrong with 20 yards and 5.5 points. But and least it did not cost me the win.
Defense: Denver
Points: 6
Grade: D
I went with Denver based on the fact that I knew Big Ben was ailing with a shoulder injury and Antonio Brown was out with a concussion. The gamble here is that I assumed Ben would aggravate the injury, forcing the Steelers to play the turnover machine otherwise known as Landry Jones.
Of course, Ben played the whole game and played well, and the Broncos did not get a shot at Jones.