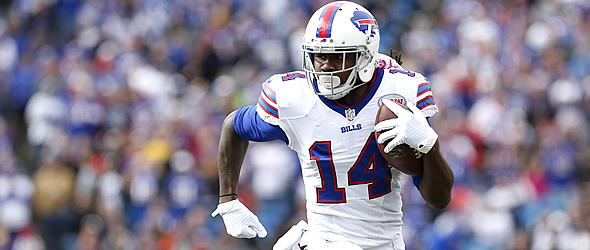 Sammy Watkins may struggle to get the same amount of opportunties he had during his rookie season.
QB EJ Manuel
(2014 QB Rank – No.41, 18.3 FPts/G)
The starting quarterback position for the Bills is an open competition between a first round bust (EJ Manuel), a journeyman veteran whose sole claim to fame is an eleven-win season with the Patriots (Matt Cassel), and a former backup to Joe Flacco who has yet to make a single NFL start in five seasons (Tyrod Taylor). When you add in the fact that the Bills are now under the leadership of Rex Ryan, a defensive minded coach who prides himself as a run-first, ground and pound type of signal caller, you are left with a situation that is less than advantageous for fantasy owners.
According to reports, none of the quarterbacks made much of an impression during off-season workouts and depending on who you listen too, Matt Cassel appears to be the leader in the competition as mini-camps break this summer. However, the addition of former San Francisco 49er offensive coordinator Greg Roman appears to bode well for a more mobile quarterback like Manuel. Roman's scheme tends to favor a quarterback who can move out of the pocket, make throws on the run, and run the read-option. Those are three things that Manuel does better than Cassel.
Taylor is the dark horse in the race as he is the most mobile of the three and could be the most effective player should the Bills run what appears to be a highly conservative offense. Taylor received an equal share of snaps with his counterparts and has impressed Ryan and Roman with his athleticism. Bottom line, none of the three players vying for the starting nod are worthy of consideration in ten- and twelve-player, one-quarterback leagues.
RB LeSean McCoy
(2014 RB Rank – No.11, 11.1 FPts/G)
In one of the more shocking off-season deals in recent memory, perennial first-round fantasy running back LeSean McCoy was traded by Chip Kelly and the Eagles to the Bills for linebacker Kiko Alonso. The former Eagle joins a backfield in Buffalo that contains veteran stalwart Fred Jackson, Anthony Dixon, Bryce Brown, and fifth-round pick Karlos Williams from Florida State.
McCoy will be the primary tailback with Fred Jackson also receiving a decent amount of carries. As a run-first team that will attempt to shorten the game and control the clock with a menacing ground attack, there should be more than enough carries for McCoy and Jackson. At age 26, McCoy is still relatively young despite having 1461 carries on his legs. He enters 2015 as a disgruntled player looking to prove his old team wrong by bouncing back from the lowest touchdown total of his career (16 games, only 5 rushing TDs).
In addition, the absence of C.J. Spiller via free agency to the Saints opens the door for McCoy to regain the lost production in third-down receptions that he experienced last season in Philadelphia. Whoever ends up winning the starting role at quarterback for the Bills will lean on McCoy in the passing game as a dump off receiver and third-down threat. Fantasy owners that were burned by McCoy's drastic drop in production in 2014 will likely steer clear, opening the door for owners drafting in the later spots in the first round to get excellent value. Although the predicted poor quarterback play may allow teams to load up the box against the run game, sheer volume will allow McCoy to produce top ten fantasy production this season.
RB Fred Jackson
(2014 RB Rank – No.25, 8.6 FPts/G)
At 34, Fred Jackson continues to defy logic when it comes to age and performance for NFL running backs. Every year the same narrative is shared by numerous writers that Jackson is too old and is finished, and every year it seems the veteran tailback proves those pundits wrong with a solid performance. Although he managed just 3.7 yards per carry and two paltry rushing touchdowns in 2014, he did post 66 receptions and 501 receiving yards out of the backfield.
Jackson will likely share time with McCoy, with McCoy acting as the bellcow and primary ball carrier. It is also possible that McCoy will eat into Jackson's reception total, as McCoy is an accomplished receiver out of the backfield and has more elusiveness in the open field. Fantasy owners should view Jackson as a handcuff to McCoy and not a viable flex play in standard formats.
WR Sammy Watkins
(2014 WR Rank – No.25, 8.4 FPts/G)
Sammy Watkins came just 18 yards shy of joining Mike Evans, Odell Beckham Jr., and Kevlin Benjamin as four rookie wide receivers to break the century mark in receiving yards last season. The former first-round pick from Clemson added six receiving touchdowns and 65 receptions in what ended up being a solid rookie campaign, despite the fact that he posted eight games with three or less catches.
The new Rex Ryan regime does not bode well for fantasy owners of Watkins (hip)looking for an increase in volume, as Ryan will likely continue to be a run-first coach with the Bills. Another 65-reception season could be in store for Watkins, however, the question is can he become more of a threat in the red zone and top the ten-touchdown plateau in his sophomore season. The addition of Percy Harvin may also reduce the number of targets for Watkins, while conversely opening the door for more single coverage deep and the opportunity for more big plays. Watkins should be viewed as a low-end WR2 who would be a solid number two if he can increase his red zone touches.
WR Percy Harvin
(2014 WR Rank – No.58, 6.2 FPts/G)
There are few wide receivers in the league that can boast similar physical tools as Percy Harvin. Unfortunately for Percy, there are an equal number of wide receiver divas that seem to agitate their team and burn bridges quite like the former first round pick from Florida. All the talent in the world does not mean a player will be successful in the NFL if that player doesn't stay focused and improve on his craft. For this reason, Harvin has never top more that six touchdowns in a season and only six total touchdowns over the past three injury-riddled seasons. Harvin should open up the field for other players like McCoy and Woods in Greg Roman's offensive scheme, however, fantasy owners banking on him to be a consistent producer will likely be disappointed.
WR Robert Woods
(2014 WR Rank – No.48, 6.2 FPts/G)
Although he is not flashy and at times appears to be an afterthought for fantasy owners, Woods quietly amassed 700 yards and five touchdowns last season on an impressive 104 targets. A player who receives over 100 targets in a season is someone who should garner attention from fantasy owners, regardless of what team that player plays on. Targets equal opportunity and opportunity is what owners look for in the later rounds of drafts. Unfortunately, the change in coaching staff and the addition of Percy Harvin will likely mean fewer targets for Woods in 2015, reducing his value to only a spot start in even deep leagues.
TE Charles Clay
(2014 TE Rank – No.16, 5.6 FPts/G)
Charles Clay was a trendy breakout player in 2014 as a member of the Miami Dolphins. The thought at the time was that the Dolphins' offense was primed to take a big step forward with quarterback Ryan Tannehill maturing into a viable NFL starter. Clay disappointed owners with only three receiving touchdowns and 605 receiving yards on 58 receptions. Now the former converted running back joins a Bills team that provides a definite downgrade in quarterback and a coach who prefers to run the ball early and often. Look for Clay to have a few ten-plus fantasy point performances this season, but the lack of volume and the less-than stellar quarterback situation makes him a risky play this season.