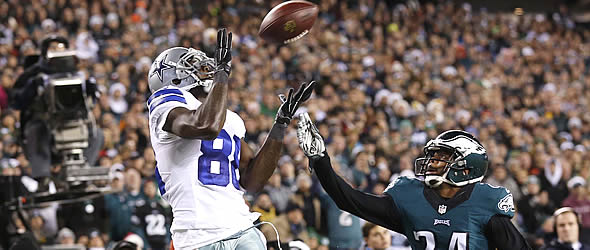 Flying High: Dez Bryant has posted double-digit touchdowns in three straight seasons.
QB Tony Romo
(2014 QB Rank - No. 13, 21.8 FPts/G)
Despite finishing 13th in fantasy points per game for quarterbacks, Tony Romo was the most efficient quarterback in the NFL last season, leading the league in passer rating, completion percentage rate, and yards per attempt. An improved offensive line gave Romo more time to survey the field and deliver quality, low-risk throws, while the emergence of DeMarco Murray and the ground attack forced opposing defenses to play single coverage outside and opened the door for more play-action passes. The formula worked so well that the Cowboys finished the season with a 12-4 record and an NFC East divisional crown. The Cowboys will continue to use the same balanced attack in 2015 despite the loss of DeMarco Murray to the Eagles via free agency. This bodes well for Romo owners in that he will not be forced to throw the ball 40-plus times to win a game, however, the continued reduction in pass attempts and yardage eats into his overall value, keeping him out of the top-5 quarterback discussion.
RB Joseph Randle
(2014 RB Rank - No. 64, 3.9 FPts/G)
Randle enters training camp as the starting running back poised to replace DeMarco Murray as the lead ball carrier in a potent rushing attack. The former fifth round pick from Oklahoma State will compete against veteran tailback Darren McFadden, who signed a free agent deal after a somewhat disappointing seven-year stint with the Raiders. Randle showed excellent burst and power as a change of pace back for Murray last season, averaging just under seven yards per carry on 51 runs in limited action. However, when he did see more than 10 carries per game in four games in his first two seasons, he averaged less than 3.5 yards per carry, including a dismal 17 yards on 11 carries against the Redskins in Week 6 of 2013. It remains to be seen if he can handle between 15 and 20 carries per game, which he would need to be worthy of a top-20 RB ranking. A possible dreaded running back by committee is another factor that hurts Randle's value this season, as the Cowboys could use both Randle and McFadden in early down situations, with Lance Dunbar acting as the third down back.

RB Darren McFadden
(2014 RB Rank - No. 39, 5.4 FPts/G)
A stellar college career at the University of Arkansas earned McFadden the number four overall selection in the 2008 NFL Draft and a starting role with the Oakland Raiders. Seven injury plagued and under-productive seasons later, McFadden looks to restart a once promising career now as a member of the Cowboys. He enters 2015 training camp behind third-year back Joseph Randle on the depth chart, but will likely see playing time as a change-of-pace back in an offense built around the offensive line and ground game. Health has always been a problem for McFadden, who has managed to play a full 16-game season just once in his seven-year career. When he did make the field, he struggled in his last three seasons with the Raiders, managing a paltry 3.3 yards per carry with just nine touchdowns in 38 games. Now as a member of the Cowboys, McFadden has without a doubt the best supporting cast of his career, and an offensive line that will provide the best opportunity for him to return to his career high of 5.4 yards per carry in 2011. McFadden should be viewed as a high risk/high reward pick in drafts this season, with a high ceiling and complete bust floor.
RB Lance Dunbar
(2014 RB Rank - No. 87, 2.3 FPts/G)
Dunbar is the third head of the possible RBBC in Dallas, acting as the likely receiving back on third down and passing situations. He is the smallest of the three backs and typically requires space on the outside to be effective. He is worthy of a late round flyer in both PPR and standard leagues, as the Cowboys coaching staff appears to still be high on him, and both Darren McFadden and Joseph Randle have question marks with regards to durability and whether or not they can operate as a lead back.
WR Dez Bryant
(2014 WR Rank - No. 3, 14.4 FPts/G)
Bryant posted a third-consecutive season with at least 88 catches, 1200 yards, and 12 touchdowns last season in route to finishing as the third ranked fantasy wide receiver. He led the league with a career-high 16 touchdowns, three more than Antonio Brown and Jordy Nelson. A regression in the run game due to the departure of DeMarco Murray could have a positive impact on Bryant, should the Cowboys be forced to throw more. Bryant saw 24 less targets in 2014 as a result of the effective rushing attack and balanced offense used by head coach Jason Garrett. If Joseph Randle and Darren McFadden struggle to pick up the slack in the ground game, Bryant may see more targets and could have an even bigger season in 2015. A looming contract dispute and possible holdout has some fantasy owners worried about using a first or early second round pick on Bryant. Assuming that Bryant and the Cowboys reach an accord on a new long-term deal, Bryant is more than worthy of an early round pick and will make an excellent foundation for both PPR and standard scoring teams.
WR Terrance Williams
(2014 WR Rank - No. 41, 7.3 FPts/G)
With only 37 catches on 65 targets in 2014, Terrence Williams proved once again that the wide receiver opposite of Dez Bryant in the Dallas offense will not receive enough volume to be considered a solid fantasy play. Williams did manage to increase his touchdown receiving total from five in his rookie season to eight last year. But that is somewhat misleading as he suffered a reduction in yards, receptions and targets from year one to year two. His touchdown production comes in bunches and he is too TD-dependent to be considered anything more than a WR3 in 12 team leagues. Perhaps his biggest upside lies in the fact that the Cowboys and Dez Bryant have yet to come to an agreement on a long-term deal, and Dez has threatened to hold out. If that does happen, Williams' value will increase substantially.
TE Jason Witten
(2014 TE Rank - No. 10, 6.3 FPts/G)
An aging veteran tight end who is likely headed to Canton when he finally hangs up his cleats, Witten posted top-ten fantasy numbers despite having a sizable reduction in targets (21 less from the previous season) and the lowest yardage total since becoming a starter in 2004. An increase from his five receiving touchdowns in 2014 is not out the question considering the fact that the loss of DeMarco Murray may force the Cowboys to use Witten more in the red zone. But owners looking for Witten to return to his 2012 form in which he logged 110 catches on 147 targets may be disappointed.