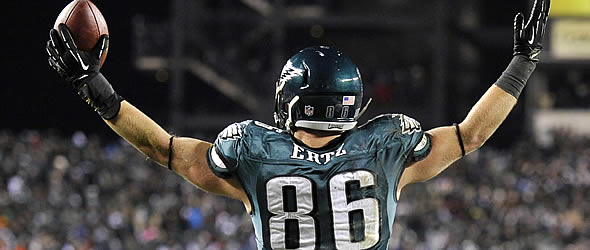 Zach Ertz has 7 TDs in two seasons, a number he'll have to increase to become an elite fantasy TE.
QB Sam Bradford
(2014 QB Rank - N/A)
Bradford missed the entire 2014 NFL season after sustaining his second serious knee injury in five seasons with the Rams. Injuries have proven to be the downfall of the former first overall selection former the University of Oklahoma star. When healthy, Bradford has been a solid fantasy performer as referenced by his 3702 yard, 21 touchdown performance in 2012. Although he finished the season out of the top-12 for fantasy quarterbacks, he did beat out a few big name performers like Jake Cutler and Philip Rivers. The problem is that he has managed to play 16 games only twice in his career and he enters camp this summer still rehabbing the knee injury that forced him to miss all of 2014.
On the plus side, he is joining an excellent offensive scheme that will take advantage of the experience he gained running a similar spread offense as a Sooner. He also is surrounded by the best offensive line and skill position players of his career, and a coach with a history of making subpar players like Nick Foles into fantasy stars. For owners looking for a quarterback ranked outside the top-12 who has the upside of delivering a top-10 season, look no further than Bradford. But be sure to have a viable second option given his injury risk.
QB Mark Sanchez
(2014 QB Rank - No. 27, 21.3 FPts/G)
Mark Sanchez and newly acquired Sam Bradford will compete for the starting quarterback role for head coach Chip Kelly. Although Sanchez has nine games under his belt running Kelly's offense last season, the Eagles made a big splash this offseason by acquiring Bradford via trade with the Rams for former starter Nick Foles, making it clear that Bradford will be the starter if he can stay healthy. Staying healthy has been a difficult task for Bradford, after sustaining a second severe knee injury last season as a member of the Rams. If Bradford is not able to stay on the field, Sanchez will take the wheel on an offense that ranked sixth in passing yards per game in 2014. Although Sanchez did post a career high 64.1% completion percentage in nine games in 2014, including an impressive 374-yard, two-touchdown performance against the Redskins in Week 16, he is only worthy of a late-draft pick considering the depth of the quarterback position. However, an injury to Bradford would make Sanchez a viable streaming option later in the season.
RB DeMarco Murray
(2014 RB Rank - No. 1, 19.0 FPts/G)
DeMarco Murray enters 2015 as the reigning NFL rushing champion after posting a career high 1845 rushing yards in his final season with the Cowboys. Now a member of the Eagles after signing a lucrative free agent deal in the offseason, Murray's value has taken a significant hit due to the fact that the Eagles also signed former Chargers' running back Ryan Mathews to help carry the load. Veteran tailback Darren Sproles is also in the mix as a change-of-pace and third-down back, adding to the reduction in value for Murray.
It remains to be seen how the division of carries will be handled by head coach Chip Kelly and offensive coordinator Pat Shurmur. A 60-40 split is possible for first and second down carries, with Sproles working in on third downs. The one certainty about Murray is that he will not reach his 393 carry total from last season that allowed him to post eight-straight 100-yard games to open the season, unless Mathews sustains an injury that forces the Eagles to rely on one back. Although Murray's value is down from what it was at the end of last season, he is still worthy of an early round selection and could be a nice low-end number one running back for fantasy owners in 2015.
RB Ryan Mathews
(2014 RB Rank - No. 24, 9.7 FPts/G)
Mathews played in just six games last season, a fitting end to an injury-riddled career with San Diego. Mathews managed to play a full 16 games just once in five seasons with the Chargers, as knee, ankle, hamstring, head, and collarbone injuries kept the former first-round pick on the sideline. When healthy, Mathews proved to be a solid tailback with a nice mix of power and speed. He posed a career high 1,255 yards on 285 carries in 2013, with a respectable 4.4 yards per carry average. As a member of the Eagles, Mathews will work as a complimentary back to DeMarco Murray, who also joined the team this offseason via free agency. Murray will be the primary back, with Mathews filling a backup role. It is possible Mathews could earn the goal line carry duties, making him a viable flex play in standard leagues and has high value as a handcuff for Murray owners. Mathews' high-ceiling makes him a valuable target in the mid-to-late rounds of your draft.
RB Darren Sproles
(2014 RB Rank - No. 40, 7.2 FPts/G)
At 32 years of age, Darren Sproles is in the twilight of his career and appears to be losing his fantasy relevance after posting a career low 40 catches for 387 yards as the third down and change-of-pace back for the Eagles in 2014. Perhaps most surprising, Sproles did not post a single receiving touchdown last season, the first time he failed to score a receiving touchdown since 2007. He did score six rushing touchdowns on just 57 carries, making him one of the more efficient TD scoring backs in the league. That will likely change in 2015, as the Eagles added both DeMarco Murray and Ryan Mathews via free agency. His change-of-pace role may stay the same, but age and reduced opportunity have reduced Sproles to a flex play in only deep leagues this season. His value will increase significantly should Murray or Matthews sustain an injury.
WR Jordan Matthews
(2014 WR Rank - No. 24, 8.5 FPts/G)
The departure of former number one wide receiver Jeremy Maclin has opened the door for second-year wide receiver Jordan Matthews to assume the top receiving role with the Eagles in 2015. The team added first round pick Nelson Agholor from USC to help add depth to a depleted corps that includes veteran Riley Cooper. Matthews' size and athleticism makes him a tough red zone target and the likely favorite of newly acquired quarterback Sam Bradford. The former second round pick from Vanderbilt caught 67 balls for 872 yards and eight touchdowns on 103 targets as a rookie in 2014. With Maclin now a member of the Chiefs, look for Matthews to receive more targets and catches, while approaching the century mark in yards and double-digit touchdowns. Owners should be aware of the possibility of Agholor emerging as the primary target instead of Matthews, as he is a smart player who runs excellent routes, and is a versatile wide receiver with excellent speed.
RB Nelson Agholor
(2014 WR Rank - No. 24, 8.5 FPts/G)
Agholor joined the Eagles as the 20th selection in the 2015 NFL draft after an impressive college career at USC. The Tampa, FL native caught 104 passes for 1313 yards and 12 touchdowns in his senior season with the Trojans. He is similar in size and talent to former starter Jeremy Maclin who signed with the Chiefs this past offseason. He is a polished route runner who has excellent speed and hands, making him a nice fit in Chip Kelly's up-tempo offense. Veteran wide out Riley Cooper is currently listed as the number two wide receiver opposite of Jordan Matthews, but Agholor's superior speed and athleticism will likely open the door for him to surpass Cooper by midseason.
TE Zach Ertz
(2014 TE Rank - No. 13, 5.5 FPts/G)
A trendy breakout candidate in 2014, Ertz failed to meet his expectations primarily due to the fact his poor blocking skills kept him off the field for too many plays. After an offseason working with Tony Gonzalez and focusing on becoming a more complete tight end, Ertz is once again a trendy upside pick in 2015. Fantasy owners need only to look at his 15-catch, 115-yard performance Week 16 against Washington as what type of player Ertz could be in Kelly's system. His mix of size and speed make him a tough matchup in the spread offense. If Ertz is able to stay on the field for more this season, look for the third-year pro to deliver a career season and flirt with top-5 tight end fantasy points.