The Sunday slate of NFL games in Week 13 will go down in the history books as quarterbackmageddon, as only two quarterbacks managed to throw for three or more touchdowns in a game.

If you were smart or lucky enough to pick Joe Flacco or Carson Palmer on your ticket yesterday, you had a significant leg up on your competition. Especially if you were fortunate to play against someone who went with Drew Brees, Matt Ryan, or Colin Kaepernick.

For the majority of us who were burned by poor quarterback play, Week 13 likely came down to skill position and defensive picks, and whether or not you owned David Johnson, Jordan Howard, Golden Tate, LeSean McCoy, or any of the other top performing wide receivers, running backs, and tight ends.

Luckily for me I was able to identify some of the top performers of the week, allowing me to win a head-to-head cash game.

Here are the picks that carried me to victory and some that nearly cost me the win.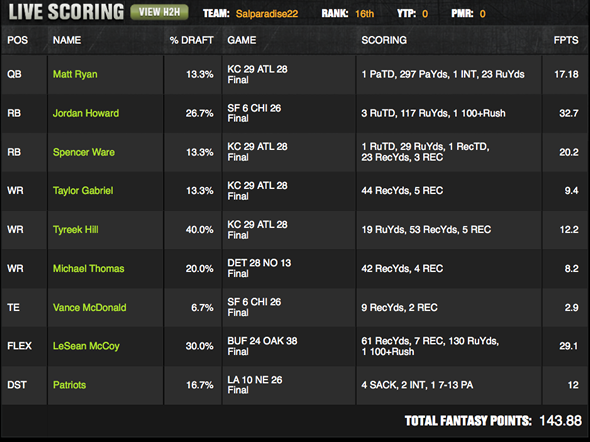 Quarterback: Matt Ryan
DraftKings Points: 17.18
Grade: C
A one touchdown, 297-yard performance from your quarterback would typically result in a D or F grade. But on a week like this one where so many quarterbacks struggled, I will give myself and Matt Ice a bit of a break.
After a torrid start to the season where he threw 11 touchdowns in his first four games, Ryan cooled off in the second half of the season.
With one touchdown pass against Philadelphia Week 10 and two against the Cardinals last week, I thought Ryan would right the ship against the defense that entered the game allowing the most points to opposing wide receivers.
Ryan did target Julio and the receiving corps early with some success, but he did not manage to exploit the defense with his running backs in the passing game.
He wasn't great, but he outperformed Drew Brees, my opponent's quarterback.
Running Backs Jordan Howard & Spencer Ware
DraftKings Points: 52.9
Grade: A
Jordan Howard's usage entering Sunday's game against the niners made him a nice play at his $6,900 salary.
When you add in the three factors of his matchup against the league's worst run defense, a quarterback that stinks in Matt Barkley and a likely run-heavy offensive game-plan, and a blizzard in Chicago that favors running backs, you had the recipe for a big game from Jordan Howard.
Howard responded with 117 yards and three touchdowns on the ground, as the Bears dismantled the 49ers 26-6 at Soldier Field.
I wrote in my preview piece that Ware looked to be an attractive play based on the fact that I anticipated the Chiefs would take a page from the Eagles playbook and play a clock-controlling run attack to beat the Falcons by keeping Ryan and the Atlanta offense off the field.
The game script did not turn out exactly as I thought, as Kansas City scored on a pick six and a fake punt. Ware did receive 18 touches, and turned them into 52 total yards and two scores.
Not exactly a great game (2.1 yards per carry) and I was saved by the fact that he got two scores.
Wide Receivers: Taylor Gabriel, Tyreek Hill, and Michael Thomas
DraftKings Points: 29.8
Grade: D
My strategy for wide receive this week was to grab two sub-$5000 wide receivers who have been the beneficiaries of an increased amount of targets in the past few weeks. I also wanted to target games that I thought would be high scoring, so I set my sites on players in the Detroit/New Orleans contest and Atlanta/Kansas City game.
I anticipated that Hill would have a floor of around 10 fantasy points based on the assumption he would receive at least five targets, with a likelihood that he would be able to turn those targets into a baseline of 50 yards.
His ceiling could be endless based on the fact that he is a triple-threat in the receiving, running, and return game.
Hill did reach the floor with 72 total yards and five catches, but I was disappointed in the fact that he failed to score after a three-TD game last week.
I jumped on the Taylor Gabriel train one week too late, as the diminutive wide receiver ended his four-game TD streak this week against the Chiefs.
Michael Thomas continues to be the white whale, as I never seem to catch him at the right time. If I invest in him he drops a dud, and when I look elsewhere he seems to have a solid week.
Tight End: Vance McDonald
DraftKings Points: 2.9
Grade: F
There have been many articles written about weather and how it affects fantasy performance. I personally don't read too much into wintery weather when it comes to picking skill position players, as I somewhat agree with the narrative that snow favors the offense due to the idea that poor footing hurts the defense more than the offense.
Wind is the one element that really affects games, so I wasn't too concerned with McDonald and the 49ers passing game in the snowy, but not windy conditions in Chicago.
Of course the Niners would fail to complete a single pass in the first half, leading Chip Kelly to pull Kaepernick in favor of Blaine Gabbert.
Need I say more?
Flex: LeSean McCoy
DraftKings Points: 29.1
Grade: A
With just under 200 yards of total offense and seven catches, LeSean McCoy was a one-man wrecking crew against the Raiders on Sunday.
It could have been even better had reserve back Mike Gillislee not pilfered two rushing touchdowns.
McCoy, Le'Veon Bell, and David Johnson are exactly the type of backs that you want to target in PPR formats like DraftKings, as their action in the passing game will make up the different for missing out on rushing touchdowns. You will need to pay a hefty price for them, but it most cash game situations, they are more than worth it.
Defense: New England
DraftKings Points: 12
Grade: B
I typically eat oatmeal or frosted mini wheats for breakfast. Bill Bellichick eats rookie quarterbacks, making the Patriots at home against Jared Goff and the Rams a no-brainer play.
With four sacks and two interceptions, the Pats gave me 12 points in a cash game that I was targeting at least ten. I predicted a floor of 10 and a ceiling of 20 should the Pats get a defensive score. Getting 12 was exactly what I needed in the head-to-head matchup, giving me just enough to defeat my opponent.