The season-long fantasy year came to an end with Dak Prescott, Dez Bryant and Ezekiel Elliott giving fantasy owners one last big fantasy performance with a 42-21 victory over the Detroit Lions.

A tip of the hat to my fellow owners fortunate enough to pull out a victory in championship week, while my condolences go out to those who came up just a bit short - especially to those who lost in heartbreakingly close games.

Regardless of the outcome of your league, I highly recommend turning your attention DFS in Week 17 and the playoffs to keep your fantasy football season going.

For those new to DFS, be sure to check out our archive of articles on strategy as you make your first venture into the exciting world of daily fantasy. It wonít take away the frustration of losing in your season-long championship game, but winning some cash in DFS is a nice way to close out the year.

For this weekís lineup review, I will examine a promising cash game lineup that came up just short due to injuries and a swing and miss at the tight end position.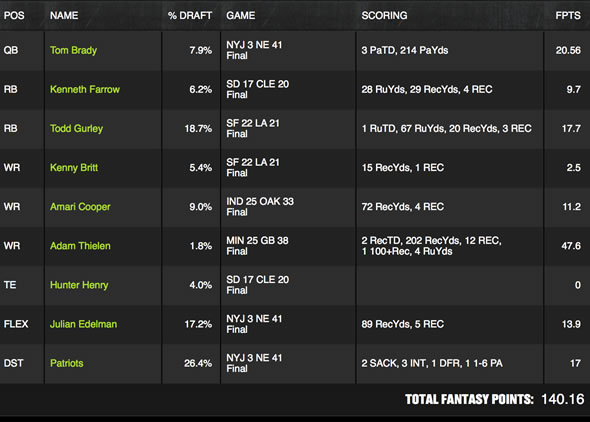 Quarterback: Tom Brady
DraftKings Points: 20.56
Grade: A-
I decided to go with Brady as the keystone in a Patriots triple stack against the Jets in rainy and cold conditions in Foxboro. With four 30-point games this season in matchups against teams that struggle against the pass like Cleveland and Cincinnati, my margin of safety in Brady at home against the lowly Jets seemed pretty high.
Yes he was the most expensive quarterback and there were other less pricy plays that were enticing. But TB12 is worth the investment in a cash game format because barring injury and a silly defensive TD-heavy game script, he is all but certain to give me at least 20 points. He did, and he came through with exactly what I needed on this ticket.
Running Backs: Todd Gurley & Kenneth Farrow
Combined DraftKings Points: 27.4
Grade: C+
After a terrible sophomore slump that left more than a few season-long players out in the cold, Gurley looked prime to come in when needed most (albeit most of his owners likely missed the playoffs) against an historically bad San Francisco 49er run defense.
The Niners have allowed 2250 yards and 23 rushing touchdowns on 451 carries, making them head and shoulders above the rest in terms of rushing defense futility. Logic would tell you that even Gurley and his paltry 3.2 yard average would be able to come through against San Fran.
17.7 points was not exactly what I was expecting, but at least the former Georgia Bulldog managed to score a rushing touchdown and catch three passes for 20 yards.
My theme on running backs this week was to target two inexpensive backs primarily due to the fact that they were cheap and were playing against terrible run defenses. At a salary of $5,000 and a matchup against the second-worst run defense in Cleveland, Farrow made sense as a nice bookend to Gurley.
Predicting touchdowns tends to be an exercise in futility, as the sporadic nature of when and how touchdowns are scored does not follow much of a pattern. Usage on the other hand isnít quite as difficult to predict, as teams tend to stick with players who are performing and will continue to give running backs touches if they are successful.
The lack of touches for Farrow was somewhat of a surprise; although I did have a bit of a worry that Ronnie Hillman would stick his vulturing head in the mix eventually. Farrow only received nine carries in this game and didnít do much with them, although he did run much better than Hillman (6 yards on 9 carries).
Wide Receivers: Adam Theilen, Amari Cooper, and Kenny Britt
Combined DraftKings Points: 61.3
Grade: B
My Adam Theilen pick was arguably my best pick of the year, as I went on the hunch that he would be able to be a PPR monster in a game where the Vikings would be behind early to the pack. Did I anticipate 202 yards and two scores? Of course not, but I did feel confident in the pick, especially when you consider the fact he cost only $4,600.
Kenny Britt, the bane of my fantasy football existence, beats me when I play him in season long and does nothing or gets hurt when I use him in DFS. An early shoulder injury cost me big time, but in hindsight, I somewhat deserve to lose by going too heavy on Rams.
My last pick made me start to consider something that not many fantasy owners or Raiders fans want to consider: Is Amari Cooper not as good as we all thought?
Preseason hype in his rookie year, fueled by Jerry Rice and other greats building Cooper up as some other-world talent blinded us to the fact that maybe he is just an average pro wide receiver.
We all accepted the fact that he disappeared in the second half of his rookie season as a result of injuries and the so-called rookie wall. But what excuse do we give him this year? He had a good quarterback, a solid offensive line, and a run game to take away pressure.
Sure 1,100 yards is a nice total, but four touchdowns on the year and six of his last eight games under 60 yards is pretty terrible.
Tight End: Hunter Henry
DraftKings Points: 0
Grade: F
And now on to what might be my worst pick of the season, and one that ended up costing me money this week.
With two touchdowns in consecutive weeks, it seemed logical that Henry would once again be a red zone threat for Phillip Rivers against a team that ranked dead-last against tight ends.
Instead of Henry, Rivers relied heavily on his other tight end Antonio Gates, as the prolific duo added to their NFL record of touchdown passes to a tight end.
This one play single handedly cost me the week, as I lost by single digits to an opponent who made a much better move of starting Charles Clay.
Flex: Julian Edelman
DraftKings Points: 13.9
Grade: C
After four straight weeks of double digit targets, Edelman was the recipient of only eight as Brady killed my Patriots stack by not feeding his diminutive wide receiver.
There were a few missed opportunities for big plays, including a wide open Edelman in the end zone in the first half and an overthrow on a nine route in the third quarter. Regardless of how close they were or not, getting 13.9 from one of my most expensive players turned out to be a back breaker for this ticket.
DST: Patriots
DraftKings Points: 17
Grade: A
A sloppy field against a division opponent with a rookie quarterback is a DST dream for any team, but one run by one of the best defensive-minded head coaches in history is a no brainer.
They didn't score a coveted touchdown, but they did force four turnovers while sacking the quarterback twice.
It was one of my best defensive plays of the season, but not enough to overcome my Hunter Henry gaffe.