Wildcard weekend 2017 proved to be anything but wild, as the home team for all four games won by a double-digit margin, with fantasy stalwarts Aaron Rodgers, Antonio Brown, Ben Roeth-lisberger, and LeíVeon Bell all delivering excellent performances for their owners.

There were a few surprise performances from unknown players like Paul Richardson and his circus catches against Detroit, and Tavarres King scoring the only touchdown for the Giants in a disappointing loss for Big Blue against the Packers.

Perhaps the biggest surprise was Odell Beckham Jr.ís 4/28/0 line against a Packers defense that allowed the most fantasy points to opposing wide receivers this season. Not exactly the type of performance you would expect from an all-pro wideout in his first career postseason game.

From a daily fantasy perspective, Beckhamís 6.8 point performance likely sunk the 25 percent of owners who invested $9,100 in the otherwise dependable wideout. A breakout performance from on otherwise unknown player would be needed to balance out the dearth of points expected from OBJ.

I was one of the 25% of DK players who invested in Beckham, but unfortunately for me, I did not hit on my home run play and my ticket failed to cash.

For this lineup review, I will examine a losing ticket from the $200K Flea Flicker tournament on DK. I won a few small cash games this week, but I thought this ticket would provide a few more interesting topics for discussion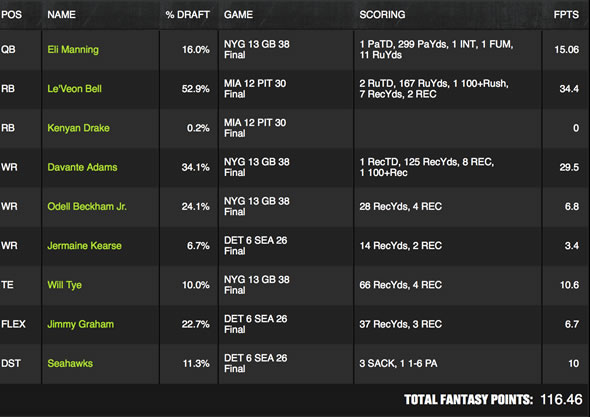 Quarterback: Eli Manning
DraftKings Points: 15.06
Grade: C
My strategy this week centered on investing a sizable portion of my budget on LeíVeon Bell and Odell Beckham Jr., the two players that I identified as the top performers of the week. The former worked out well, with the latter single-handedly killing any chances of cashing.
That strategy limited my ability to go for Aaron Rodgers or Big Ben, so I decided to settle on Manning against the leagueís worst pass defense at limiting opposing quarterbacks. I wasnít too worried about it being a road game, as Eli has proven over his career to be a solid passer on the road in playoff games.
What I didnít account for enough was the fact that the Giants offense was struggling as a whole before the playoffs and that struggle continued. Also, the Giants receivers, including Beckham with his three drops, did not help out Eli.
Despite his struggles, Manning posted a 299/1/1 line, which was good enough to keep me in contention.
Running Back: LeíVeon Bell & Kenyan Drake
Combined DraftKings Points: 34.4
Grade: C
Bell was clearly the best running back play of the week, even though his ridiculously high salary of $10,400 set me back to the point where I needed to find a bottom priced running back option like Drake to round out my ticket.
With 34.4 points off of 174 total yards and two scores, Bell proved to be well worth the investment. Drake, on the other hand, was a complete bust based on factors that I anticipated but did not come through.
I thought the Steelers would blow out the Dolphins early, forcing the Dolphins to abandon the run and rely more on their pass catching duo of Williams and Drake. I also felt that Ajayi was one hit away on his shoulder from leaving the game. Both of those things did happen, but the Ajayi didnít leave until late in the second half and Williams received the lionís share of targets in the passing game, including a touchdown pass.
In a tourney you need to aim for the stars on some of your cheap players, hoping that they come up big. Instead of hitting a home run with Drake I struck out on three straight pitches down the middle, unable to get the bat off my shoulder.
What can I say, missed big time on Drake. I hate the Drake (homage to my fellow Seinfeld-loving fans.)
Wide Receivers: Odell Beckham Jr., Davante Adams, & Jermaine Kearse
Combined DraftKings Points: 39.7
Grade: D
I am still scratching my head a bit with regards to just how much Beckham struggled against a Packers defense that made Adam Theilen look like Randy Moss Week 16.
The boat narrative is a bit too easy to use as an excuse, as many teams take some time to cut loose after making the playoffs. Personally, I think credit needs to be given to the Packers pass defense stepping it up, and a bit of the yips on the part of OBJ.
The Adams play might be the best one on my ticket, based on my prediction in on my preview piece that the Giants would limit Jordy Nelson, forcing Rodgers to lean on his other receiving options. The injury to Nelson proved to be a big factor as well, as Rodgers hit Randall Cobb for three scores and Adams posted eight catches for 125 yards and a score.
I went back and forth between Kearse and Paul Richardson in Seattle for my low-cost WR play. As the Knights Templar famously said at the end of Indiana Jones and the Last Crusade, I ďchose poorly.Ē My apologies for the cheesy reference. I am listening to a John Williams playlist as I write this article.
Kearse came close to a touchdown before Doug Baldwin ran the wrong route and took it from the grasps of Kearse. In hindsight, it didnít matter, as Beckhamís six points mixed with Drakes goose egg would end up killing me.
Tight End: Will Tye
DraftKings Points: 10.60
Grade: A
Double-digit points from a sub-$3,000 tight end is a decent play in my book. When that tight end turns out to be the best tight end play of the week, despite not catching a touchdown, you deserve to give yourself an A.
My logic on Tye was based on the fact that he was cheap and was the recipient of an increase in targets in the final two games of the regular season. That trend continued into the playoffs with seven targets for four catches and 66 yards.
Flex: Jimmy Graham
DraftKings Points: 6.7
Grade: D
In my preview piece for the week, I wrote about how Jimmy Graham posted his best games of the year when Tyler Lockett was not on the field, including a seven target for 64 yards last week against the Niners.
That logic proved to be dreadful wrong as Russell Wilson focused more on throwing the ball to Doug Baldwin, while the otherwise terrible ground attack of Seattle took off. At least I was right on one of my two tight end plays of the week.
DST: Seahawks
DraftKings Points: 10
Grade: B
I could not decide between the Seahawks and Texans for my DST play of the week, with Houston having the benefit of playing at home against a rookie QB and Seattle difficult place to play and a threat for turnovers.
Both teams ended up scoring ten points, five points behind the Steelers as the play of the week. My goal each week with my DST is to score double-digit points while staying within five points of the top play. Mission accomplished, but it was way too little to get me close to cashing.