Week 2 of the NFL season was one of the most injury-riddled couple of days I can remember in my 20-plus years of playing fantasy football. Danny Woodhead, Doug Martin, Arian Foster, and Adrian Peterson are just a few of the many running backs to leave their respective games early, leaving fantasy owners in both DFS and season-long leagues hurting for points.

Luckily my season-long league of record was unaffected by the slew of walking wounded. Unfortunately, I cannot say the same for all of my losing DFS squads, as I failed to cash in the three lineups I played this week on DraftKings.

Although I was unable to cash in my double-ups and multipliers, I did make a few fortuitous picks that got me close to the running in some games, and hopefully I can use the lessons learned from my mistakes this week to get back in the black for Week 3.

For this weekís lineup review, I decided to use a losing DraftKings.com lineup that included what I thought was the safest cash play quarterback in Eli Manning.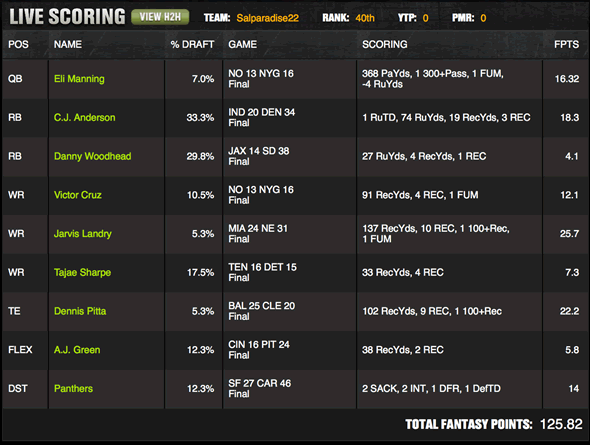 Quarterback: Eli Manning
Fantasy Points 16.32
Grade: D
Manning was my cash game play of the week due to the fact that nearly every single variable that I use to identify fantasy plays seemed to be working in his favor. The Giants and Saints combined for 101 points when the two teams played last season, leading me to believe Manning would do well because I assumed this would be a high scoring game again.
The defense of the Saints was decimated by injuries in an already poor secondary, and the Giants passing game appeared on paper to be much better than last season with the addition of Sterling Shepard and the return of Victor Cruz.
And lastly, the opposing offense of the Saints appeared to be unstoppable at home against the Raiders, opening the door for another shootout against a rebuilt, but not dominant Giants defense.
Of course the game turned out to be a low scoring affair with both Brees and Manning struggling to move the ball. The Giants defense turned out to be much better than I anticipated, and Brees was worse than I thought on the road.
Breesí road splits have always been worse than at the Superdome, but I figured he would at least throw for 250 yards and three scores.
Going forward I will make a point to not rely on opposing offenses to run up the score on the Giants, as the remade G-men defensive secondary and d-line is stout.
Running backs: Danny Woodhead, C.J. Anderson
Combined Fantasy Points: 22.4
Grade: C
Anderson was my top cash game running back of the week after his two-touchdown performance Week 1 against the Panthers, and a choice matchup at home Week 2 against the Colts. With 18.3 points on 93 total yards and a score, Anderson delivered a nice game and lived up to his projected points.
In a PPR format Danny Woodhead seemed like a great play against a Jacksonville defense that struggled Week 1 against Green Bay. Add in the fact that Phillip Rivers was leaning on his safety net in Woodhead after Keenan Allen went down last week, and it appeared as though little Woodhead was primed for a big game.
Of course he left early with a season-ending ACL tear after posting just 4.1 fantasy points. It was a tough end to the season for one of my favorite non-49er players, and effectively an end to my chances of cashing with this lineup.
Wide Receivers: Victor Cruz, Jarvis Landry, and Tajae Sharpe
Combined Fantasy Points: 45.1
Grade: C-
Like many unfortunate souls in the DFS universe, I chose a Giants stack against the Saints on Sunday. Top Saints DB Delvin Breaux is out for the season with a broken leg and the remainder of the New Orleans secondary is untested.
Cruz had a nice day in terms of yardage with 91 yards on eight targets. However, he failed to reach the end zone and his four catches did not help much in the PPR format.
Landry on the other hand proved once again to be PPR gold, with 10 catches for 137 yards and zero TDís. The game script against the Patriots seemed logical to have the Dolphins down early and passing heavily in the second half to get back in the game. This proved to be correct and Landry and his $6,400 price tag paid dividends.
Shapre did not pay dividends, with just 33 yards on four receptions. After 11 targets in Week 1 and a decent matchup against the Lions, I was hoping for a nice PPR game from Sharpe and perhaps his first NFL regular season TD. Neither things happened.
Tight End: Dennis Pitta
Fantasy Points: 22.2
Grade: A
Pitta is one of the feel good stories of the year after coming back from two serious hip injuries that appeared to be career-threatening. For fantasy purposes, his $2,800 salary was a steal considering the fact that he and best-friend Joe Flacco have a strong rapport and connection on the field.
That rapport proved to be valuable on Sunday against the Browns, with nine catches for 102 yards. As one of the cheapest tight end plays of the week, Pitta was a nice GPP play for owners looking for a home run and a nice cash play in DK due to his high volume. I will continue to look for Pitta in my lineups until his salary adjusts to the proper value.
Flex: A.J. Green
Fantasy Points: 5.8
Grade: F
After an impressive 12/180/1 line Week 1 against the Jets, I was excited to have enough money left in my budget for Green. When you also consider Greenís recent success against the Steelers, with 17 catches for 250 yards and two touchdowns in 2015, he seemed like a no-brainer play.
What I didnít think about were the poor weather conditions in Pittsburgh and a nice defensive game by the Steelers against Green and the Bengals. His $8,900 was a waste of money and he was one of the main reasons why I stunk last week.
Defense: Carolina
Fantasy Points: 14
Grade: B
The Panthers at home on a short week against a 49ers team that traveled cross country appeared to be the best defensive play of Week 2. The Panthers did manage a defensive score, but they disappointed by allowing 27 points to Blaine Gabbert and the Niners.
Arizona and Denver proved to be better plays after posting two defensive scores apiece. Carolina was tied for third with 14, so I canít complain too much.