Weather has long been a point of contention for fantasy writers, with some arguing that the effects of poor weather are overblown, while others contend that weather has a significant effect on player performance and should be heavily considered when setting DFS and season-long fantasy lineups.

I find myself somewhat in the middle of the two sides, with the belief that certain types of weather, like torrential downpours on natural fields like Miami, or severe windy conditions in outdoor stadiums for kickers can affect the outcome of games.

But I do think that some fantasy owners take weather a bit too far, leading to missed opportunities for big games.

As a rule, I love to invest in talented running backs playing in the snow on artificial turf - even high priced ones, as slippery conditions tend to hurt defenses in their reaction to a play. This does not hold true with running backs in downpours on natural grass, as slick balls and muddy fields leads to poor footing and fumbles.

Skill position players like wide receivers can also benefit from footing advantages over the defense in snowy conditions, assuming the quarterback throwing the ball to them is comfortable throwing in bad weather and will not just rely on check down throws.

My advice to owners looking for insight on starting kickers in bad weather is to play on a DFS platform that does not require kickers, as predicting kickers in a crapshoot and kickers should be outlawed from all forms of fantasy.

If you insist on playing with field goal kickers, common sense would tell you that focusing on those playing indoors would be a smart move. But you can also use adverse weather conditions to your favor, with kickers playing on teams that struggle to move the ball in the red zone because of in climate weather.

The following picks are players that I am targeting on DraftKings this week, with a few weather related thoughts thrown in for good measure.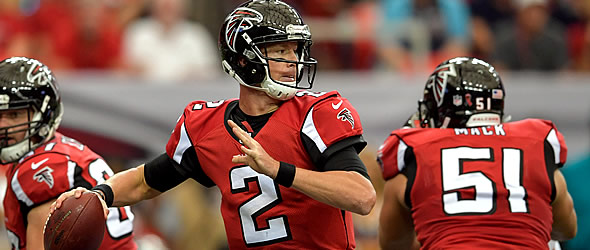 Weather won't be a concern for Matt Ryan at home against the porous San Francisco defense.
Quarterbacks
H2H/Cash - Matt Ryan vs. San Francisco ($7,300 on DraftKings)
An MVP candidate in the midst of his best season as a pro, Matt Ryan is one of the safest plays for cash game players this week with the Falcons playing host to the San Francisco 49ers.
With nearly every other top tier quarterback facing tough matchups like Brady on the road against Denver and Brees on the road against the Cardinals, or weather issues like Rodgers and Big Ben playing in windy and cold conditions, Ryan seems like no-brainer pick for owners looking for a safe floor and high ceiling.
The one concern here is not the 32nd ranked 49er defense, as Ryan will have little trouble torching San Fran in the air. A negative game script filled with rushing touchdowns by Freeman and Coleman, mixed with defensive touchdowns from the Atlanta D/ST, is the only recipe I can see for a bad game from Ryan.
Other options to consider - Philip Rivers vs. Oakland & Carson Palmer vs. New Orleans
GPP - Tyrod Taylor vs. Cleveland ($5,700 on DraftKings)
I mentioned in my opening that I love to target running backs playing in snowy conditions on artificial turf, because the offensive player in that situation as a leg up on a defense that is forced to react to a play on a slippery field.
We saw this last week with Le'Veon Bell setting the Steelers all-time rushing record for a game last week against Buffalo, with 236 yards and three touchdowns on 38 carries.
Tyrod Taylor's rushing ability is something that sets him apart from other quarterbacks and is the main reason why he has fantasy value.
The favorable weather conditions in Buffalo mixed with the fact that Cleveland has allowed the most fantasy points to opposing running backs on the year makes Tygod an interesting GPP play this week.
Other options to consider - Jameis Winston @ Dallas & Joe Flacco vs. Philly
Fade - Marcus Mariota @ Kansas City ($6,500 on DraftKings)
A native of Hawaii who played his college ball at Oregon, Mariota has never played in the level of cold weather expected at Arrowhead on Sunday.
Is it possible for Mariota to have a good game? Certainly, but I am not willing fork out $6,500 on him when there are less expensive options out there that are far more attractive.
Of course there is the Arrowhead narrative on how the Chiefs are a tough team to play and home with the crowd noise, which certainly is something to consider. But I am erring on the side of "I want to see it first" when it comes to Mariota playing in subzero temperatures.

Running Backs
H2H/Cash - LeSean McCoy vs. Cleveland ($7,300 on DraftKings)
McCoy has been one of the most consistent running backs over the past three weeks, averaging 28 points per game as both a threat on the ground and in the passing game.
He has totaled at least 100 total yards in all three games, including just under 200 combined yards against Oakland Week 13.
The weather report of wind and possible snow in Orchard Park increases his value as the Bills will likely rely heavily on the ground game. Add in the fact that the hapless Browns defense is 30th against the run, and you have the makings of a possible monster game.
Other options to consider - Devonta Freeman vs. San Francisco & Jeremy Hill vs. Pittsburgh
GPP - Bilal Powell vs. Miami ($5,600 on DraftKings)
A knee injury will likely keep Matt Forte from playing against the Dolphins on Saturday night, opening the door for Powell to start against a Miami defense that has allowed the 11th most fantasy points to opposing defenses over the past five weeks.
Don't be surprised if Powell does not score a touchdown, as the Dolphins have allowed only five rushing TDs on the season. This is more of a speculation of value based on volume, as Powell as the lead back should receive between 20 and 30 touches, and should be able to have success in the passing game.
Other options to consider - Mike Gillislee vs. Cleveland & Tevin Coleman vs. San Francisco
Fade - Mark Ingram vs. Arizona ($4,700 on DraftKings)
Ingram is a risky play this week bases on the fact that the Cardinals have allowed only one player to rush for more than 100 yards this season. It also doesn't help that he has been limited this week with toe and knee injuries.
In addition to limiting running backs on the ground, only one running back has scored a receiving touchdown this year against Arizona, and no running back has been able to log more than 49 receiving yards in a game.
Ingram is a touchdown dependent player against the Cardinals, and not worth the risk when there are far more appealing plays this week.
Wide Receivers
H2H/Cash - Jordy Nelson @ Chicago ($7,300 on DraftKings)
Nelson has scored a touchdown in all but three games this season, including six of his last seven games dating back to Week 8.
The weather is a concern here, as the forecast calls for fairly high winds and frigid subzero temperatures. The one way a wide receiver overcomes weather like this is having a strong armed quarterback that is used to playing in cold weather. A quarterback like Aaron Rodgers.
Some players might shy away from this matchup, but I like Nelson's chance of hitting pay dirt once again.
Other options to consider – T.Y. Hilton @ Minnesota & Stefon Diggs vs. Indianapolis
GPP - Tyreek Hill vs. Tennessee ($5,700 on DraftKings)
Hill continues to be curiously undervalued on DraftKings despite the fact he has scored double digit fantasy points in all but one game since Week 7.
The Titans have allowed the fourth-most fantasy points on the season to wide receivers and the most over the past five weeks. Far lesser talented players like Deonte Thompson and Marquess Wilson were able to put up great numbers at home against the Titans, leaving little doubt in my mind that Hill will be able to do the same.
Other options to consider – Mike Wallace vs. Philadelphia & Tyrell Williams vs. Oakland
Fade - Alshon Jeffery ($6,000 on DraftKings)
Back from a four-game suspension for using performance enhancing drugs (or performance limiting drugs, depending on how you look at it,) Jeffery returns to action this week against the Packers at home.
He is a trendy pick on some ranking boards this week, as some analysts anticipate him tearing it up with the hope of securing a lucrative free agent contract this off season.
It may happen, but I am betting against it because I do not trust Matt Barkley any further than I can throw him - and I am out of shape and Barkley is a big man.
Tight Ends
H2H/Cash - Tyler Eifert vs. Pittsburgh ($5,600 on DraftKings)
With four touchdowns in his last three games, including a two-touchdown performance last week against Cleveland, Eifert has been exactly the type of consistent performer cash game players like to target.
If A.J. Green comes back, defenses will not be able to focus their resources on Eifert, opening the door for the former Golden Domer to continue his touchdown streak. If Green does not play, I still believe Eifert is a solid play based on the play action game when the Steelers sell out to stop Jeremy Hill.
The Steelers rank in the middle of the pack against tight ends this season, with Charles Clay, Gary Barnidge, Travis Kelce and Gronk all finding the end zone. Look for Eifert to add his name to this list on Sunday, with at least one score and 50 yards receiving.
Other options to consider - Travis Kelce vs. Tennessee & Greg Olsen @ Washington
GPP - Jermaine Gresham vs. New Orleans ($2,500 on DraftKings)
I'm going back to the well on this one.
Michael Floyd is gone, John Brown is still limited with sickle-cell related issues, and Carson Palmer continues to look his way (another 7 targets against Miami last week.)
The monsoon in Miami limited the overall effectiveness of the offense last week, but I look for Palmer and the passing game to get back into form in the climate controlled comforts of University of Phoenix Stadium.
Dollar for dollar, there are few players that will receive quality targets in a matchup as advantageous as Arizona vs. New Orleans.
Other options to consider - Hunter Henry vs. Oakland & Ladarius Green @ Cincinnati

Fade - Delanie Walker @ Kansas City ($3,900 on DraftKings)
A favorite play of mine early in the season and someone who has helped me win some money on DraftKings, Walker is not going to be on any of my tickets this week with the Titans taking on the Chiefs at Arrowhead.
With weather concerns aside, I'm not sure I would be willing to play Walker against Kansas City even in September, as the Chiefs are incredibly tough against tight ends.
Safety Eric Berry and the Kansas City linebacking corps have allowed only two touchdowns this season to tight ends, with no opposing tight end topping the 50-yard mark.
My advice is to fade Walker and spend your money on someone who is far more likely to get multiple targets in a better offense at a discounted price, like Jermaine Gresham.

Defensive Play of the Week
Baltimore vs. Philly ($3,100 on DraftKings)
Baltimore has six double digit fantasy games on the season, with their latest coming two weeks ago against the Dolphins at home. After researching these games, I found that they either came at home or on the road against an offense that ranks near the top in giveaways (Jacksonville and Cleveland).
Rookie quarterback Carson Wentz has been a disaster on the road lately, with five interceptions and a fumble in his two recent road games against Seattle and Cincinnati.
Add those two factors together, and you have perfect storm for turnovers and possible defensive scores this Sunday in Baltimore.