The idea that a player is "due" to have a big game, breakout of a prolonged slump, or score their first receiving touchdown for a season is one of the least scientific but most commonly used tools fantasy managers use when looking for value.

In season long leagues, owners looking for buy-low trade candidates tend to look for receivers who have been the recipient of a sizable target share from their quarterbacks, but have yet to covert those targets to scoring plays.

Running backs who have yet to score touchdowns despite receiving a high volume of carries are also attractive trade targets, as the assumption is those games of 20-plus rushes will eventually lead to rushing TDs.

Alshon Jeffery and Lamar Miller are two players that fit the mold when it comes to disappointing fantasy touchdown production, despite the fact that they are producing yardage totals that would typically result in more fantasy points.

Through five games, Jeffery has posted 394 receiving yards for an average per game of just under 80. If he continues on his current pace, he will finish the season with a surprising line of 70/1260/0.

Considering the fact that since 1920, no wide receiver has caught over 1000 receiving yards in a season without scoring at least one receiving touchdown, history would tell you that Jeffery is due to score at least a few TDs going forward.

According to ProFootballReference.com, Al Toon of the New York Jets was the closet to reach the 1000 yard/0 TD plateau in 1991 when he caught 74 balls for 963 yards.

In terms of Miller's TD drought to start the season, he is on pace for 323 carries and 1187 rushing yards. Since 2000, no running back has rushed for more than 830 yards without scoring at least one rushing touchdown, with Marcel Shipp of the Arizona Cardinals owning that dubious distinction in 2003.

While historical data is not a clear determinate for predicting the future, (hence my admission in the lede that this idea is unscientific), I would bet that Miller and Jeffery are not going to set TD futility records this year and both of them will score sometime soon.

Now comes the fun part for DFS owners. At what point in the season do we want to invest in these type of players based on the logic that they are "due"? We don't want to be too early and waste salary dollars on another high yardage/no score game, but we don't want to miss out on the big game when they do finally breakout.

There is no clear answer to that question. But I have decided to invest in both of these players this week because they each have advantageous matchups at home.

Here are a few other players I am targeting this week.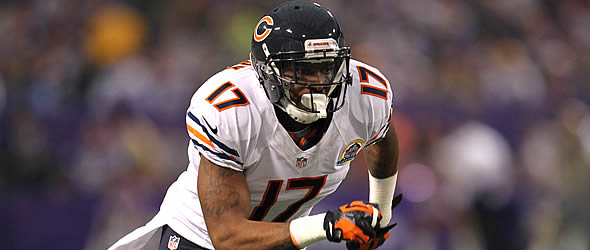 Is this the week? Alshon Jeffery is averaging 17.9 yards per catch but has yet to find the endzone.
Quarterbacks
H2H/Cash - Russell Wilson vs. Atlanta ($6,900 on DraftKings)
After a much needed bye week to recover from ankle and knee injuries, Wilson returns to action Week 6 against the Falcons at the Link.
Wilson's salary is a full $1000 less than when he opened Week 1 against Miami, primarily due to the fact that he has been a disappointment this season with three of his four games averaging less than 15 fantasy points.
But that is all going to change this week when Atlanta comes to town, as the Falcons have allowed the second-most points to opposing defenses this season. Assuming Wilson's leg ailments have healed to the point where he can move outside the pocket and create plays with his mobility, Wilson should deliver a high floor and possible high ceiling matchup perfect for cash games.
Other options to consider - Drew Brees vs. Carolina & Ben Roethlisberger @ Miami
GPP - Marcus Mariota vs. Cleveland ($6,100 on DraftKings)
Mariota quietly delivered one of the best fantasy performances of Week 5, with three passing touchdowns and one rushing score against the Dolphins. Although I am not a Mariota apologist, and I am not an advocate of his in season-long leagues, he is a an excellent boom or bust play that you look for in GPP's.
Keep in mind that the former Oregon Duck does come with some risk. Prior to his 31 point explosion against the hapless Phins, Mariota managed only 9.08 and 7.76 points against the Raiders and Texans.
Other options to consider - Brian Hoyer vs. Jax & Tyrod Taylor vs. San Francisco
Fade - Eli Manning vs. Baltimore ($5,900 on DraftKings)
I was fully on board the Eli Manning hype train this preseason. Another year in the McAdoo offense, a relatively easy schedule, and the addition of Sterling Shepard led me to believe that old Eli would be a solid fantasy quarterback in 2016.
Eli truthers will tell you that he has had a difficult schedule as of late, with consecutive primetime road games against the Vikings and Packers. But what excuse can those same truthers give for his pedestrian 16.32 point game Week 2 against New Orleans?
I have not given up yet on little brother Manning, but I am avoiding him in DFS until he puts together back-to-back solid games.
Other options to consider - Andrew Luck @ Houston & Matt Ryan @ Seattle
Running Backs
H2H/Cash - DeMarco Murray vs. Cleveland ($7,700 on DraftKings)
It is somewhat disappointing that Murray, one of the top three fantasy running backs in 2016, has yet to top 30 points in a single week on DraftKings. How is it possible that a back of his caliber has yet to give a monster game for fantasy owners this season.
Of course I kid. Although Murray has yet to top the 30 mark in a week, he has yet to deliver less than 21.5 points. He has been the pinnacle of consistent and is a stalwart for cash game lineups this week.
Although his $7,700 price tag makes him the second-most expensive running back behind Bell, I think he is more than worth it against a Browns defense that has allowed the 9th-most points to opposing backs. Barring an injury or terrible game script, Murray is a lock this week for 20 points.
Other options to consider – Le'Veon Bell vs. Miami & Christine Michael vs. Atlanta
GPP - Lamar Miller ($6,600 on DraftKings)
I am putting my money where my lede is and going with Miller this week in GPP contests. The Colts have allowed six total touchdowns to opposing running backs through five games, including three to the Lions in Week 1.
Other options to consider - Jordan Howard vs. Jax & Jamaal Charles @ Oakland
Fade - Ezekiel Elliott ($7,000 on DraftKings)
The Green Bay Packers have given up the fewest points to running backs this week, forcing me to fade Elliott Week 6. I am somewhat nervous about this pick, as the league's leading rusher has more than proven his skills and abilities in the NFL this year.
I fear Rodgers and the Packers will do well offensively to create a negative game script for Elliott. Avoid if you can, but don't be surprised if he sneaks in one rushing TD.
Other options to consider - Tevin Coleman @ Seattle & Frank Gore @ Houston
Wide Receivers
H2H/Cash - Michael Crabtree vs. KC ($7,700 on DraftKings)
Going back to the well again for this one.
The 25th ranked Chiefs passing defense has allowed five touchdowns to opposing wide receivers in four weeks, while the Oakland passing attack has been flourishing during that span, with Michael Crabtree and Amari Cooper trailing only Pittsburgh and Denver for the top receiving duo in the league through five weeks.
Although Cooper is the bigger name and will likely get more attention this week from the Chiefs defense after his 138-yard game Week 4 against San Diego, Crabtree has been the more consistent performer in fantasy, with double-digit points in every contest this year.
Other options to consider - Kelvin Benjamin @ New Orleans & Allen Robinson @ Chicago
GPP - Alshon Jeffery vs. Jacksonville ($7,100 on DraftKings)
Surprise, Surprise. I am also putting my money where my mouth is with Alshon Jeffery this week against the Jags. One thing I didn't mention in the opening paragraph is the fact that Jeffery stormed off the field and was vocally upset about his lack of usage against the Colts Week 5.
Like the old adage goes: The squeaky wheel gets the oil. I hope the chirping wide receiver gets the targets.
Other options to consider - Sammie Coates @ Miami & Michael Thomas vs. Carolina
Fade - Julio Jones ($8,900 on DraftKings)
I hate to sound repetitive by choosing Jones for a second consecutive week, but his matchup on the road against the Seahawks is terrible and he is not worth the price. While we will ultimately need to wait and see if Richard Sherman shadows Jones this week, my money is on the all pro corner shadowing the main WR receiving threat for the Falcons.
Jones may have a decent game, and I am starting him in two of my season-long leagues, but I don't think he is the worth the risk this week for $8,900.
Other options to consider – A.J. Green @ New England & Golden Tate vs. Los Angeles
Tight Ends
H2H/Cash - Jimmy Graham vs. Atlanta (4,900 on DraftKings)
Graham has clearly found his place in the offense with back-to-back 100 yard games, including six catches for 100 yards and a score Week 3 against the 49ers.
When you consider the Falcons have allowed the third-most points to opposing tight ends, and the fact that Seattle is playing at home off of a bye, Graham is likely due for a monster game.
He should garner some consideration is GPP formats as well due to his high ceiling, however, his low floor makes him a nice start for cash players as well.
Other options to consider - Travis Kelce @ Oakland & Delanie Walker vs. Cleveland
GPP - Charles Clay vs. San Francisco ($2,900 on DraftKings)
Clay is starting the click with Tyrod Taylor this year (5 catches in each of his last two games) and the absence of Sammy Watkins has made the former Miami Dolphin TE a more heavily targeted weapon in the Buffalo passing attack.
The loss of Navarro Bowman earlier this season was a crushing blow to an already suspect 49er defensive unit. Without a viable cover linebacker to patrol the middle of the field, San Francisco has struggled against opposing tight ends (aside from last week against the Cardinals. Although, you could argue Larry Fitzgerald is more of a tight end now in the Arizona offense, and he scored twice last week.)
Other options to consider - Richard Rodgers vs. Dallas & Coby Fleener vs. Carolina

Fade - Martellus Bennett vs. Cincinnati ($4,500 on DraftKings)
It may sound odd to recommend fading a tight end that just scored three touchdowns Week 4 against Cleveland. It may sound even more odd to recommend a tight end that has Tom Brady throwing the ball his way.
The idea here is that tons of people are going to go with Bennett simply because he was so amazing last week. There are tons of mouths to feed in that offense, and I have a feeling another player in the offense is going to have a breakout game. I am predicting two Gronk Spikes this week, and maybe a few Edelman short TD throws.
Other options to consider - Dwayne Allen @ Houston & Will Tye vs. Baltimore
Defense/Special Teams
Play of the Week: Buffalo vs. San Francisco ($3,700 on DraftKings)
Although they are the most expensive DFS play of the week, the Bills have averaged 18 fantasy points over the past three weeks, and should continue to have success Week 6 against Colin Kaepernick and the 49ers.