After a nice winning streak of four connective weeks of finishing in the money, I failed to cash for the second week in a row in what turned out to be one of the more disappointing DFS weekends of the season.
Jordan Howard and Stefon Diggs, my two must-play starts of the week, failed miserably to live up to my expectations, while Jared Cook managed just one reception for nine yards despite playing against the Giants at home with both Amari Cooper and Michael Crabtree inactive.
On a positive note, my Jets stack of Josh McCown turned out to be a wise play with just over half of my point total coming from only two players.
Here is a breakdown of the entire GPP lineup, including some thoughts on why I chose to include each player on the ticket and how my decisions either worked or failed miserably.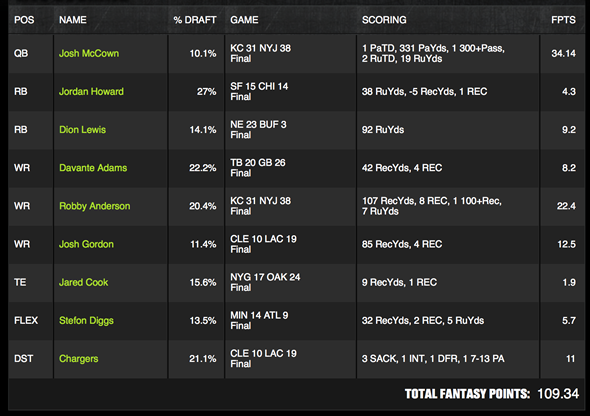 Quarterback: Josh McCown
Fantasy Points: 34.14
Grade: A
To the dismay of Matt Forte and Bilal Powell owners, Josh McCown scored two rushing touchdowns in a shootout win over the Chiefs to go along with 331 passing yards and one passing touchdown. Although I certainly did not anticipate the veteran quarterback scoring two TDs on the ground, the game against Kansas City proved to be an excellent target for inexpensive GPP plays like McCown and Robby Anderson. At just $5,500, McCown was an underpriced GPP option that entered the game with three 20-plus point games in his previous five contests.
Running Backs: Jordan Howard & Dion Lewis
Combined Fantasy Points: 13.5
Grade: F
I'm not sure if I am more angry with the fact that Howard managed just 33 total yards at home against a team that allowed the second-most points to opposing running backs, or the fact that Lewis was not rewarded with a touchdown by Bill Belichick after rushing for 92 yards against Buffalo.
Of course, Howard's turd at home against the Niners is without a doubt the most disappointing player on this ticket, as I wrote about how he was my must start of the week. I have yet to watch the film on this game to fully understand why Howard only received 13 carries or why he was unable to find success against one of the worst rush defenses in the league.
It just goes to show you that sometimes good players fail to produce fantasy points in what may appear to be an attractive matchup.
Wide Receivers: Davante Adams, Robby Anderson, & Josh Gordon
Combined Fantasy Points: 43.1
Grade: C-
For my wide receiving corps, I opted to go with what I perceived to be two high floor guys with upside in Davante Adams and Robby Anderson, mixed with a complete unknown in Josh Gordon as my aim for the stars play.
After nearly three years since playing a down in the NFL, no one knew what to expect from Gordon in his first game back from reinstatement. The matchup against Casey Hayward and the Chargers on the road was not attractive, as Hayward has been one of the most impressive cornerbacks this season and the Browns struggle on the road. But Gordon looked impressive, flashing some of the size and speed intangibles that make him a dominant receiver.
Anderson failed to continue his touchdown scoring streak, but did manage to give me 22.4 points on a solid 8/107/0 day. Adams, on the other hand, turned out to be a dud after posting double-digit points in each of his previous four games; he managed only to log four catches for 42 yards. Perhaps I was chasing points and bought into Hundley's game against the Steelers, but I thought Adams was in for a big game at home against the Bucs in the battle of the Bays.
Tight End: Jared Cook
Fantasy Points: 1.9
Grade: F
In a must-win home game against a defense that allowed a receiving touchdown to opposing tight ends in nine of 11 games, and with both starting wide receivers inactive, Jared Cook managed just one stinking catch for nine yards on Sunday. He did leave the game for a moment to check on an injury in the blue tent but come on man, how on Earth can you not at least get 10 points in this matchup? I guess I should have known that under no circumstances can you trust Jared Cook for production. Just ask Titan, Ram, and Packer fans.
Flex: Stefon Diggs
Fantasy Points: 5.7
Grade: F
I got into a spat with a fellow owner in my season-long league of record when I gave him grief for taking Diggs at the start of the fourth round. I felt that despite his fantastic talent, Diggs' inability to stay healthy and his sporadic production made him a reach that early in the draft. I looked like a fool early in the season when Diggs posted two monster games in his first three contests, but I feel somewhat vindicated in that Diggs missed some time with injuries this season and he has not posted a 20-point game since Week 3.
But even with my own doubts on Diggs, I could not resist his $6,200 salary against the Falcons in a matchup against the Falcons with Desmond Trufant injured. Diggs managed just two receptions for 32 yards, as the Vikings and Falcons combined for just 23 total points.
D/ST: Chargers
Fantasy Points: 11
Grade: B
To have any shot of cashing in a GPP you need to have at least one defensive score from your D/ST. The problem is, predicting touchdowns is a difficult task, especially special teams and defensive TDs. I went with the Chargers at home against DeShone Kizer, as I anticipated he would feed Gordon passes regardless of coverage, resulting in a pick-six for the Chargers. The pick six did not materialize, but San Diego did provide 11 fantasy points.