My Week 9 DFS recap article is late this week because I was unable to type Julio Jones' name for the past two days without going into a fit of rage. With 48 hours to decompress and multiple bouts of needing to say the mantra "serenity now, serenity now," I am finally able to write my recap on what could have been my best week of DFS to date.
For those unaware of what transpired on a fourth and seven from the Panther 39-yard line on Sunday, Julio Jones ran an excellent route that left him wide open in the end zone with no defender in sight. Matt Ryan lobbed the pass in the air, giving Jones plenty of time to move under the ball and make what should have been an easy touchdown.
Instead of securing the easy touchdown, Jones tripped over his own feet and bobbled the ball like my six-year-old learning to catch. The gaffe cost the Falcons seven points and a chance of beating the Panthers in a crucial NFC South matchup. But more importantly (at least in my world), the drop cost me 10.9 fantasy points and the chance of making $150 more from my winning ticket in the Millionaire contest on DraftKings.
With 182.48 points I finished 1436th out of 500k entries, for a nice little payday of $100. If Jones had made that catch (assuming a small percentage of other owners above me owned Jones), I would have moved into the top 250 and would have walked away with $300.
In hindsight, at least that drop did not remove the chance of me finishing with a serious payday, as missing out on a million dollar payday would be crushing.
The following is a review of my winning lineup, including a misstep on Gerald Everett and Devin Funchess.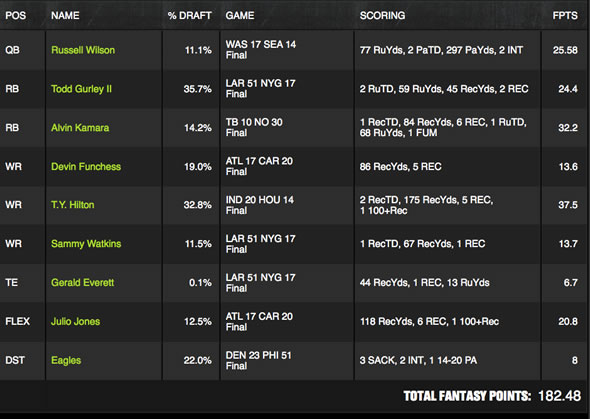 Quarterback: Russell Wilson vs. Washington
Fantasy Points: 25.58
Grade: B
I cursed Wilson's name for the first three-quarters of this game, with the Redskins limiting the Seahawks to three-missed Blair Walsh field goals. But like he often does, Wilson finished strong using both his arm and his legs for 25.58 fantasy points on 297 passing yards and two touchdowns, while adding 77 yards on the ground.
In hindsight, I should have started Jared Goff as a part of a Rams stack that I mentioned in my preview piece, especially with the Giants decimated on defense by injuries and suspensions. I just had a tough time rationalizing starting Goff, Gurley, Watkins, and Everett on the same ticket.
Running Backs: Todd Gurley & Alvin Kamara
Combined Points: 56.6
Grade: A+
I originally had Fournette and Gurley as my top running back plays in a week where I didn't feel like there were high priced wide receivers worthy of a top dollar salary. The last-minute move by the Jags to make Fournette inactive forced me to move in Kamara into the lineup, which proved to be a fortuitous change.
I love Kamara and Mark Ingram, but it continues to defy logic for two running backs on the same team to be top 12 fantasy assets. Eventually one of them will take a back seat fantasy-wise, but until then, I plan on featuring both of them in my lineups.
Todd Gurley was my top play of the week based on the logic that the Rams were going to run away with an easy win over the hapless Giants, opening the door for Gurley to get some close out points.
Wide Receivers: T.Y. Hilton, Sammy Watkins, and Devin Funchess
Combined Points: 64.8
Grade: A
Recent struggles by Hilton and Watkins left both players with very attractive low salaries relative to their skill level, giving DFS owners like myself excellent options at WR to pair with expensive running back plays.
With Hilton, I bought into the narrative that his recent complaints about volume and subsequent comments by his head coach about getting Hilton involved would lead to a big game against the Texans. The squeaky wheel narrative doesn't always pay off, but it did this week for the 33% of owners who played Hilton.
I liked Watkins a lot based on the fact that Janoris Jenkins was inactive for violating team rules, plus the likelihood of a positive game script that would allow Goff to target Watkins deep seemed to be high.
The selection of Funchess made sense based on the fact that he has earned nearly eight targets in his last four games and the shocking trade of Kelvin Benjamin to the Bills would give Funchess even more volume. The volume and catches were there, but the production was somewhat disappointing at five catches for 86 yards and no touchdowns.
Tight End: Gerald Everett
Fantasy Points: 6.7
Grade: D
The Giants entered Week 9 allowing a touchdown to an opposing tight end in every single game this year, ranking New York first in points allowed at 14 points per game. By comparison, the Giants have allowed more tight end receiving touchdowns than the Packers, Chargers, Falcons, 49ers, Steelers, and Bears combined.
So it goes without saying that $2,600 Gerald Everett looked poised to have a big game on Sunday at Met Life Stadium. Everette did have an excellent long reception and added a 13-yard run, but fellow tight end Tyler Higbee vultured a seven-yard receiving touchdown.
Flex: Julio Jones
Fantasy Points: 20.8
Grade: B+
I will save you from reading an exhausting diatribe about my frustrations regarding Julio Jones and focus on why I thought he was worth the $7,800 price tag against a tough Carolina Defense. With Jones only receiving six targets in a Week 8 loss to the Jets, I assumed that the Atlanta coaching staff would see the errors in their scheme and pepper Jones with passes Week 9. That proved to be the case, and Jones was one drop away from a 30-point fantasy day.
DST: Philadelphia vs. Denver
Fantasy Points: 8.0
Grade: C
With the Eagles flying high off of a 20-point DST performance at home against the 49ers, I assumed that they would find success once again this week against Brock Osweiler and the anemic Denver offense.
The Eagles gave me a solid eight points off of three sacks and two interceptions, but the lack of a defensive touchdown made this somewhat of a bust.