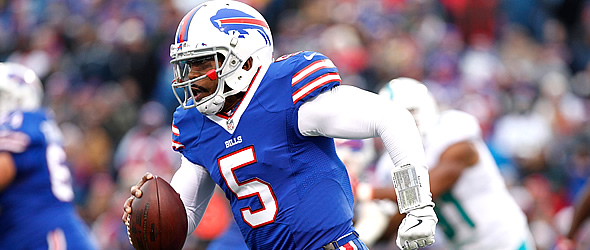 Taylor is an ideal target for those fantasy owners employing a late-round QB approach to their draft.
QB Tyrod Taylor
(2016 QB Rank - No. 18, 20.9 FPts/G)
One of the most underrated fantasy football quarterbacks since taking the starting job in Buffalo back in 2015, Tyrod Taylor has quietly posted two consecutive seasons with at least 3000 passing and 500 rushing yards.
His 20.9 points per game average last year was better than Russell Wilson and just .10 of a point less than Derek Carr, two quarterbacks who have typically been drafted well ahead of Taylor in fantasy drafts this year.
Although Taylor managed to throw only 17 touchdowns last season, his 508 rushing yards and career-high six rushing touchdowns more than made up for his deficiency throwing TDs. With a healthy Sammy Watkins and the addition of second round rookie Zay Jones, Taylor has arguably his best-receiving duo since joining the team in 2015.
With a QB rank outside the top 12, Taylor will likely be used initially as a streaming quarterback in most 12 and ten team leagues, with Week 4 at the Falcons and home games against the Jets, Saints, Raiders, and Colts as possible lucrative matchups to exploit. But don't count out Taylor as a possible full time starting option, especially if he and Sammy Watkins can recreate the chemistry that made them a force in 2015. Taylor is an ideal target for those fantasy owners employing a late-round QB approach to their draft.
RB LeSean McCoy
(2016 RB Rank - No. 5, 16.4 FPts/G)
After posting the second-most rushing touchdowns (13) in his eight-year NFL career, Shady McCoy vaulted himself back into a consensus first round draft pick in all formats. Despite losing 8 rushing touchdowns to former Bill Mike Gillislee, McCoy was still able to score 14 total touchdowns in 15 games last season.
McCoy is set to surpass the 2000-carry plateau this season to go along with over 400 career receptions, begging the question when the oft-injured 29-year-old running back will finally break down for good.
When healthy, McCoy is still one of the most dynamic players in the game, as evident to his impressive 4.7 career yard per carry average. As the lead back for a Buffalo team that led the NFL in rushing yards over the past two seasons, McCoy has a chance to finish the season as a top 3 running back in both standard and PPR formats. But owners who draft McCoy may want to consider investing in a viable replacement option or handcuff Jonathan Williams, as McCoy has managed to play a full 16-game schedule in only two of his eight seasons, and has yet to do so with the Bills.
RB Jonathan Williams
(2016 RB Rank - No. 103, 1.9 FPts/G)
The departure of Mike Gillislee to rival New England opened the door for second-year running back Jonathan Williams to assume the No.2 and short yardage role for the Bills, a team that ranked first in team rushing yards in each of the past two seasons.
Williams, a powerful 5'11", 220 former fifth-round selection in the 2016 NFL draft from the University of Arkansas, had a lackluster rookie season in spot work with 94 yards on 27 carries and a rushing touchdown. But his role is certainly going to expand in 2017, as the Bills will likely look to limit LeSean McCoy's carries to keep him fresh, and Shady is not a very effective short yardage ball carrier.
Also, Williams' value would shoot through the roof if McCoy were to get injured, which is not out of the question considering Shady has yet to play a full 16-game season in his two years with the Bills.
WR Sammy Watkins
(2016 WR Rank - No. 53, 6.9 FPts/G)
One of the premiere deep threats in the league, Sammy Watkins enters the 2017 season reportedly healthy after missing most of 2016 with a foot in injury. The Jones fracture Watkins sustained limited his lateral and vertical route running last season, as the former first round selection from Clemson likely came back too early in the recovery process.
When healthy, Watkins has the talent and opportunity to finish the season as a top-12 WR receiver, making him an interesting selection at his current third round ADP. The threat of Watkins re-injuring his foot will keep his ADP likely outside of the second round.
The fact that the Bills have led the league in rushing over the past two seasons and the team's propensity to run the ball in the red zone should not shy owners away from drafting Watkins, as 70% of his 17 career touchdowns have come from outside the red zone. He is a big play player that may be a league-winning selection for owners comfortable with the risk he carries.

UPDATE 8/15/17: Watkins was traded to the L.A. Rams.

WR Jordan Matthews
(2016 WR Rank - 51, 7.0 FP/G)
As the forgotten man in the Eagles passing offense heading into the 2017 season, Jordan Matthews' fantasy outlook looked fairly glum with so many receiving threats in Philadelphia. With a shocking trade to Buffalo for cornerback Ronald Darby, the outlook for Matthews changed dramatically as the former second round pick from Vanderbilt will likely slide into the No.1 receiving slot for the Bills in 2017.
Expectations should still be tempered, as the Bills are a run-first team and Matthews does not have the game-breaking speed nor the downfield receiving skills of Sammy Watkins, the player whom he is replacing in the offense. But, Matthews owners should view this as an upgrade due to the fact that he will see an increase in volume.

WR Anquan Boldin
(2016 WR Rank - No. 57, 6.7 Fpts/G)
Boldin enters his 15th NFL season as a member of the Bills after signing a late summer free agent deal with Buffalo. After posting eight touchdowns last season as the primary red zone threat for Matthew Stafford and the Lions, Boldin will likely resume that same role for the Bills with the departure of Sammy Watkins, Marquise Goodwin, and Robert Woods via trade and free agency.
The Bills will likely continue to be a run-first offense and the addition of Jordan Matthews via trade from Philadelphia will limit the number of targets for Boldin. In PPR formats, the former second round pick from Florida State will be somewhat limited as he will likely not see more than 70 catches in the Buffalo passing game. But his TD upside will give him value as a flex play in standard leagues, as he is an accomplished red zone threat, and another eight touchdown season is not out of the question.
WR Zay Jones
(2016 WR Rank - N/A)
Second-round pick Zay Jones will likely jump into the starting lineup opposite of Sammy Watkins, as former starters Robert Woods (LAR) and Marquise Goodwin (SF) moved out to the west coast via free agency.
At 6'2, 200 lbs, Jones worked primarily as a big slot receiver in college at Eastern Carolina but is slated to work both in the slot and outside as a member of the Bills. Jones' value in redraft will be somewhat limited this year because he will likely be the second or third option in a passing game that ranked third to last in passing yards in 2016, behind only the lowly LA Rams and San Francisco 49ers. As a result, Jones can be had in the late rounds of standard 12-team leagues.
In dynasty and keeper formats, Jones is a desirable player based on the fact that Watkins is a free agent in 2018 and it is not clear if the Bills will extend a lucrative long term offer based on Watkins' inability to stay on the field.

UPDATE 8/15/17: The path for fantasy relevance for second-round pick Zay Jones changed dramatically with the additions of Anquan Boldin via agency and the trade acquisition of Jordan Matthews from Philadelphia. Prior to the additions of Matthews and Boldin, Jones looked primed to start opposite of Sammy Watkins. On a positive note, both Boldin and Matthews are more effective as slot receivers, opening the door for Jones to take over an outside starting role if he is able to learn the new position.
TE Charles Clay
(2016 TE Rank - No.25, 5.3 FPts/G)
As the No, 25th ranked tight end in 2016 with 5.3 points per game, Charles Clay was merely a streaming tight end play in most leagues last season. Although Clay was active in the passing game to start the year with seven targets is two of Buffalo's first four games, he did not record his first receiving touchdown until Week 14 against Pittsburgh.
With a new coaching staff and new offensive coordinator, is too difficult to predict how much Clay with be used in 2017. The team is still concerned with Clay's on-going knee issues and will likely limit his practice time in-season. On a positive note, he did finish last season strong, with touchdowns in three of the final four games, including an eight-catch, 85-yard, two touchdown game in the fantasy Super Bowl Week 16.