The "Big Boards" Version 2




9/1/09



Predictable consistency. We seek it in life just as we do in fantasy. If your co-worker, boss or significant other is going to be temperamental at work or home, you'd like to know that person is going to have a "down" day every Thursday in the morning before lunch. No one is ever going to operate at 100% efficiency or let the stresses of the world fall off their shoulders like water droplets on a raincoat.

Much like the aforementioned example, our fantasy studs will have down days. Sometimes, they are for reasons we don't find out until two days, two weeks or two months after. Most of the time, though, I believe the answers for their success or lack thereof can be found by evaluating the quality of their opponent. After all, the opponent's defensive coordinator spends all week (supposedly, in some cases) trying to eliminate the very offensive weapons which make our fantasy teams go. Just like not all players are created equal, schedules are not created equal for every team either. And like it or not, every fantasy owner should want strive to match the best players they can draft against the weakest opponents possible. Not only does this allow for huge games for your fantasy team, but it lessens the risk that your core players will fail to live up to expectations.

Speaking of risk, a lot of times - early in a draft - it's just as important to minimize risk as much it is to maximize talent. In other words, it is often beneficial to build your team's foundation with players that have as few questions marks as possible rather than to draft upside, upside and more upside. As I have stated repeatedly throughout the summer, I want consistency.

I'm sure many of you wondered at the end of my last Big Board why I would follow it up with another one this week. The main reason for back-to-back Big Boards in consecutive weeks is simple - opinions can change quickly, as can coach's impressions on a player's readiness for the season. For instance, this week's biggest riser - Cadillac Williams - wasn't so much as an afterthought until I watched the Bucs-Dolphins preseason game last week in which HC Raheem Morris told FOX that he not only plans on keeping him around, but also to make him a key part of Tampa Bay's three-headed RBBC (more on that later). As any astute fantasy owner knows, a change like that affects three players' values, not one. It's this kind of announcement that can drive fantasy writers crazy, but one that we must adapt to nonetheless in order to make sure we provide the best insight possible for our readers.

I doubt I will be able to cover all the changes in this week's Big Boards, but I will make sure I will touch on as many as I feel are worth getting into more detail about. Some of the changes were made after further thought about who I could trust more while others were made simply based on what coaches had to say about a player's ever-changing role. Still other alterations were made after observing each of the 16 Week Three preseason games.

Once again, I want to remind each of my readers about the player's rankings and subsequent place on the board. I will push a player down my board if I cannot trust him to stay healthy all season. If you take the time to tear down each position I provide below, you will notice that I don't follow the point totals or averages to a tee. Outside of trust issues, I will push a player down my board – despite a higher average or overall point total – if I believe he will simply be more consistent throughout the season or if his playoff schedule appears treacherous – no, I don't claim to see the future, but history tells us that defenses like Baltimore, Minnesota and Pittsburgh will end more fantasy championship dreams than they help.

Note: I used the same color coding system in this article that I used in my previous PSAs breakdowns to designate poor (red), neutral (no color) and advantageous (green) matchups during Weeks 14-16.

Here is the scoring system that I used to rank the players:





PPR Changes

Top 10: Moss moves ahead of Gore. If ever I was to take a WR in the top five picks of any draft, it would be Moss. He just misses out here, but I have to move him ahead of Gore simply because the Niners' RB has given us just one out of four possible full seasons since joining San Fran in 2005. On the other hand, Moss has three full seasons of work to his credit in that same time. Furthermore, consider that Moss has scored 13 or more TDs in five of his 11 seasons in the NFL. Do you want to bet against him doing it again with one of the game's best QBs throwing him the ball in a pass-heavy offense? I don't.

This time around, Calvin and Andre Johnson both slip ahead of Chris Johnson. To be quite honest with you, this portion of the draft is subject to change day-to-day. Ultimately, I went with the receiving Johnsons simply because I now believe there are more inclined to be "surer bets" than "Every Coach's Dream". We're not quite at the point of our evolution in fantasy football where elite WRs trump every other position in PPR, but the case can be made now that outside of the top 5-6 RBs, players like Moss, Fitzgerald and both Johnson WRs should come off the board next because even if they don't score in a certain game, it is not out of the realm of possibility they turn in a 10-catch, 150-yard game either. In the end, I just can't seem to shake the feeling that Chris Johnson hit his carry limit last season and we know LenDale White will get the majority of work inside the 5. Therefore, I'm almost obligated to put him behind the top four WRs and RBs like Ronnie Brown and Steven Jackson who each have similar receiving skills AND the coach's blessing to convert at the stripe. Meanwhile, Monday Night's game showed us that Steve Slaton may still be option 1A or 1B at the goal line. Given the injury history of Chris Brown and Arian Foster, I'd like to believe now that Slaton will at least match last season's 10-TD output.

11-20: To the relief of many (I'm sure), I finally got a hint of the confirmation I've been looking for from John Fox this week regarding DeAngelo Williams and Jonathan Stewart, so D-Will visits the top 15. In short, Fox told the AP that Stewart was losing ground to rookie Mike Goodson in the pecking order for carries as the second-year back continues to battle a sore Achilles. Before going all-in on the DeAngelo bandwagon, however, keep in mind that the most lopsided split Fox has issued his top two RBs since 2004 is 63%-37% and that Williams' 273 carries last season were the most for a Panthers RB since Stephen Davis in 2003. Also bear in mind that Carolina faced six of the seven teams (seven total games) who allowed 4.6 YPC or worse last season. There will not be a repeat of the 383 rushing yards (7.2 YPC) and six total TDs he scored against the hapless defenses of the Chiefs, Raiders and Lions in 2008. And the defense has already shown chinks in the armor, meaning he will probably get fewer carries than he did a season ago. D-Will is probably a top-five RB talent in the league and will probably have some huge games this season, but in my estimation, he has a whole host of things not working in his favor. Therefore, he's better off being a RB2 in 12-team leagues.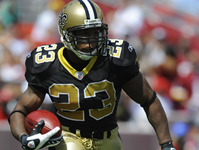 Pierre Thomas: On the slide.
21-50: Pierre Thomas slid a bit due to the semi-emergence of Mike Bell. No, I'm not sure Bell steals more than 50-75 total touches from Bush and Thomas, but it's pretty clear he is going to take some. For an offense that is so good to PPR fantasy owners and the Saints' RBs they own, that is amount that should still allow Thomas to be quite productive, but not ahead of team centerpieces such as Kevin Smith and Ryan Grant.
On the other hand, I am quite thrilled with Rice, who I've been able to snag in the fifth round as a RB3 on a number of occasions. OC Cam Cameron seems quite taken with his abilities - as he should be - and eight catches (18 total touches) this weekend vs. Carolina shows me that Baltimore wants to showcase him. I now expect him to log roughly 60% of the touches in the Ravens' backfield and get some of the work at the goal line if he doesn't need a breather at the time, which should make him a solid RB2 option in 12-team leagues. Much like Rice, I am now more convinced than ever that Kevin Smith will transition just fine into OC Scott Linehan's power-based running attack. His hands make him a PPR asset and with only Mo Morris and rookie Aaron Brown in reserve, Smith is one of the best bets for around 320 carries and 350 total touches in fantasy this season.
I must admit I have been thoroughly impressed by what I have seen from Rodgers this preseason. Cleveland, Buffalo and Arizona won't exactly top the charts in pass defense this year, but just about any player that goes out for a pass in the Packers' offense anymore is a weapon. I'm still not a fan of late-season matchups vs. Baltimore and Pittsburgh (Weeks 13 and 15, respectively), but his value has shot up so much in my mind that I am now willing to put him in the same tier with Peyton Manning and not think twice about it. This is an explosive offense that maybe only a Wisconsin blizzard can slow down.
One of the biggest mistakes novice drafters make is thinking since there are 24 starting spots for RBs in a 12-team league, there must be 24 RBs capable of being a RB1 or RB2. This year, I think I'm drawing that RB2 line with my 21st-ranked back in Lynch (when he returns from suspension). Yes, backs like Benson, Addai, Bush, Parker and Thomas Jones will all have their good days, but each has serious flaws in their fantasy "game". Sheer numbers dictate that at least three owners will be without an able-bodied RB2 and even more will be if those same owners choose to load up at other positions in the first three rounds. (In case you were wondering, I feel Ronnie Brown is the last of the RB1 candidates in PPR.)
(As an example, I completed a money league draft Monday night in which one owner spent his first five picks on RBs and two other owners who used their first three picks at the same position. As a result, players such as Ahmad Bradshaw, Reggie Bush, Chris Wells, Larry Johnson and Thomas Jones will be forced to be their team's RB1 or RB2 in a non-PPR league. I'm not a fortune teller, but I'll put some pretty good money on most of those backs not living up to typical RB2 standards.)
51-100: I felt my ranking of Lance Moore was a bit low in the previous Big Board, but felt powerless to move him up as he had yet to play in the preseason and I was naturally a bit concerned that his offseason shoulder surgery may be holding him back a bit. No worries anymore; sure, Brees and Moore picked on a helpless Oakland defense this weekend, but the thing I was most concerned with - his recovery - didn't appear to be a problem. He's a safe WR2 in my mind and is going much later than he should, especially in PPR.
Tony Gonzalez said earlier in the offseason he believes the 2009 Falcons are the best team he has ever played on, at least on offense anyway. That may be true on a few levels, but the same problems that exist on this team are the same ones that haunted the 2003 Chiefs - porous defense. And because Michael Turner is not Priest Holmes and the line is not anchored by Willie Roaf and Will Shields, it will be up to Matt Ryan to make up the difference. After watching him vs. most of San Diego's regulars for a half on Saturday, I'm willing to buy in on him as solid fantasy QB1 option in the sixth round or so. Atlanta will remain a running team, but "Matty Ice" will be called upon on a number of occasions to bail out the defense.
Much like his team, Moreno keeps spiraling downward in terms of his fantasy stock. He may or may not be 100% by Week 1 and given the circus that Brandon Marshall is creating for himself, Denver may not have much of a chance to get anything going this season. The schedule was already going to be difficult with a fully-loaded roster of committed and healthy players, but my point projection for Moreno is looking a bit high at the present time.
My summer-long infatuation with Shonn Greene has cooled just a bit, although I do like him to still claim a Le'Ron McClain-type role at some point this season. Apparently, when HC Rex Ryan termed his rookie as a "fourth-quarter weapon", he didn't mean anything but "fourth-quarter weapon". A rib injury suffered in Week Two may cost the rookie the rest of the preseason, but even before then, Thomas Jones and Leon Washington were getting all the work with the first-teamers. At least early in the season, expect something like a 50-40-10 split for Jones, Washington and Greene, in that order. Washington may even be the better PPR back, but I moved both veterans up since Greene will like be a slow starter in 2009. Jones' numbers this preseason have been dreadful - to his credit, the competition has been stout - but even with his stellar 2008, he is still going a bit high in my opinion with his 5.12 ADP. Despite keeping himself in incredible shape, he is my candidate to become the 2008 version of Willis McGahee in 2009. On the other hand, Washington is highly undervalued since he is going at the end of the ninth round on average and should be viewed in the same kind of light that Ray Rice is this season.
Derrick Ward takes one of the biggest hits of the week after HC Raheem Morris announced his plans for a 2-2-1 backfield split. Now, a 2-2-1 is a great way to press a team if the hope is to get the opponent to run time off the shot clock in basketball, but for fantasy football, it puts the fantasy value of Cadillac Williams, Ward and Earnest Graham all in peril. Morris also stated there would be no designated goal-line back, but with each back likely getting no more than four series a game, it becomes an absolute mess. Ward's ability to catch the ball should allow him to be a flex option in PPR, but he is not a RB2 candidate again until one of his two teammates gets hurt.
Other notable top 100 players:
Chris "Beanie" Wells - He looks like a much different back than the one I remembered at Ohio State. Hightower will remain a factor because he too has stepped up his game, but at this point, I would not blink if Wells was my RB3 or flex in non-PPR or PPR.
Jonathan Stewart - At this time of this writing, he has missed 14 straight practices. At the pace his Achilles is healing, he may be do fantasy owners little good in September. It may be time to spend a last-round pick on rookie Mike Goodson.
Rashard Mendenhall - I think the Steelers want him to emerge, but I don't see any of the Edgerrin James' comparisons Steelers OC Bruce Arians gave his second-year back prior to last season. Until I see a bit more explosion and decisiveness, the Pittsburgh backfield split may go 70-30 in the favor of Willie Parker.
101-175: The stories of this group are misplaced tight ends and rising but aging veteran QBs, which makes for a perfect transition to Favre and Shiancoe. Favre has always loved his tight ends and after I realized I had not appreciated that fact enough, the former Giant made a significant jump up my board. Hasselbeck is another veteran QB who I gave a bit more credit to than I did last week. His offensive line scares me, but as long as he is standing, the trio of Houshmandzadeh, Carlson and Burleson were enough for me to bump him up. Meanwhile, both Orton and Trent Edwards have nosedived in my eyes. The Brandon Marshall saga is getting progressively worse while Buffalo's no-huddle attack is looking a lot like the one that huddled last season. Terrell Owens' absence has hurt the team this preseason, but he can only help so much. Owens appears set to return for Week 1, but then Marshawn Lynch begins to serve the first game of his three-game suspension. Edwards' owners may need to wait until October to get the player they hoped would surpass average fantasy QB2 production.
I could very well have Jamaal Charles too low here as it appears that Larry Johnson will only stay on the field when the offense is "on schedule". Otherwise, it appears the ex-Longhorn is the play. It's early, but this looks a lot like the Edgerrin James-J.J. Arrington setup that new HC Todd Haley oversaw in Arizona last season.

Non-PPR Changes
Top 10: Michael Turner finds his final resting place as the #6 overall back (and #7 overall) as I came to the conclusion that despite my disdain for one-trick RBs, the "Burner" is everything else a fantasy owner wants in a RB1 - he is the team's workhorse who does not see his carries taken from him at the goal line in an offense that will score a lot of points. I still wouldn't want him as my RB1 because I have little reason to believe he won't be an inconsistent RB once again after considering his running schedule gives him very few breaks. Then again, there will be also be those weeks he will really explode as well.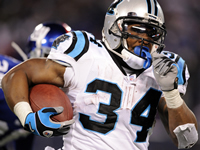 DeAngelo Williams: Tempting.
11-20: I was very tempted to move DeAngelo Williams past Steven Jackson on this week's board. My mind hasn't changed on Jackson's non-PPR inconsistency, so while he should finish higher than ninth overall among RBs, he could very well take his owners on a rollercoaster ride in the process. Williams, on the other hand, may set the world on fire in Weeks 1-13, but I still can't get past that brutal fantasy playoff schedule. I've bumped his 15-game totals up to 1,310 total yards and 13 total TDs, numbers that I feel are only attainable if his "Double Trouble" teammate Jonathan Stewart is hampered by injury all season. Pierre Thomas slides even further in non-PPR than he did in PPR due to the recent emergence of Mike Bell. As stated earlier, I don't expect a sizable workload for Bell, but he's going to chip away at Thomas' value ever so slightly, making him a mid-tier RB2 option at best.
21-50: In a number of drafts I have taken part in, Terrell Owens is slipping too far, sometimes in the middle of the fourth round. That is WR2 territory and there aren't any other WR2s available that can post 1,200 yards and 12 TDs. Speaking of WR2s, do whatever you have to do to secure at least one of the WRs I have ranked 13-18 (Ochocinco, Gonzalez, Jackson, Royal, Bowe, Houshmandzadeh). Pairing any of those WRs with any of the 12 receivers listed before them should ensure that the top WR slots are locked down all season long. Just like I mentioned in the PPR section regarding RBs and the mistake some drafters make in assuming a certain amount of players to fill RB1 or RB2 slots, the same could be said for WRs. I'm comfortable with the receivers ranked through Berrian, but after him, I get a bit concerned because at least four teams will be stuck with a wideout who will not be suited for a WR1 or WR2 spot in 12-team leagues.
51-100: After some further reflection, Derrick Mason should be poised to come close to matching last season's surprising totals barring injury. I get the sense that OC Cam Cameron wants Joe Flacco to throw just a bit more in 2009 - someone will have to pick up those catches besides Ray Rice coming out of the backfield. I think the team may to get others involved more heavily (Kelley Washington, Demetrius Williams, Mark Clayton), but ultimately, Mason is the only dependable target he has on the perimeter.
101-175: The biggest change to this part of the board is to a rookie who has experienced a meteoric rise from sixth-round draft pick this spring to someone who may be worth that same level of pick in fantasy if recent speculation is true - James Davis. There are some rumblings that Jamal Lewis may not even make the final 53-man roster and based on his production in 2008 and rough preseason so far, it's not hard to understand why. Davis would become the obvious beneficiary and would become one of the best candidates to extend the 15-year streak of at least one rookie RB crossing the 1,000-yard threshold. As a result, save yourself a headache on draft day and avoid Lewis. (I would move Lewis down further, but his release is unlikely given the $4M roster bonus he received this spring.) While you're at it, make Davis a target in the 12-13th round area and lock yourself up a potential RB3/flex option.
Favre has seen about as much movement as any player on my board over the last week. Over the weekend, I bumped him up from #18 to #13 in my QB rankings, only to remind myself that he will turn 40 during the season and, with each passing year, he becomes even more susceptible to injury. I think he will be productive and he still has a consecutive-games streak to maintain, but last season's shoulder injury should serve as a reminder that while he may start all 16 games again, the chances he will play most of them healthy is slim.
I'll close things out by quickly detailing the inclusion of Peyton Hillis and Mike Bell. At some point, Broncos HC Josh McDaniels is going to realize that Hillis is everything LaMont Jordan is and more. It's not hard to envision a committee approach that features the rookie Moreno and Hillis being the heavy lifters. On the other hand, Bell squeaks onto the Big Board after an impressive preseason. HC Sean Payton hinted last week that Bell may have worked himself into the backfield picture as a result. I don't foresee much more than 5-8 touches/game (if that), but his fantasy potential is about as good as it has been since his rookie year in Denver.