This is the first in a series of pre-season articles that will provide you with in-depth analysis of key injuries for the off-season and their resultant implications on fantasy football. This information comes straight from my perspective as a Physical Therapist and Athletic Trainer for ten years. Over this time, I have seen almost all the injuries that can happen in this violent sport on the college level and how to treat them. Hopefully, this gives you a little more insight on certain injuries and what to expect. This week I will recap the quarterback position.
Player: Tom Brady
Injury: ACL reconstruction, MCL tear
Games Missed in 2008: 15
Healing Time: 6 months to 1 year after surgery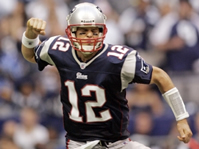 Tom Brady: Draft with confidence.

Impact on the Field:

You might have heard of him. Decent quarterback, got married a few months ago, star of the league on one of the best teams. Going through dramatic twists and turns in regards to the severity of the injury and its resultant infections from the process. It has been reported and he has been quoted as saying that his leg feels great and he is moving around just fine. The facts are these. He did not move around that much prior to the injury and he wonít be moving around all that much now. His strengths as a quarterback had nothing to do with his legs. I truly believe that I got wrapped up in the drama of this situation also. The reality is that his infection most likely was not a big deal and did not hinder his rehab. He is right on track with his recovery and is back on the practice field. ACL reconstructions in this day and age is not something that is career threatening. It only means that you will miss a season. I would draft Brady with confidence that you are getting a great player at a reduced price, teamed up with the best wide receiver in the league.

Player: Carson Palmer
Injury: Torn Ulnar Collateral Ligament
Games Missed in 2008: 12
Healing Time: ???????

Impact on the Field: There is quite a bit of speculation about this injury. There are two injuries possibly at play here. First and worst case is that the persistent swelling is from a torn/partial tear of the Ulnar Collateral Ligament meaning that he would require the Tommy John Surgery if completely ruptured. If this injury is less serious, it most likely is bursitis or a bone spur. This sac gets inflamed and stays that way with any activity involving bending and straightening of the elbow. No long term implication if this is what it is. It is more of a nuisance than anything else. The Bengals chose a non-surgical approach meaning that all of us on the outside of the organization have no idea what truly occurred with his injury. I am guessing that there was a partial tear in there and the best way to treat this was to let it rest and heal on its own. He also is back on the field and has resumed throwing. I am a little more concerned about his injury and the Bengalsí offense more so than Brady. The good news for Palmer is that he is relatively young and I doubt the team would play around with their star playerís future. He too, should be relatively undervalued and I would expect him to be healthy by the start of the season. It will depend on how much of a gambler you are.

Player: Brett Favre
Injury: Torn Biceps Tendon?
Games Missed in 2008: 0
Healing Time: 8 weeks if operated

Impact on the Field: The news around star players is getting more and more ambiguous. You just canít get a straight answer. Coaches, GMís, agents and Doctors have all come out and speculated about the health of Favreís right shoulder. From what I understand, he has a tear in part of his biceps tendon where it originates from in his shoulder. The biceps tendon goes from the top of the shoulder down across the elbow. It is a big muscle to move your elbow but plays a very important role in shoulder movement. Favreís biceps tendon is either fully torn which would then have to be re-attached, much longer rehab and more severe injury, or have the torn part of the tendon shaved down. The best analogy that I can give is that the tendon is like a string tied to a pole. It is either completely torn meaning it is no longer attached to the pole or a strand of it has come loose meaning that a physician can shave that dis-attached piece leaving the intact strand in place. Got all that. The great thing about the human body is although the tendon is not as strong as it once was, it has the capability to get stronger. Personally, I am tired of this whole Favre saga. If he wants to come back, he will. If he does not want to play any longer, he will stay retired. This injury will have minimal impact on that decision.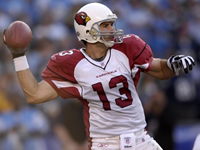 Kurt Warner: Hip shouldn't hinder his performance in 2009.
Player: Kurt Warner
Injury: Torn Labrum in his hip
Games Missed in 2008: 0
Healing Time: 12 weeks


Impact on the Field: Chase Utley, Mike Lowell, AROD, Carlos Delgado, Brandon Marshall. These are just a few of the athletes that have had this injury and resultant surgical intervention in the last year. It typically occurs in hips that have some arthritic change in the joint. It sounds like a big deal, but it really is not. All of these players have come back without any residual issues so far. It has been reported that Warner is about 10 weeks out from surgery and he is back on the practice field. This surgery is basically a clean-up procedure to smooth out the hip joint. He will be his normal productive self assuming Aquan Boldin stays with the Cardinals.
Player: Matt Hasselbeck
Injury: Bulging Disc in low back
Games Missed in 2008: 9
Healing Time: 12-16 weeks

Impact on the Field: Hasselbeck had a herniated disc in his low back that caused pain to travel into his leg and weakness throughout his entire lower extremity. When a disc puts pressure on a nerve in the back, it causes symptoms to occur in lower portions of the leg based on the severity of the pressure. The physicians chose to allow the disc to heal conservatively, thus preventing Hasselbeck from having to undergo surgery. Through injections, therapy and medications, the pressure on the nerve can be alleviated to the point to prevent symptoms. The problem here is that any potential hit, twist, wrong move or awkward throw could cause an exacerbation and lead him right down the same road. When healthy, again, he can provide nice value if he is drafted in the middle to late rounds. He has a track record of being successful and now has TJ Houshmanzadeh as an option.