This is the fourth in a series of pre-season articles that will provide you with in-depth analysis of key injuries for the off-season and their resultant implications on fantasy football. This information comes straight from my perspective as a Physical Therapist and Athletic Trainer for ten years. Over this time, I have seen almost all the injuries that can happen in this violent sport on the college level and how to treat them. Hopefully, this gives you a little more insight on certain injuries and what to expect. This week I will recap the wide receiver position. Luckily, there is not that much going on at this position. Again, there are not that many injuries at this position to navigate through.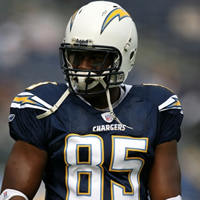 Antonio Gates: The #4 fantasy TE in 2008 despite numerous injuries.
Player: Antonio Gates
Injury: Dislocated and surgically repaired big toe, hip bursitis, Achilles tendonitis
Healing Time: About 3 months
Games Missed in 2008: 0
Impact on the Field: This is by far the biggest name on this list. The fact that he did not miss one game last year really is an astounding act of toughness on his part. Last off-season he underwent surgery to stabilize his big toe after it was dislocated in the playoffs. That injury really needs about 6 months to fully heal and he was back in 4. Athletes have the inevitable task of having to rehab their injury and train the rest of their body at the same time in the off-season. The problem is that most of these guys have trained one way or close to it their whole careers. And any stray from that such as riding an elliptical trainer as opposed as running sprints to ease the pressure on the toe, takes its toll on not preparing the rest of the body. So, as a result of not being able to fully prepare for the season, Gatesí body started to wear out. He developed Achilles tendonitis and hip bursitis because his toe was hurting and he continued to run in a compensating pattern. All his aches and pains should be healed by now and his toe has more time to heal. I fully anticipate this player being ready to go this year. If he did not miss any time last year, no minor injury this year will keep him from playing. He may not play such as big a role in the offense with Rivers as opposed to Brees, but he is still Antonio Gates. Rivers likes to get the ball down the field to his receivers and Gatesí targets have dropped the last two years. But, he is still too big a threat not to be involved in the offense. There will no longer be a huge drop-off between Gates and the next best tight end, but his name will still be at the top of the stats come the end of the season.
Player: Kellen Winslow
Injury: Multiple knee surgeries
Games Missed in 2008: 6
Healing Time: Healthy
Impact on the Field: The perennially injured Kellen Winslow looks like he is a go for this season. He signed his new contract that is guaranteed for 2 years. The Bucs did good to negotiate this deal considering his injury history. Winslow is a good player who does seem to play even though he is constantly hurting. The knee that has required multiple surgeries is relatively healed and I donít think it would cause him to miss any time unless a new injury pops up. His production will be somewhat limited in that mundane Buc offense. With either Leftwich/Mcnown/Freeman throwing to him, his numbers should be a bit depressed than what he experienced in Cleveland. Derek Anderson and Brady Quinn constantly dumped off to him, but one canít assume the same scenario occurring in Tampa.
Player: Zach Miller
Injury: Sports Hernia Surgery
Games Missed in 2008: 0
Healing Time: 12 weeks
Impact on the Field: Sports Hernia Surgery is done to repair a weakness in the infrastructure that holds the intestines in place and prevent them from descending into the groin area. A sports hernia is not a true hernia because there is no hole in the abdominal wall which underlying tissue protrudes. Diagnosis can be tricky because the symptoms are very similar to a groin pull or abdominal muscle strain. Usually there is no pain walking around but significant pain when an athlete transitions from a stationary position to full stride. Miller has emerged as a threat for the Raiders. Although he only had one touchdown last year, his reception and yardage totals increased. If JaMarcus Russell ever gets on track, Miller can put up some nice sleeper numbers. With McFadden to keep defenses honest and an improved offensive line, Zach Miller should see an uptick in his production. His surgery was performed sometime after the season, so I believe he will be healthy in time for camp.
Player: Owen Daniels
Injury: Contract Dispute
Games Missed in 2008: 0
Healing Time: N/A
Impact on the Field: This is something to keep an eye on. The TE group is one that is becoming more and more muddled. The days of Antonio Gates being the most productive TE by far are gone. Right now, there is a group of TEís that are clustered near the top. Names like Gates, Witten, Gonzalez, Clark, Olsen, Keller, Cooley, Carlson, Winslow and Daniels can all be interchangeable. I could make a case for any of them being the most productive fantasy TE. Therefore, taking a name from this group because of a potential holdout can limit your options. I will be inclined to wait a while before drafting a TE because all of these guys seem the same to me. I donít like losing an option because of a holdout and despite signing his tender which pays him approximately $2.79 million for this season, Daniels missed both Mondayís and Tuesdayís mandatory mini-camp practices. Things that make you go hmmmmm. Daniels is a very nice option in the PPR leagues and more of a pedestrian type player in scoring leagues. He is the second option for Matt Schaub behind Andre Johnson and was targeted more than the prior year around the goal-line. He is someone that could be drafted later and still perform like a Tier 1 TE. Hopefully, he does not miss time due to financial reasons.