This weekly series will provide you with in-depth analysis of key injuries and their resultant implications on fantasy football. This information comes straight from my perspective as a Physical Therapist and Athletic Trainer for ten years. Over this time, I have seen almost all the injuries that can happen in this violent sport on the college level and how to treat them. Hopefully, this piece gives you a little more insight into the anatomy or an injury.
---
There are a few injuries this week that I have not even mentioned because I feel that there is no way these players would miss any games. (Romo, Schaub, Favre,) Have no fear, these players will all be playing this weekend.
Player: Troy Polamalu
Injury: MCL Sprain
Healing Time: 3-6 weeks
Impact on the Field: You might be wondering why I am discussing a defensive player instead of my usual offensive only analysis. Quite simply, no player on the defensive side of the ball changes a defensive scheme more than Polamalu does. The fact that he can close on an offensive player 14 yards away in 1.8 seconds, as highlighted in the Thursday night game, is simply amazing. Did you see that one-handed interception? Enough said. As you saw Kerry Collins pick apart the Steeler secondary in the second half, you might ask why? Well, the answer is that the Steeler secondary is below average without Polamalu. His decision-making and skill makes up for the rest of the secondary's inadequacies. The Steeler defense is not the same without him and you can expect a more-friendly pass defense for the next 3-6 weeks. If the offensive line can protect the QB and provide just average protection, an offense can pick up yards through the air. This means that a typical death sentence for a fantasy GM, who has to stick with his usual starting QB against the Steelers, might not have to expect such a bad day and resultant poor production.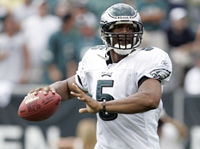 McNabb: Don't expect him to be sidelined for too long.
Player: Donovan McNabb
Injury: Broken Ribs
Healing Time: 3-6 weeks
Impact on the Field: This is one of the most painful injuries a player can endure and play through. Broken ribs entail being involved in every movement one makes. Breathing hurts. So, you could imagine how painful throwing can be. Ultimately, McNabb may miss a week and probably take a few shots/painkillers to allow him to start either this week or next week's game. With Vick being unavailable until Week 3, I would anticipate McNabb playing soon and playing well. He always seems to be hurt and I doubt this injury will hinder him in any way if he is healthy enough to start. The signing of Jeff Garcia allows him to take his time to get healthy. I think he takes 2 weeks off.
Player: Kurt Warner
Injury: Torn Labrum in his hip
Healing Time: 12 weeks from surgery
Impact on the Field: I am including Warner here because there is speculation that his injury is a reason why he played so poorly. I am here to tell you that is nonsense. The bigger concern was the play-calling now that Tod Haley is coaching elsewhere and all the injuries to his wide receivers. Not having Boldin or Steve Breaston healthy was a major reason why Fitzgerald was double and triple covered. He was missing key pieces to his offense, which left him having to check down to Tim Hightower. If Boldin and Breaston get healthy soon, Warner will be fine. He still put the ball in the air 44 times. If he is throwing that often, the fantasy numbers will be there.
Player: Anquan Boldin
Injury: Hamstring strain
Healing Time: 2-4 weeks
Impact on the Field: These injuries are tricky. You can't run fast with a hamstring pull. It won't allow one to stride fully which limits one's speed. Boldin clearly did not look himself in Sunday's game. It was reported that he did not suffer any setbacks, but it may be a while before he is 100% healthy. I feel that this impacts Warner more so because he needs Boldin healthy to make the offense hum.
Player: Steve Breaston
Injury: PCL sprain
Healing Time: 8 weeks
Impact on the Field: This ligament contributes to the stabilization process within the knee. This ligament is not nearly as important as the ACL, but if damaged, can cause swelling and persistent pain. It was thought that he would play last week and it seemed to come as a surprise to Ken Wisenhunt if you saw his comments regarding Breaston. That said, he must be close to returning, but I am not sure I would trust him in starting fantasy lineups even if Boldin is hurt. Look for this injury to linger for a while.
Player: Antonio Bryant
Injury: Surgical procedure for menisectomy
Healing Time: 2-4 weeks
Impact on the Field: Bryant has had multiple surgeries/problems with his knees. If you have read my column before, you would understand that when a person has multiple "clean- up" surgeries, a little more of the cartilage is scraped away leaving bone exposure. Usually, this causes longer lengths of rehab with each successive surgery. Bryant was able to make it through a half, but then took himself out. It could be a lingering injury because the knee is not healed yet. I would stay away from this situation for a while. Leftwich is not very good, but on a positive note, he will be in position to throw a lot because the Bucs will always be behind. Bryant may not be startable for another month.
Player: Anthony Gonzalez
Injury: Mysterious knee injury
Healing Time: 3-6 weeks?
Impact on the Field: It is never good when a player crumples to the ground after making a cut to explode in the opposite direction and there is not another player within five yards. This mysterious injury is one of two things: ACL injury or meniscus tear. Either way, it is not good. If it is not an ACL injury, which would require surgery and end his season, it might be a meniscus injury. The Colts are very secretive. If you recall, you did not hear about Peyton Manning's surgery last year until 5-6 weeks later. If they anticipate Gonzalez being out three weeks, he probably underwent a surgical intervention and you might not hear about it for a while. Three weeks would be the absolute minimum, but I would anticipate closer to the 6-week time frame of return to action.
Player: LaDainian Tomlinson
Injury: Ankle Sprain
Healing Time: 1-3 weeks
Impact on the Field: It was reported that Tomlinson was limping badly after the game as result of a sprained ankle. Typically, ankle sprains can be treated conservatively and quickly to allow for return to competition within a week. However, there are much bigger issues at play here. First off, it is becoming very clear that Tomlinson, who was once the epitome of durability, has become brittle. He is racking up the minor injuries, which may be result of his 2670 career rushing attempts and his age. He was on and off the field sporadically Monday night, but it was apparent to anyone watching the game, that Sproles was more productive and just darn right more explosive. The Chargers are in a tough spot because they realize that Sproles is the better player, but they don't want to embarrass the franchise's best player since Dan Fouts. So, Sproles will continue to get his carries thus further limiting Tomlinson's production. My gut tells me that Tomlinson will wait until he is 100% so that he does not return to playing similar to the way he played last year with the lingering groin pull which really hindered his game.