This weekly series will provide you with in-depth analysis of key injuries and their resultant implications on fantasy football. This information comes straight from my perspective as a Physical Therapist and collegiate Athletic Trainer of ten years. Over that time, I have seen and treated almost every injury that can occur in this violent sport. Hopefully this piece gives you a little more insight into the anatomy of an injury.
---
Player: Bernard Scott
Injury: Turf toe
Healing Time: 3-6 weeks
Impact on the field: The key injuries this week involve either turf toe or concussions. In Bernard Scott's case, he injured his toe in the second quarter and was able to return to competition before leaving the game for good in the middle of the fourth quarter. With turf toe, the big toe is hyper-extended, which causes severe pain and the inability to bear weight on the big toe joint. Therefore, a runner is unable to run properly or push off on his toe when he needs to make quick movements. Scott will be no more than a handcuff now that Benson is healthy. Thank the heavens for a Cincinnati training staff that has the sense to do the right thing and wait for a player to become fully healthy in order to avoid re-injury. (Yes, I'm talking to you, Atlanta.)
Player: Matt Ryan
Injury: Dislocated toe/turf toe
Healing Time: 4-6 weeks
Impact on the field: It's been speculated that Ryan jammed his big toe, which leads to another turf toe concern. The mechanism of injury may be different, but the result is the same. It looked like Ryan's toe was flexed underneath him on a tackle, resulting in a sprained big toe. Just as in a turf toe injury, it is impossible to put weight on the big toe, which is the primary toe a player needs to walk or run. This type of injury does not heal quickly. In a quarterback's case, things can be done to limit motion and lessen the pain, but nothing will speed up recovery time. I believe Ryan will miss at least one week and will not be completely healthy for a month. There is also some speculation that he may require surgery due to the severity of the sprain. This injury will likely hurt Roddy White and should ultimately help Tony Gonzalez.
Player: Michael Turner
Injury: Re-aggravation of ankle injury
Healing Time: 2-4 weeks
Impact on the field: It happens over and over with the same results; a player resumes competition before they are fully healthy and they end up re-aggravating an injury. In this case, Turner was limping and was clearly not himself. He was obviously limited and would have been best served sitting this one out. Unfortunately, he found himself in a position where his ankle was bent backwards and re-injured. This injury will continue to hamper him for at least a few more weeks. If he does play this Sunday, it will be at significantly less than 100%. Take that into consideration when looking at Turner's matchup against Philly this week.
Player: Ben Roethlisberger
Injury: Concussion
Healing Time: 1-3 weeks
Impact on the field: Unfortunately, concussions are difficult to predict. A player can appear fine one moment and develop a headache after any type of exertion, as Roethlisberger did last week after practicing. This constitutes post-concussive syndrome. Essentially, there is swelling on the brain and this "extra" pressure can lead to cell destruction or lessening function of the integral parts of the brain. Because of Ben's history of concussions—including the severe head injury he suffered from his motorcycle accident a couple years ago—he was held out for precautionary measures. I would guess he plays this week, but this is a day-to-day injury. Check the beat reporters for updates on whether or not he will face the Raiders.
Player: Kurt Warner
Injury: Concussion
Healing Time: 1-2 weeks
Impact on the field: As written above, you just can't tell when concussion symptoms will completely dissipate. I expect Warner to play this week, but it is no sure thing. He has a history of concussions and, as you know, he is not the quickest to heal. I can tell you that Matt Leinart reminds me of Trent Edwards and Brady Quinn—they are all check-down kings. Larry Fitzgerald's value takes a huge hit without Warner.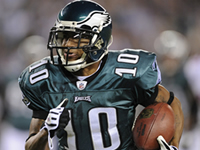 Jackson may be on the field this week despite a concussion.
Player: DeSean Jackson
Injury: Concussion
Healing Time: 1-3 weeks
Impact on the field: Another concussion is going to limit an Eagles skill position player this week. And because Westbrook's concussion has been so critically judged, I would think Jackson's injury will be handled very conservatively. However, since he has no history of concussions and is very young, he could play this week if he remains asymptomatic and does not experience any headaches throughout the week.
Player: Brent Celek
Injury: Thumb sprain
Healing Time: 2-4 weeks
Impact on the field: Have you ever tried to catch a ball without the use of your thumb? It's pretty darn hard to do. In Celek's case, only time and rehab will heal his thumb. He will be taped this week and I would anticipate him giving it a go, but he will not be right. Though he has turned into a valuable target for Donovan McNabb, this injury will limit his production the next few weeks.
Player: Eli Manning
Injury: Stress reaction
Healing Time: 4 weeks
Impact on the field: Eli developed a stress reaction due to over-compensating for the plantar fasciitis in his foot. This injury is getting too much press. He's in pain, but he's fine. This injury has nothing to do with his poor production recently. He's just not playing well and, to Eli's credit, he has admitted as much. It hurts when he walks and runs but the training staff will keep his foot well-protected. To heal fully he will need rest—something he will not see much of anytime soon. He will finish out the season in pain but won't miss any time, assuming the Giants remain in the playoff hunt.
Player: DeAngelo Williams
Injury: Ankle sprain
Healing Time: 2-4 weeks
Impact on the field: I will briefly touch upon this only because it has been mentioned by other sources. DeAngelo sprained his ankle and hobbled off the field, but he was able to come back and be mildly effective. He is an elite back and is start-worthy even when he runs in pain. He will be taped and braced and you can bet he will be out there this week.