This weekly series will provide you with in-depth analysis of key injuries and their resultant implications on fantasy football. This information comes straight from my perspective as a Physical Therapist and collegiate Athletic Trainer of ten years. Over that time, I have seen and treated almost every injury that can occur in this violent sport. Hopefully this piece gives you a little more insight into the anatomy of an injury.
---
Player: Vince Young
Injury: Hamstring strain
Healing Time: 3-6 weeks
Impact on the Field: Hamstring strains are not a big deal to quarterbacks who donít run. In Youngís case, he needs his legs to create separation, avoid the rush, and threaten the defense with the run since his passing skills are not the best. This hamstring pull will limit his practice time and could prevent him from playing. However, I believe he will play this week simply because he wonít want to give up the starting gig--now that he finally has it.
Player: Andre Johnson
Injury: Hyper-extended knee
Healing Time: 0 weeks
Impact on the Field: The injury did not look good when it first happened. Johnson was down on the field for a minute or two. He then popped up, however, and continued to play at a high level. I bring this injury up here only because you might see it mentioned in other articles throughout the week. No need to worry. Johnson will play and he should put up good numbers against the Rams this week.
Player: Ray Rice
Injury: Chest bruise
Healing Time: 1-3 weeks
Impact on the Field: This is another injury that really should go unmentioned. The Ravens were blowing out the Lions and there was no need to run Rice out there for any longer. The injury is some sort of bruise or strain to his pectoral muscle. It is not a problem for a running back. He will play this week.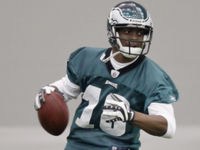 Don't count on Maclin to be healthy in the next week or two.
Player: Jeremy Maclin
Injury: Torn plantar fascia
Healing Time: 2-3 weeks
Impact on the Field: The plantar fascia is a ligament that extends from the heel to the joint where the toes begin. It supports the foot and helps sustain body weight to prevent pronation--commonly known as flat feet. For many different reasons, the ligament can be torn from its attachment at the heel or at the middle of the foot. Maclin somehow twisted his foot to rip this tissue. A tear makes standing and walking almost unbearable. It usually heals in a few weeks, but it will take longer to allow for running. Right now Maclin is in a walking boot which will help to speed recovery and protect his foot during the healing process. He has emerged as a WR3 and is someone to target next year. For those of you in the fantasy playoffs, donít count on Maclin for a few weeks.
Player: Kevin Smith
Injury: ACL/MCL tear
Healing Time: 16- 24 months
Impact on the Field: Kevin Smith tore both his ACL and his MCL last weekend. He will undergo surgical repair and then will begin the rehab process. Smith has had an up-and-down year, with more downs than ups. He had been playing better the last few weeks before suffering the injury that ended his year. It usually takes a player two years to get back his explosiveness after tearing these tendons. Because the first year is really about rehabbing the injury, the rest of the body is neglected and the healthy knee over-compensates for the injured knee, making it hard to improve the lower bodyís overall status. In Smithís case, he may not have the one-to-two years to allow for that to occur. I believe Smith is a talented runner who was done in by the surrounding Detroit cast; his offensive line is atrocious--just ask Matt Stafford. Hopefully the Lions give him the proper time and opportunity to show his true ability in what should be an emerging offense with Stafford and Calvin Johnson.
Player: Correll Buckhalter
Injury: Ankle sprain
Healing Time: 1-3 weeks
Impact on the Field: This injury update is really more for Knowshon Moreno owners. Buckhalter has been good at taking what is there, but he does not possess the ability to create on his own. Moreno is a more talented and certainly a more explosive runner. He is Denverís running back of the future, but the question remains whether he will be a true workhorse since Coach McDaniels still follows the Patriot way of rotating running backs. If I were a Moreno owner, I would hope that he convincingly seizes the reigns this week with Buckhalter potentially out.
Player: Nate Burleson
Injury: High ankle sprain
Healing Time: 2-6 weeks
Impact on the Field: Iím not sure how many teams have Burleson in their lineups at this stage of the season, but he has been producing WR3 numbers so he makes the injury list. High ankle sprains are more severe than regular ankle sprains and it is nearly impossible to return from them in just one week. A player can try to return in two weeks with some limitations. Michael Turner attempted to return early from the same thing a couple weeks ago and he did not make it too far before re-aggravating his injury. In Burelsonís case, I donít think he plays this week.