This weekly series will provide you with in-depth analysis of key injuries and their resultant implications on fantasy football. This information comes straight from my perspective as a Physical Therapist and Athletic Trainer for ten years. Over this time, I have seen almost all the injuries that can happen in this violent sport on the college level and how to treat them. Hopefully, this piece gives you a little more insight into the anatomy or an injury.
---
Player: Chad Pennington
Injury: Dislocated shoulder
Healing Time: Season
Impact on the Field: Tough break for the Dolphins. Pennington had his shoulder dislocated and required the training staff to ďpopĒ it back in to place. The Dolphins are winless and this may end up being a good thing in the long run. They believe Chad Henne is the future anyway and now they can find out exactly what they have in the second-year pro from Michigan. Henne has a strong arm and can stretch the field, which is something that Pennington canít do but Henne will be much more interception prone. He went 10-for-19 for 92 yards with an interception in the Dolphins' 23-13 loss at San Diego.
Player: Frank Gore
Injury: High Ankle Sprain
Healing Time: 2-6 weeks
Impact on the Field: This injury is a very serious one. Gore injured the joint directly above his ankle involving the two shinbones. These bones are separated when the ankle is driven outward or awkwardly receives pressure downward creating a force that penetrates the joint of the shin. This injury is painful and also very limiting. It is not a quick-healing injury. The 49er offense revolves around Gore making this a troublesome injury for the team. They are already devoid of playmakers and depend heavily on a strong defense and rushing attack. Glen Coffee becomes an immediate pickup and should receive the majority of carries. Expect Gore to miss at least 2-3 weeks.
Player: Laurent Robinson
Injury: Fractured Fibula and High Ankle Sprain
Healing Time: Season
Impact on the Field: Robinson had turned into a waiver wire gem. He was the most targeted and productive wide receiver in the abysmal Ram offense. His production was good enough to warrant a start in three receiver leagues. Unfortunately, his lower leg is in shambles his season is over. It is one thing to have a high ankle sprain, a whole different story when you also break the bone that involves the joint. That is major trauma. There was so much force across the joint, that the ligament ripped and the bone gave way. Robinson was productive but injuries have gotten the best of him. Keenan Burton will step into the starting lineup opposite Donnie Avery.
Player: Marc Bulger
Injury: Bruised Shoulder
Healing Time: 1-4 weeks
Impact on the Field: It is being reported that Bulger strained his rotator cuff. When that occurs, one has difficulty elevating and rotating the shoulder. Didnít need any medical background with that injury, did you? Bulger and the rest of the Ram offense have been dreadful. Steven Jackson has been OK and Laurent Robinson was useful, but otherwise the offense is non-existent. The O-line is a mess and Bulger does not look comfortable in the pocket. His injury is relatively minor, but painful and will most likely cause him to miss this week and will then be questionable for the following week. Expect Kyle Boller to fill in Week 4. If you are relying on Bulger, Boller, or any wide receiver in this offense for production, find another hobby.
Player: Kevin Smith
Injury: ? Shoulder Injury
Healing Time: 1-3 weeks
Impact on the Field: Kevin Smith is a really nice running back. He has some speed, good vision and the ability to wiggle into small holes. He injured his shoulder in the third quarter against Washington and was unable to return to the game. He was going for an MRI to reveal the extent of his injury. The Lions have taken the same approach as Eric Mangini and the Browns with how they disclose injury informationÖ they give as little information as possible. The Lions head coach does not want to provide a team with a competitive advantage. Letís be real here - these are the Detroit Lions. Even if Smith did play, this is not the 2000 RAMS. Smithís injury is being listed as week-to-week which means he probably wonít play because he could not return to the game last week. His backups (Maurice Morris, Aaron Brown) are shaky as is the matchup against Chicago. If Smith does sit, look elsewhere for options.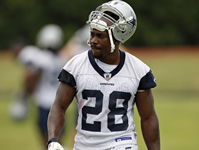 Felix Jones: Stay on the field, man!
Player: Felix Jones
Injury: Knee Sprain
Healing Time: 2-4 weeks
Impact on the Field: I am getting real tired with the vagueness of injury information. When a knee is sprained it could be a variety of things. I canít begin to explain the complexity of the scenario without all the specifics. So, I will just explain the results. He has swelling in his knee. It stiffens his knee and prevents motion and causes pain so the training staff wonít let him resume running and full activity until the swelling has subsided. The bigger concern here is the frequency of injuries that Jones sustains. He plays, he gets hurt. When heís expected to carry a bigger load, he gets hurt. Jones looks fantastic whenever he gets an opportunity, but canít seem to stay on the field. By the time he is back and healthy, Barber will be there to resume his full share of the load Ė which may be as soon as this week. Too bad, because if Jones continued to produce numbers like he did Monday night (8-94) and could stay out of the training room, he would warrant more carries. But, for now, he is nothing more than a piece of a three-back-committee.
Player: Willie Parker
Injury: Turf Toe
Healing Time: 3 Weeks
Impact on the Field: I looked back at how many times I have written about Willie Parker and I could not believe how many different injuries heís had. From a torn labrum in his shoulder to turf toes, he has had it all. At some point in his productive game on Sunday, he hyper-extended/twisted his toe and now he is experiencing some problems. This guy is brittle. He canít go a full game without some type of complication. I am a big believer in Rashard Mendenhall - heís ultra-talented but has a 2-cent head. He supposedly pouted after Week 2 due to lack of carries therefore, Mike Tomlin punished him by not giving him a carry last week. Well, now Parker is hurt again and somebody is going to have to run the ball. Turf toes donít go away in a week. In fact, they usually take a month to fully heal. Heís expected to miss practice time this week but the Steelers arenít expressing concern about his availability for Week 4. However, if this is Parkerís injury, he will be limited in some capacity and Mendenhall might actually get his chance. Pick this guy up now if he is on waivers as this might be the last chance to get him on the cheap. The opportunity alone for carries makes him valuable.
Player: Brian Westbrook
Injury: Ankle Sprain
Healing Time: 1-3 weeks
Impact on the Field: Here we go again. It only took a week to get this frequent flyer back on the injury report. As a guy that has owned Westbrook in the past, I canít begin to explain the anxiety that I used to get watching him be a game-time decision every week. He sprained his ankle and that is usually not a big deal. What is a big deal though, is the fact that he could not run or cut on it during the game, which is why he took himself out. It is his surgical ankle and that does raise a red flag. Even if his ankle is not pristine, an ankle sprain is still just an ankle sprain meaning that it should not have a major impact on his ability to play. He now has an off-week to get healthy which is exactly why the Eagles held him out Week 3. He should be back in 2 weeks but expect more of the same with Westbrook the rest of the year. He could be out any week with one wrong turn.