This weekly series will provide you with in-depth analysis of key injuries and their resultant implications on fantasy football. This information comes straight from my perspective as a Physical Therapist and collegiate Athletic Trainer of ten years. Over that time, I have seen and treated almost every injury that can occur in this violent sport. Hopefully this piece gives you a little more insight into the anatomy of an injury.
---
Player: Owen Daniels
Injury: ACL injury
Healing Time: 8 months
Impact on the Field: This injury did not look good at all. Daniels twisted his knee and did not come back into the game, which is never a good sign with a knee injury. At the time, I suspected that it may be an MCL sprain, which would have kept him out for at least two weeks. It turned out to be an ACL injury, which means he will be out for the rest of the year. Surgery on a torn ACL generally requires an eight-month rehabilitation period. Daniels was having a breakout season, benefiting from the single coverage he was receiving due to Andre Johnsonís presence. This is a big blow to the Houston offense, and bad news for Andre Johnson owners. Expect more pass coverage to roll to his side now that Daniels is out.
Player: Aaron Rodgers
Injury: Ankle sprain
Healing Time: 2-4 weeks
Impact on the Field: Rodgers injured his ankle during his 39-yard scamper in the fourth quarter. According to sources, he was limping around pretty badly after the game but is in no danger of missing any time. Ankle sprains are slow-healing and more painful than they are debilitating. Rodgers has been in contention for fantasy MVP and has been tearing it up all year. He will be taped and well-protected this Sunday, and his fantasy owners should have nothing to worry about.
Player: Donald Driver
Injury: Neck injury
Healing Time: 1-3 weeks
Impact on the Field: Father Time has smiled upon some of the older receivers this year. Derrick Mason, Hines Ward, and Donald Driver have all provided nice value at their average draft positions, and all can be used with confidence on a weekly basis. Driver took a big hit this weekend and came out for a few plays, only to quickly return. No doubt he will be sore and stiff for the next few days, but he will also continue to be a part of the Green Bay scoring machine. There were no neurological issues with his neck injury, so itís essentially a non-issue.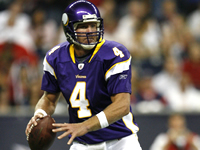 Don't lose sleep worrying about Favre's groin.

Player:

Brett Favre


Injury:

Groin strain


Healing Time:

2-6 weeks


Impact on the Field:

The annoying Favre saga continues on a weekly basis. It becomes more aggravating when reporters like Peter King go on about how Favre was really hurt and may not have played. PleaseÖFavre could not wait for this day, and there was no way he was missing this one, no matter how hurt he claimed to be. Despite re-injuring the previous weekís strained groin during Sundayís pre-game warm-ups, Favre gutted it out and threw four touchdowns, looking absolutely healthy throughout the game. No matter how irritating his ego can be, I must admit that heís one of the all-time greats at quarterback. He is supremely talented and is playing in a great situation, and he knows it. Favre has never faced eight-man fronts as often as he sees them now. He has a great line, one of the greatest running backs ever, and plenty of fire power at wide receiver; never mind a good defense that allows them to play from ahead the whole game. As far as this injury goes, donít lose any sleep over it. He will be out there just like heís been every other week that heís been hurt. With the way this offense is playing, he is definitely a QB1.

Player: Miles Austin
Injury: Groin strain
Healing Time: 1-4 weeks
Impact on the Field: Romo is my QB, and I really canít afford to have Austin out for any amount of time. The chemistry between them is unreal and has made a huge difference in the Cowboys passing game. Fortunately, it appears that Austinís groin strain is a mild one. He was taken out of the game last week as a precautionary measure. However, Iíve been wrong lately on the extent of groin strains. Reggie Wayne and DeSean Jackson both played last week, and they put up big numbers in spite of their injuries. So, if recent history holds true, Austin will play and have a great week.

Player: Anquan Boldin
Injury: High ankle sprain
Healing Time: 2-6 weeks
Impact on the Field: I said it last week and I will say it again. This whole situation is ridiculous. Boldin re-injured his high ankle sprain when he was taken down awkwardly and his foot jammed into his own ankle. He should have been given some time to allow this injury to heal, but the Cardinals allowed him to play, which made the sprain susceptible to worsening on any given play. He could miss some practice time this week and then play this weekend. If he does play, he will be hobbling around again, and you will not be able to count on him from a fantasy standpoint. I really donít get it. His last four games have given him 8, 8, 7 and 4 fantasy points, respectively, with no touchdowns. He would have been much more likely to maintain his typical production if he had taken some time and allowed himself to heal.

Player: Jake Delhomme
Injury: Lumbar strain/sprain
Healing Time: Day-to-day
Impact on the Field: I doubt any of you had this guy in your lineup. Heís been downright awful and has been killing Steve Smithís value. For years, Delhomme would lock on Smith and force it his way, making Smith the ever-productive fantasy option. But he has not been able to hit the broad side of a barn this year. He couldnít have lost his ability that quickly; it looks more of a confidence issue. The Panthers still possess the best rushing attack in the league and Iím sure they will continue to pack a punch with both Stewart and Williams. I would be very worried for Steve Smith if Matt Moore takes over under center, however. As bad as Delhomme has been, I think it could get worse if he misses any time. Delhomme will be sore all week, but I think he will be out there against New Orleans.