This weekly series will provide you with in-depth analysis of key injuries and their resultant implications on fantasy football. This information comes straight from my perspective as a Physical Therapist and collegiate Athletic Trainer of ten years. Over that time, I have seen and treated almost every injury that can occur in this violent sport. Hopefully this piece gives you a little more insight into the anatomy of an injury.
---
Player: Chris Henry
Injury: Broken forearm
Healing Time: 12 weeks
Impact on the Field: Henry had surgery after the game to stabilize the ulna and radius in his forearm, which will require at least 12 weeks to heal. I doubt many of you were using Henry consistently in fantasy lineups anyway, but this injury does complicate matters for the rest of the Bengals passing offense. Since Henry was used as a deep threat to stretch the field, I think this may slow down the offense a little--though it allows the emerging Andre Caldwell to play a larger role. I would not think that Chad Ochocinco or Cedric Benson lose any value; however, Carson Palmer loses a solid weapon in Henry.
Player: Brandon Jacobs
Injury: Knee bruise
Healing Time: 1-3 weeks
Impact on the Field: I'm surprised that this is the first time I've written about Jacobs this year, since he is usually one of those repetitively banged-up running backs. He bruised his knee this week but was able to return to finish the game, which is a good sign that the injury is not serious. Jacob's running style and size allow him to handle greater violence than the average running back. He will be swollen and sore this week, but he has a bye week to get healthy.
Player: Austin Collie
Injury: Neck injury/stinger
Healing Time: 1-3 weeks
Impact on the Field: Stingers occur when either a blow forcefully drives the neck in the opposite direction of impact or when the head is lowered and a blow is delivered to the top of the helmet. In either scenario, there is a traction force and a compressive force applied to the bundle of nerves exiting the spine at the base of the skull. It causes pain, numbness, or tingling and, in some cases, all three. This intense pain can often affect the hand, since the nerves travel the whole way down the arm. However intense, the pain usually subsides quickly. Collie has been a nice pickup this year and has developed into a solid checkdown target for Manning. Expect him to play this week, and to continue to produce as a WR3, considering the Colts' weak schedule the rest of the way.
Player: Brian Westbrook
Injury: Ankle sprain/concussion
Healing Time: 1 week minimum
Impact on the Field: When a player is knocked unconscious, the requirements say that he should refrain from activity for a minimum of two weeks. The fact that Westbrook, who was cleared to play earlier in the week, developed headaches is not surprising at all. He was not expected to be symptom-free, and I was very surprised to see him ready to go so soon. Not only does he have lingering concussion symptoms, but his surgically repaired ankle swelled up after practice last week. He may play this week, he may not; you'd do just as well to flip a coin as to attempt a guess on this one. If the headaches are gone, he will play. Unfortunately in my case I just traded for him on the cheap, thinking he may provide nice value the rest of the way. But, of course, this is the Westbrook we have grown to know as a perennial injury list candidate. I won't make that mistake again.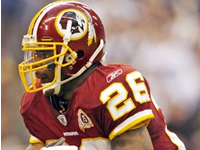 Clinton Portis "should" be out at least two weeks.

Player:

Clinton Portis


Injury:

Concussion


Healing Time:

2 weeks minimum


Impact on the Field:

Like Westbrook, Portis was also knocked unconscious, meaning he should be out at least two weeks. Concussion diagnosis is being taken much more seriously by the NFL now than it has been in the past, and rightfully so. There have been numerous chronicles of the serious damage concussions have caused to former players. With the Redskins going nowhere and Portis showing signs of age, there should be no rush to get him back out on the field. Ladell Betts gets a boost in value, only because he will get the majority of carries. He is no better than a RB3 until Portis returns.

Player: Matt Hasselbeck
Injury: Sprained shoulder
Healing Time: Day-to-day
Impact on the Field: Hasselbeck bruised his shoulder in Sunday's game while trying to make a tackle. He was able to return without issue and tossed the ball a total of 51 times. I would not be concerned at all about his status this week, and he is going to be a sneaky play for the rest of the season. The Seahawks have no rushing attack and they have numerous weapons at wide receiver. Hasselbeck's production should rise in the second half of the season, assuming he can stay healthy.