This is the third in a series of pre-season articles that will provide you with in-depth analysis of key injuries for the off-season and their resultant implications on fantasy football. This information comes straight from my perspective as a Physical Therapist and Athletic Trainer for ten years. Over this time, I have seen almost all the injuries that can happen in this violent sport on the college level and how to treat them. Hopefully, this gives you a little more insight on certain injuries and what to expect. This week I will recap the wide receiver position. Luckily, there is not that much going on at this position. The big names are relatively healthy.
Player: Marques Colston
Injury: Microfracture Surgery To Left Knee
Games Missed in 2008: 5
Healing Time: 4-6 months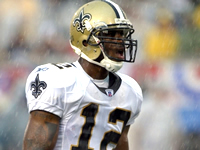 Marques Colston: Another knee procedure is cause for concern.
Impact on the Field: Maybe the Saints field is something that is a precursor to knee joints wearing out. First Reggie Bush, now Marques Colston undergoes the same surgical procedure. This surgery occurs when there is a hole in the weight-bearing surface of the knee joint. The cartilage has worn down exposing the two ends of a bone. Over a period of time, the two bones grind against each other leaving a hole in the supposedly smooth surface of a bone which causes a great deal of pain. The surgery digs deeper into that hole causing the area to bleed which is supposed to enhance healing and tissue regeneration. This procedure does work and does cause a relief in the discomfort. In my experience, it seems to work better when it is the first injury to the knee. Not when there had been prior surgeries and injuries such as the case with Colston. He has had numerous procedures and injuries resulting in advanced wear and tear. Amare Stoudemire comes to mind as someone who has had a successful outcome with this procedure. He had a one-time issue that healed well. Jason Kidd is someone who underwent this procedure relatively late in his career and he also has had a positive response. So, I guess we will just have to wait and see how this one turns out. To be fair, I donít see myself running to grab this wide receiver. I would be more likely to let him pass. Even if he returns healthy from this injury, he will probably get hurt again with something else.
Player: Brandon Marshall
Injury: Torn Labrum In Hip; Arthroscopic Clean-Up
Games Missed in 2008: 1 Game Due To Suspension
Healing Time: 8-12 weeks
Impact on the Field: This is a tough injury for those who need to run on a daily basis. This is a degenerative condition similar to the wearing out process of the cushioning in the knees. What cushions the hip joint, to put it simply, wears away and one is left with frayed cartilage. The torn part has to be removed and the result is less cushioning between the joints. Marshall only had his removed, not repaired. Chase Utley and Mike Lowell had a repair done. A-Rod had a clean-up during the season and afterwards, will undergo the repair meaning that they fix the labrum by stitching it back together. A repair is much longer and complicated recovery. The clean-up procedure is a relatively quick recovery. Marshall may still have some aches and pains in the hip but I doubt it will hinder him in any way. He should be just as productive now that Josh McDaniels is calling the shots. The Denver coaching staff will find ways to get him the ball. Even with Kyle Orton throwing to him, I donít think you will see any drop-off in his production.
Player: Michael Crabtree
Injury: Jones fracture
Games Missed in 2008: 0
Healing Time: 12-16 weeks
Impact on the Field: The Jones fracture is a break in the 5th metatarsal. This type of fracture has a notoriously bad blood supply meaning that it does not heal very well. Therefore, a screw must be placed at the fracture sight to hold the bones in place. Afterwards, one canít put any weight on the foot for 4-8 weeks depending on the surgeon to allow bones to heal. Then, one can start to rehab the injury. It is a long haul for what you would think is a harmless little fracture. He supposedly hurt himself in the middle of the college season, but because there was minimal pain, thought nothing of it. Getting the surgery when he did was the very smart, safe thing to do. He will be up and running by the time training camp starts, but will certainly be behind because he is a rookie wide receiver and they always take time to adjust the pro game. I am not a big fan of rookie wide receivers and I think Josh Morgan will out-produce him. This injury wonít hinder him, but his youth will.
Player: Torry Holt
Injury: ? Degenerative Knee Condition
Games Missed in 2008: 0
Healing Time: Not Going To; Damage Is Done
Impact on the Field: When I went to look at how many games Holt has missed over the last few years, I was shocked to see that he had missed only 2 games in the last five years. I had not owned him in a while and I was under the presumption that he was injury prone and his knee was not right. The truth is that he has been quite durable, but age and a declining offense may have sapped him of his usual consistent production. Holtís knee has required multiple clean-up procedures in the past, but I would think he should be relatively healthy for a 10 year career as an NFL wide receiver. I read some scout quotes that said that he has not lost anything and the biggest problem for him was the offense that surrounded him. He was sought after in the off-season and ended up with the Jaguars who are desperate for a wide receiver. I canít imagine that he puts up numbers like he did in his glory years, but he will be the number one option. The Jags throw enough to keep the defenses from focusing on their running game and David Garrard is a good starting QB. I am not sure Holt will be a big touchdown scorer but I can see him attaining 1050-1100 yards receiving.
Player: Deion Branch
Injury: Knee Scope
Games Missed in 2008: 8
Healing Time: 2-4 weeks
Impact on the Field: Here is another example of a wide receiver that was made productive by Tom Brady. Branch was a nice player but never lived up to the expectations that his contract said he should have. He made a lot of money in Seattle and was ineffective and hurt throughout his time there. Now, he has to compete with TJ Houshmandzadeh for catches. He will be a nice secondary option, but I would not anticipate him being a large part of the offense. With the meager running game to keep defenses honest, a new receiver to compete with, no deep threat and a quarterback coming off an injury, I would not expect much from him.
Player: James Jones
Injury: Torn PCL
Games Missed in 2008: 6
Healing Time: 4-6 months
Impact on the Field: This is a rather rare injury in the world of sports. Because the ACL is the more dominant rotatory stabilizer of the knee, the PCL is not commonly damaged. The PCL is injured when a force is directed to the shin area and the foot is planted causing the knee to hyperextend. It takes a pretty good force for this to occur. If the force is great enough, you will see the ACL rupture, thus lessening the stress on the PCL and prevent a rupture. If the force is applied just right, you will get an isolated PCL injury. The PCL is most frequently damaged in car accidents when the dashboard of the car is driven into the lower leg. James Jones did not require surgery on this knee and rehabilitated it to restore the strength and mobility. Because the PCL is not a major player in stabilizing the knee, the injury did not need surgery because the ligament was not fully torn. Jones is a very interesting player. He possesses the same skill set as Greg Jennings. He is tough over the middle and can break the long gainers. Greg Jennings is in the last year of his contract. If Jones displays some skills, maybe Green Bay lets him walk and allows Jones to take over. Or, he is not healthy or does not shine in practice and Jordy Nelson steals the #3 wide receiver position. Donald Driver is also getting up there in age and the opportunity is there for Jones to win a position this year and possibly in the future.