This pre-season series will provide you with in-depth analysis of key injuries and their resultant implications on fantasy football. This information comes straight from my perspective as a Physical Therapist and collegiate Athletic Trainer of ten years. Over that time, I have seen and treated almost every injury that can occur in this violent sport. Hopefully this piece gives you a little more insight into the anatomy of an injury.
---
Hello all. I would like to welcome you back to another installment of injury analysis. I am going to run down all the key off-season injuries position by position. As always, some of these injuries are serious while others have been blown way out of proportion by the media. I will start with the quarterbacks; the running backs, wide receivers, and tight ends will follow in the coming weeks.
Player: Peyton Manning
Injury: Disc excision, cervical spine
Healing time: 12-16 weeks

Impact on the field: Peyton Manning underwent partial disc removal in his neck in February. As a Manning dynasty owner, I was initially very concerned. Spine surgeries are never easy, but some can be less invasive than others. And with Manning, it appears that this is pretty minor. Bill Polian and others have said that Manning would be back to workout activities in eight weeks. That will never happen. It usually takes three to four months to get back into football shape and probably closer to six months to allow full contact without concern of re-injury. But by the start of the season Manning will have had plenty of time to heal and recover, and he should be counted on for top-three QB stats again this year—and for at least the next three years. He has talent all over the field and can pick out a mismatch on his side of the ball better than most coaches can. No worries here.
Player: Brett Favre
Injury: Loose body removal, ankle
Healing time: 4-6 weeks

Impact on the field: Another year and another Brett Favre saga begins. Favre injured his ankle in the NFC championship game last year and reportedly has seen the legendary Dr. Andrews to seek relief. Favre needs a clean-up procedure to most likely shave down bone spurs, remove floating particles, and possibly fix some instability in the ankle. Procedures such as this usually take between one and two months to fully heal. They are classified as minor and this one will not cause Favre to show up at camp any later than mid-August. Assuming he returns to football, you can expect his usual production with the loaded Viking offense. This injury should have no bearing on his playing status.
Player: Matthew Stafford
Injury: Dislocated kneecap
Healing time: Healed

Impact on the field: Stafford has supposedly been suffering from a loose kneecap for years. Last year it popped out again and the team and its doctors decided to take measures to prevent this from happening in the future. He also had a separated AC joint to his non-throwing shoulder that has also healed and is perfectly fine now. The injuries themselves are not serious and will have no impact on him this year. I am really high on Stafford. The Lions have much better skill position players now and Stafford possesses a cannon for an arm. I liked how quickly Stafford understood that Calvin Johnson was always open; and with better players taking pressure off of Johnson this coming season, Stafford should progress as a high-upside QB2.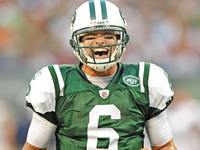 When healthy, Sanchez is a mild fantasy quarterback at best.
Player: Mark Sanchez
Injury: Dislocated/subluxed patella
Healing time: 12-16 weeks

Impact on the field: Rookie quarterbacks and loose kneecaps went hand in hand this past year. Like Stafford, Sanchez also injured a knee that he has been having a problem with from his days in high school. To help solve the problem, he underwent a procedure to stabilize the patella in the joint. Sanchez had surgery much later than Stafford because of the Jets playoff run. It was first reported that the rehab was going to be quick for this procedure. While it certainly is not a major injury, neither is it a quick recovery. These types of procedures usually take about four months to get a player back to running without issue. It should be around June or July until Sanchez is fully healed. But with the way the Jets run the ball, you could do much better than Sanchez when searching for a fantasy quarterback.
Player: Matt Hasselbeck
Injury: Back/knee/leg
Healing time: Healed

Impact on the field: Matt has been a frequent flier to this column over the last couple years. The injuries he has endured over the last year all have healed. I only mention him because, when healthy, he is always nice backup option. He is accurate and plays in a quarterback-friendly system. I am still trying to figure out the lure of Charlie Whitehurst and why he was obtained to take Hasselbeck's job. True, Hasselbeck has been frequently injured, but what has Whitehurst ever done? Hasselbeck has been taking all the first-team reps and if T.O. signs in Seattle, Hasselbeck will once again be undervalued come draft day.