This article will provide you with in-depth analysis of key injuries and their resultant implications on fantasy football. This information comes straight from my perspective as a Physical Therapist and collegiate Athletic Trainer of ten years. Over that time, I have seen and treated almost every injury that can occur in this violent sport. Hopefully this piece gives you a little more insight into the anatomy of an injury.
---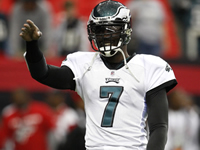 The Vick sandwich should cause him to miss two weeks .
Player: Michael Vick and LeSean McCoy
Injury: Broken Ribs
Healing Time: 2-4 weeks, 1-2 weels

Impact on the Field: In what was one of the worst hits I have seen in a while, Michael Vick was sandwiched between two defenders on his way to the goal line. He was hit at exactly the same time causing compression of ribs and sternum. The force was so great that he broke multiple ribs/sprained cartilage. "There is some cartilage damage up in there and a small fracture up in there, so maybe a week, maybe 2 weeks, Vick said earlier this week. He was in a lot of pain and I doubt that you see him before two weeks are missed. It was that bad of a hit and pain is a big concern for someone who has to torque his body to throw. McCoy also experienced a broken rib and was able to play through it. His status for this week is in jeopardy - again because of pain. Running backs take more hits but are able to brace themselves better with padding and avoiding big hits more than quarterbacks. Twisting motions are miserable for people with broken ribs and pain medicine can only do so much. In my opinion, Vick will miss more time than McCoy.
Player: Steve Smith and Andre Johnson
Injury: High Ankle Sprain
Healing Time: 3-4 weeks

Impact on the field: The high-ankle sprain is one where the lower leg meets the foot. The two shinbones are splayed apart ripping a ligament that attaches them. Because that is where the force of the ground is transmitted, this injury takes longer to heal. That being said, Smithís bigger problem is his quarterback play. I think he is back after the Week 6 bye, but he may not score very well the rest of the way if Matt Moore doesnít come back to save him. In Johnsonís case, he already has a week of rest. Heís very dedicated and may try to play this week but as I have stated more than a few times in this article, it is best to let this injury heal. Let what happened with Michael Turner last year be a lesson - if one returns to early, they are much more susceptible to re-injury.