This preseason series will provide you with in-depth analysis of key injuries and their resultant implications on fantasy football. This information comes straight from my perspective as a physical therapist and collegiate athletic trainer of ten years. Over that time, I have seen and treated almost every injury that can occur in this violent sport. Hopefully this piece gives you a little more insight into the anatomy of an injury.
---
Well, here we go again with another installment of preseason injury analysis from an athletic trainer's point of view. With the uncertainty of the lockout, none of us know if or when players will hit the field again. But we do know which ones are injured, and that allows us to analyze how these players are doing physically.
Player: Matthew Stafford
Injury: Separated AC Joint
Healing Time: 12-16 weeks
Impact on the Field: Stafford happens to be my favorite second-tier quarterback who may put up first-tier numbers. I love the skill position players that the Lions added and I think Stafford will mature further now that he is in his third year. As far as his injury goes, Stafford suffered another tackle on his previously injured shoulder, which resulted in his fourth AC separation. He finally decided to undergo surgical stabilization to help prevent future injuries. This injury is much less severe than a dislocated shoulder and he is already back to throwing footballs. I think he will finally play a full season and I would strongly recommend taking a gamble on him. I know this is hard to believe considering his history, but this injury is a non-issueóhe is no more likely to reinjure his shoulder than you or I. One thing to remember is that Sam Bradford had the same surgery a year ago and he had a great rookie season.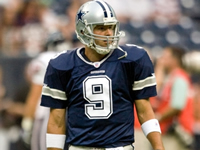 Romo had the "better" of the two major shoulder injuries.
Player: Tony Romo
Injury: Fractured Clavicle
Healing Time: 8 weeks
Impact on the Field: As with Staffordís, this is injury occurs when a player is tackled and lands on his shoulder. The separation of the AC joint can continue to be a problem if surgery is not performed, but a fractured clavicle happens to be a much cleaner injury than a separated shoulder. Once it heals, the player is not more likely to suffer the same injury again. Romo is well-healed and will be a nice semi-sleeper coming into the year. He has great wide receivers and a good tight end and will only need some support from his offensive line to have a monster season. In Jason Garretís aggressive throwing offense, Romo is primed for big numbers.
Player: Jay Cutler
Injury: MCL Sprain
Healing Time: 2-4 weeks
Impact on the Field: I have to admit that when I saw Cutler get injured in the NFC championship game, continue to play a few series, and then sit for the remainder of the game, I was surprised. Typically, an MCL sprain can be braced and supported to allow for continued play. After the game, once the healing process starts, it usually takes a couple of weeks before that player can return to competition. But in Cutlerís case the injury was more severe and was not allowing him to plant his leg and continue to play effectively. He was ridiculed for sitting out the second half in the NFC title game. But after hearing the doctor, coaches, and players come to his defense, I for one changed my opinion of him. No matter how you feel about Cutler, his injury is now healed and he will not likely experience a relapse.
Player: Tom Brady
Injury: Stress Fracture
Healing Time: 16 weeks
Impact on the Field: These injuries are tough to predict from player to player. A number of baseball players (for instance, Dustin Pedroia) and skill-position players such as Demaryius Thomas and Julio Jones have had these procedures. In Bradyís case, the worst case is that he is probably not training like he normally would in the offseason. Not being able to train and instead rehabbing is always a concern, but less so for a quarterback. Since Brady does not move around much anyway, I seriously doubt that will have an impact on his quarterbacking performance. I do think you will see a downturn in his production very similar to how he performed the year after his ACL surgery, but thatís primarily because the offense at this time lacks a dynamic playmaker. If there were any risk of Bradyís performance suffering because of the lack of offseason training, I think a Steve Smith (Carolina) trade to New England would be a great fit and could certainly mitigate that risk
Player: Peyton Manning
Injury: Discectomy in Cervical Spine
Healing Time: 8-12 weeks
Impact on the Field: Manning had the same procedure last year and did not miss any time. And this time his injury went completely unheard of until the day of the surgery. After his days of playing football are over, he probably will need a fusion where two vertebral levels are screwed together; but for now, he will be back under center whenever the first game is played. Manning played great last year without any issue from that surgery, and I doubt this one will be any different, especially since this surgery was on a different level. I could get very detailed about the disc and how it functions, but instead Iíll tell you what you really want to hear: This injury will have no impact on Manning this season.