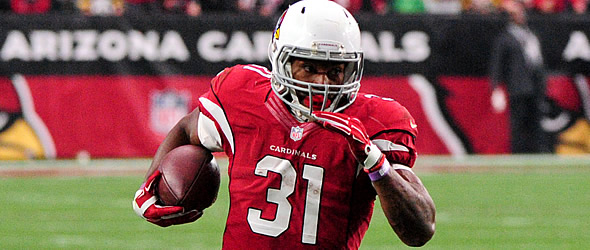 Back after a wrist injury derailed his 2017 season, David Johnson is among the fantasy RB elite.
QB Sam Bradford
(2017 QB Rank – No. 12, 20.9 FPts/G)
With head coach Bruce Arians and quarterback Carson Palmer gone, there's a new era starting in Arizona and it begins with quarterback Sam Bradford. Bradford signed a two-year, $40 million contract before the team drafted Josh Rosen in April's NFL Draft, with $15 million guaranteed in year one. This contract almost certainly means that he'll be given the chance to start, but Rosen was considered by many to be the most NFL-ready quarterback in what is believed to be a strong class, so Bradford's job is certainly not safe.
The last time we saw Bradford was Week 1 of the 2017 season when he lit up a good Saints defense for 346 yards and 3 touchdowns. Then injury reared its ugly head - again - as Bradford suffered a season-ending knee injury during the game. Bradford's injury history is lengthy to say the least and he's one of the few players who can truly be tagged as "injury prone" given the location of the injuries as well as the type and severity. With Arizona expected to have one of the worst offensive lines in the league, it's logical to question Bradford's ability to stay healthy. Add in the fact that the Cardinals invested an early draft pick on Rosen and it seems very possible that we could see Bradford holding a clipboard in the second half of the season, particularly if the Cardinals' record is subpar, as most expect that it will be.
When he's healthy, Bradford has been a solid fantasy producer, but he's only finished as a top-20 fantasy quarterback once in his entire career. With the injury concerns as well as the team makeup and rookie breathing down his neck, Bradford should be one of the last "starting" quarterbacks drafted in most fantasy drafts, but he does have DFS appeal in good matchups.
QB Josh Rosen
(2017 QB Rank – N/A)
The No. 10 overall pick in the 2018 NFL Draft, Rosen is believed to be the future of the Arizona Cardinals franchise. The question, at least for fantasy purposes, is when that future will begin on the field. Of the quarterbacks drafted in April, one could easily make the case that Rosen has stepped into the best position to produce fantasy points this season. With only an injury-prone and aging Sam Bradford ahead of him, Rosen has what appears to be a realistic path to playing time in 2018. Add in the fact that he'll get to throw to a legend like Larry Fitzgerald, a perceived stud rookie in Christian Kirk and a dynamic playmaking running back in David Johnson and it's easy to see why some believe that Rosen will lead all rookie passers in fantasy points scored.
But while he might get on the field, there are also reasons to be concerned about Rosen's potential to actually be a viable weekly fantasy starter, at least as a rookie. Most notably, the Cardinals offensive line projects to be terrible. They haven't been great in a long while, but this might be the worst group they've trotted out in many years. In addition, Rosen was never a particularly prolific passer in college. While it's true that he didn't play in an extremely friendly offense for passing, Rosen threw fewer than two touchdowns per game throughout his college career as a starter and threw nearly an interception per game. It's also worth considering that, like Bradford, Rosen also has an injury history. Most notably, Rosen suffered a season-ending injury to his throwing shoulder as a sophomore and he was also diagnosed with multiple concussions in college. Both of those injuries are concerning for fantasy purposes - particularly the concussions, as we know that concussions often repeat and the NFL is taking serious steps to keep players off the field if they are suffering from any effects of those concussions whatsoever.
Realistically, the Cardinals' quarterback situation is one to avoid for fantasy purposes, at least from a season-long standpoint. The receiving group isn't particularly strong, the offensive line is terrible and we just don't know who is going to start and for how long.
RB David Johnson
(2017 RB Rank – N/A)
One of the most exciting things about the 2018 season is that we're going to get to see the return of one of the league's best playmakers, David Johnson, who missed nearly the entire 2017 with a wrist injury. Most considered Johnson the fantasy MVP of 2016 as he scored 20 touchdowns while producing over 2,100 total yards of offense.
While it's never easy for fantasy owners to select a back coming off of a season-ending injury, the nice thing about Johnson's injury is that it's really not something that should affect him going forward. Unlike a knee or ankle injury, which can have dramatic effects on a player's explosiveness, Johnson's wrist injury should be fully healed and he should be perfectly healthy heading into 2018.
The last time we saw Johnson, in Week 1 of the 2017 season, he had already produced 90 total yards of offense with six receptions and that was only midway through the third quarter in a game that the Cardinals were winning. Needless to say, given the nine targets he had already seen in that game, the offense was run almost entirely through Johnson. A new coaching staff does throw a wrench into things from a play-calling perspective, but anyone who's watched Johnson play in the NFL can tell you that he is absolutely one of the league's best playmakers and would be a major focal point in just about any offense. That shouldn't change much this season as the Cardinals will almost certainly lean on Johnson heavily once again, both as a runner and as a receiver. 100-plus targets is actually a safe number to project for Johnson, who saw 120 targets in 2016, and that kind of passing game usage alone would make him a viable starter in PPR formats even if you completely eliminated his rushing numbers.
Don't look for Johnson to repeat his 20 touchdown season from 2016 given that the Cardinals as a whole are expected to be one of the league's worst teams, but a double-digit touchdown season is certainly realistic and Johnson, if he can avoid injury, is one of the safest players in all of fantasy football and should be a top five overall pick in all formats.
RB Chase Edmonds
(2017 RB Rank – N/A)
One of the more under-the-radar draft picks from a fantasy perspective might end up being the Cardinals' selection of Fordham running back Chase Edmonds in the fourth round. Edmonds, who has drawn comparisons to players like Dion Lewis and Matt Forte due to his tremendous agility numbers, is a versatile playmaker who could very well see some playing time as a way to keep Johnson healthy.
Edmonds likely won't see significant enough playing time to warrant weekly fantasy appeal but he is a nice complement to Johnson and would have immediate and significant fantasy value should Johnson suffer another injury this season. The only other backs on the roster are lackluster names like Elijhaa Penny, D.J. Foster and T.J. Logan who really don't offer much upside, so Edmonds is the one to own if you're planning on "handcuffing" Johnson in your fantasy draft.
WR Larry Fitzgerald
(2017 WR Rank – No. 9, 9.7 FPts/G)
Future Hall of Fame wide receiver Larry Fitzgerald, who will be 35 years old heading into the 2018 season, is coming off of three straight 100-catch seasons. Fitzgerald has a great connection with fellow veteran quarterback Carson Palmer who started all but one game in 2015 and 2016 alongside Fitzgerald. However, Fitzgerald continued to produce in 2017 even with a dumpster fire of quarterbacks after Palmer went down with an injury. In the final nine games of the 2017 season, with the likes of Drew Stanton and Blaine Gabbert behind center, Fitzgerald saw five games with 8 or more receptions and he never had fewer than three catches in a game. This essentially proved, once again, that Fitzgerald remains essentially quarterback-proof even in his advanced age.
This season should be a better quarterback situation for Fitzgerald at least from a talent perspective. The team is expected to begin with veteran Sam Bradford behind center, who profiles as practically the perfect match for a player like Fitzgerald. Bradford ranked 34th out of 34 qualifying quarterbacks in percentage of down-field pass attempts in 2015 for the Eagles and was again near the bottom of the league for the Vikings in 2016. This bodes well for Fitzgerald, who has transitioned into one of the leagues' most reliable and dominant slot receivers in his elder years.
There is some concern for Fitzgerald that the new Cardinals offense might not feature him quite as heavily as we've seen in recent seasons under Bruce Arians, but offensive coordinator Mike McCoy is a veteran, who typically molds his offense around getting the ball in the hands of his best playmakers. For the Cardinals, that's Fitzgerald and running back David Johnson. Age is obviously a bit of a worry but Fitz has proven to be one of the most durable wide receivers in the history of the game, having missed just eight games in his 14-year NFL career. He might not present the upside that he once did, but Fitzgerald is an extraordinarily reliable WR2 in fantasy and could make for one of the best value picks given his relatively low ADP.
WR Christian Kirk
(2017 WR Rank – N/A)
Second-round draft pick Christian Kirk is believed to be the heir-apparent in the slot for veteran wide receiver Larry Fitzgerald. Kirk dominated the SEC, catching 70 or more passes in each of his three seasons at Texas A&M, despite playing alongside second-rate talent at the quarterback position.
The concern for Kirk's immediate fantasy value is that, while he projects to be a great slot receiver, he is not likely to pry away many of those snaps from Fitzgerald. That means that he'll have to fight to get on the field as an outside receiver first. Thankfully for him, the Cardinals' roster is relatively weak from a talent perspective and only J.J. Nelson has played significant snaps outside in Arizona in recent seasons, but Kirk is still a rookie who will likely split work with others to start the season.
One additional area that is intriguing with Kirk is his prowess as a return specialist. Kirk's total of seven punt and one kickoff return for a touchdown in his three seasons at Texas A&M is impressive and shows that he has the vision and athleticism to make plays after the catch. If Kirk can earn additional work as a return man in Arizona, he could present some significant additional value to those in return yardage formats; or even in standard formats if he can score a couple of times.
Kirk is currently going undrafted in many leagues so he presents some interesting PPR upside as a potential starter in the Arizona offense, but his real value will be unlocked down the road when he eventually takes over for Fitzgerald in the slot.
WR Brice Butler
(2017 WR Rank – No. 27, 7.8 FPts/G)
The Cardinals lost both Jaron Brown and John Brown this offseason which has opened the doors for playing time to other players, particularly J.J. Nelson and the newly acquired Brice Butler. While Nelson has experience playing three years in Arizona, he enters a completely new offense under a new coaching staff this season and really doesn't have much of a leg up on the rest of the competition. That's why the smart money is actually on Butler to emerge as the team's third option, playing on the outside.
At 6'3" and 220 lbs, Butler simply profiles as a more traditional and durable outside receiver. His tremendous size-adjusted speed scores also play a big part in why he has such impressive per-catch numbers in Dallas at 18.5 yards per reception. The problem with Butler is that he'll be 29 years old this season and it's just not often that players break out at this late in their careers. But given the 160-lb frame of Nelson and the lack of snaps that 2017 rookie Chad Williams saw, it seems most likely that Butler will lead that group in total snaps this season. If he's given the opportunity, Butler could produce some serious splash games, but don't look for much consistency out of him. He's better suited for DFS formats against inferior secondaries in games where the Cardinals are likely to deploy a pass-heavy approach.
TE Ricky Seals-Jones
(2017 TE Rank – No. 37, 2.9 FPts/G)
A college wide receiver, Ricky Seals-Jones transitioned to tight end after being signed as an undrafted free agent by the Cardinals in 2017. While he only caught 12 passes and played limited snaps overall as a rookie, Seals-Jones flashed playmaking ability as a pass catcher and could see a significant uptick in work early in the season, especially if Jermaine Gresham starts the season on the PUP list after he tore his Achilles' in Week 17 of the 2017 season.
At 6'5" and 245 lbs, Seals-Jones is built to be a pass-catcher and that's something the Cardinals have not had in a long time at the tight end position. Sam Bradford has had success throwing to tight ends in the past and prefers to make plays over the middle of the field versus going outside, so keep an eye on the number of targets that Seals-Jones sees early in the year. He might be a smart waiver-wire add as the season goes on. He's not a player who should be selected in standard leagues that start one tight end but he is at least somewhat intriguing in deeper leagues, particularly those which start two tight ends.