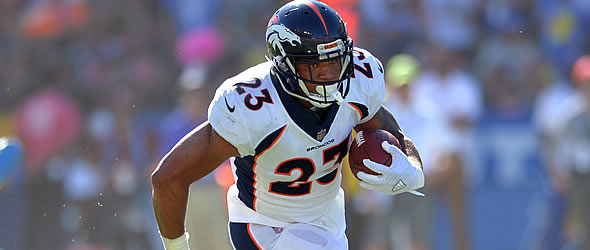 Devontae Booker has some work to do if he wants to win over the hearts and minds of fantasy owners.
QB Case Keenum
(2017 QB Rank – No.15, 19.2 FPts/G)
College football's all-time most productive passer, Case Keenum, went undrafted and has bounced around the league, from the Texans to the Rams to the Vikings but he might have finally found a place to stick on the Broncos who gave him a two-year $36 million deal. Denver has been struggling to find a quarterback since the retirement of Peyton Manning, with young quarterbacks like Brock Osweiler, Trevor Siemian and Paxton Lynch seemingly failing in every opportunity they've been given. A veteran presence at quarterback should bring some stability to this offense.
Keenum only started 15 games with Vikings but he made his presence felt, leading the team to a 12-3 in those games, including a playoff win over the Saints. Keenum's 22 touchdown passes on the season won't dazzle you but his 22-to-7 touchdown-to-interception ratio was one of the big reasons why the Vikings were in control of as many games as they were. That's great for the Broncos who still have one of the league's most threatening defenses, but it doesn't do a lot for us fantasy owners who will need to see more in order to make Keenum a fantasy starter on a week-to-week basis.
From a personal standpoint, Keenum walks into a situation that's not all that different from the one he saw in 2017 with the Vikings. Like the Vikings, the Broncos have two established outside wide receivers who are capable of winning in multiple areas of the field, there's a young running back who is expected to get much of the early down work, and they have an offensive line with some question marks heading into the season. The big difference is that the Broncos are simply not as deep as the Vikings, who also had the likes of pass catching specialist Jerick McKinnon at running back and Kyle Rudolph at tight end.
At the moment, Keenum projects to be a streaming option at the position who does see some seemingly favorable passing matchups against divisional opponents like the Raiders and Chiefs, but he's probably not someone who will be drafted in anything other than two-QB or superflex formats.
RB Royce Freeman
(2017 RB Rank – N/A)
Reports out of Denver are that the team is still not sure who will lead the team in touches out of the backfield, but that's exactly the type of news that we expect to hear from the majority of NFL coaching staffs that play the "rookies need to learn the system" game rather than just admitting that, on game day, they'll be putting the best players on the field in the majority of situations. For the Broncos, that's clearly rookie running back Royce Freeman.
Denver selected Freeman in the third round of April's NFL Draft, securing themselves a college workhorse who put together over 6,400 total yards of offense and 64 touchdowns during his four-year collegiate career at Oregon. He finished his career as college football's seventh-leading rusher all-time. Freeman was a high-level high school recruit and stepped right into the Marcus Mariota-led Ducks offense, producing 1,365 rushing yards along with 19 total touchdowns as a freshman. The moment was not too big for Freeman as a freshman stepping into a high-level program and it won't be too much for him when he gets onto the field for the Broncos early this season.
Only Devontae Booker and DeAngelo Henderson stand in the way of Freeman who, at 6-0 and 229-pounds, can lower his shoulder and deliver a boom to defenders or use his upper-percentile size/speed combination and agility to simply evade tacklers. Freeman is also a solid pass protector which should earn him at least some passing down work and is he's a decent enough pass catcher, something that has been missing out of the Denver backfield for a long time.
It would be too bold to predict that Freeman will be the NFL's Offensive Rookie of the Year this season with fellow running backs like Saquan Barkley, Darius Guice, Sony Michel and Rashaad Penny all being drafted ahead of him, but Freeman should be given a big role this season in Denver and it would not be at all surprising to see him finish among the top rookie performers in fantasy football this season.
RB Devontae Booker
(2017 RB Rank – No.60, 4.9 FPts/G)
An early-season wrist injury cost Devontae Booker significant playing time this past season, which is disappointing because many believed that he would end up out-scoring veteran C.J. Anderson in the Denver backfield if he was given the opportunity. Despite playing in 13 games, Booker failed to reach even 300 yards on the ground and faded into relative obscurity as the season went on.
Booker is likely considered the "starter" heading into camp but don't be fooled by that. The Broncos selected Royce Freeman in the third round of the draft and there's really no question that he's the preferred option for fantasy purposes. Booker simply lacks the size, speed or strength to be an every down workhorse and despite his production in the passing game, he's not good enough there to completely keep Freeman off the field in all passing downs.
Booker is a late-round PPR option at best but he would almost certainly take over as the top back on the roster if Freeman were to go down with an injury, so there's some upside there as well.
WR Demaryius Thomas
(2017 WR Rank – No. 23, 7.8 FPts/G)
It's been painful to watch Demaryius Thomas suffer through some of the worst quarterback play in the league over the past few seasons and Thomas finally failed to reach 1,000 receiving yards this past season for the first time since 2011, his second season in the league. Thomas finished tied for 10th in the NFL in 2017 with 10 red zone receptions, but he got a bit unlucky as he only finished with five touchdowns on the season. The 30-year-old wideout may not possess the incredible 4.41 speed that made him one of the biggest freak athletes at the position when he came into the league, but Thomas still creates major mismatches, especially in the red zone, with his size and strength.
The bright side for Thomas is that, while his counting stats have been down in recent seasons, he's still seeing a ton of targets and the efficiency of those targets should go up with even semi-competent quarterback play. Thomas now will get to play with Case Keenum, who finished second in the NFL, behind only an all-time NFL record performance by Drew Brees, with a 67.6 completion percentage in 2017. Keenum doesn't specialize in down-field passing but he should be a significant step up from the dumpster fire of a situation that Thomas has been dealing with as of late.
The Broncos did invest an early-second round pick on wide receiver Courtland Sutton who figures to be the heir-apparent for Thomas, but that won't likely come to fruition until at least the 2019 season when Thomas' contract is up for renewal. For now, the veteran should be in line to see at least 125 targets this season which should give him a high enough floor to out-produce his current ADP, which has him in the 20s among wide receivers.
He doesn't have the sexy name anymore but players like Thomas are a great option as a WR2 or even a very low-end WR1 for teams that go running back-heavy early in their drafts, or who select a quarterback or tight end in the first few rounds. His days as a true WR1 for fantasy purposes are probably done, but don't sleep on Thomas in 2018 just because he hasn't been great over the past few seasons.

WR Emmanuel Sanders
(2017 WR Rank – 61, 5.6 FPts/G)
After posting three straight 1,000-yard seasons in Denver, Emmanuel Sanders took a big step back in 2017, posting just 555 yards on 47 receptions. It's easy to look at those numbers and completely dismiss Sanders as being past his prime at age 31, but it might not be that simple. Sanders suffered an ankle injury in Week 6 of the 2017 season and it really seemed to bother him in some games. While he produced a huge game in Week 7, Sanders went on to fail to achieve even 20 yards receiving in his next four games. We've seen Sanders be streaky throughout his career, but this was more than that - it was very obvious to anyone watching the games that Sanders was not generating the type of separation that he normally does from defensive backs and that, combined with terrible quarterback play, culminated in a disastrous fantasy season.
Looking forward to 2018, Sanders projects to start out wide opposite Demaryius Thomas. The Broncos did select Courtland Sutton who looks to be a future replacement for Sanders and/or Thomas, but Sutton is still very raw and won't likely take significant snaps away from either player until at least late in the season.
The targets figure to still be there for Sanders, who had seen an average of 138 targets per season since he came to Denver prior to the drop-off season in 2017 where he saw just 92 targets. The added competition along with Sanders' age and health issues mean that we should be projecting him for more along the lines of 110 targets, but that could still easily translate to a 70-catch, near 1000-yard season, with some potential big games sprinkled in. Case Keenum will be a welcome addition to the Denver passing game and Sanders is a great bet to bounceback and finish ahead of his current ADP which has him in the mid-30s at wide receiver, but he's still a bit risky and it'd be wise to draft him as a Flex or even bench player to start the season, as opposed to an every-week starter for your fantasy team.
WR Courtland Sutton
(2017 WR Rank – N/A)
At 6'3", 220 lbs, Courtland Sutton is one of the few true potential "X" receivers coming out of a weak 2017 draft class at wide receiver. Sutton was considered by many to be among the top three receivers in the class and he was selected as such, as the third receiver off the board to the Broncos with the eighth pick of the second round.
What's unfortunate is that, while the Broncos passing game was well below average in 2017, Sutton is stepping into a situation, at least as a rookie, where he doesn't seem to have a clear path to significant playing time. With veterans Demaryius Thomas and Emmanuel Sanders entrenched as the team's outside options on most passing downs, Sutton would simply need to be so spectacular in training camp and throughout the preseason that the coaching staff has no other option than to move Thomas or Sanders to the slot to get Sutton on the field as Sutton is simply not built for, and doesn't project to play inside.
The upside for Sutton, in 2018, is that Sanders has been dealing with an ankle injury and his play was way down in 2017. If he's still struggling to generate separation from defenders, the team may opt to give Sutton some additional playing time down the stretch this season, especially with both Thomas and Sanders' contracts coming up for renewal. Still, Sutton doesn't project to have much of a target share this season as things currently stand, so he should probably be avoided in most formats, with the obvious exception of dynasty leagues as he figures to assume a starting role as early as 2019.
WR DaeSean Hamilton
(2017 WR Rank – N/A)
Despite being selected two rounds later than fellow rookie teammate Courtland Sutton, DaeSean Hamilton might actually have a more obvious path to playing time. Though he'll have to compete with 2017 third-round NFL Draft pick Carlos Henderson, Hamilton might have been the best slot receiver prospect in this entire draft class and that's what the Broncos need alongside outside wide receiver veterans Demaryius Thomas and Emmanuel Sanders. The team had to think they had a serious threat out of the slot when they drafted Carlos Henderson in 2017 who was a monster-producer as a junior in college, but Henderson suffered a thumb injury that ended his rookie season before it ever even started. Henderson was then arrested this offseason in Louisiana on a marijuana charge. Needless to say, a potential suspension along with an injury can't really give the coaching staff much confidence in Henderson when he's compared to a player like Hamilton who has been widely regarded as a tremendous off-the-field leader and teammate.
Denver invested a fourth-round pick on Hamilton and while he lacks high-end physical measurables, Hamilton figures to see playing time. Keenum saw tremendous success throwing to his slot receiver, Adam Thielen, this past season in Minnesota and he tends to pass the ball closer to the line of scrimmage which could lead to him targeting Hamilton more often than many fantasy gamers would assume heading into the season.
Hamilton is not draft-worthy in most seasonal formats, but he does have some interesting value for dynasty leaguers who understand that the league is seeing many more passes to the slot than ever before and that trend should continue for the foreseeable future.
TE Jake Butt
(2017 TE Rank – N/A)
It'd be tough to justify selecting any Broncos tight end for fantasy this season but if there's one who has the chance to break out, it's definitely second-year player Jake Butt. At 6'5", 245 lbs, Butt has the prototypical size that you'd want out of an NFL tight end and he was projected to be an early-round draft pick prior to tearing his ACL in his final collegiate game in the 2016 Orange Bowl.
With Virgil Green now on the Chargers, the Broncos tight end job is open for the taking. If he can earn the primary tight end role this preseason, Butt could have fantasy value this season. The Broncos aren't a particularly tight end-friendly offense, but Case Keenum did have success throwing to Kyle Rudolph, particularly in the red zone, as he finished second among all tight ends with eight touchdowns in 2017. Butt won't figure to see that much work, but the tight end position is a crapshoot as a whole and he at least has some upside, unlike many of the players being selected around him at the position.