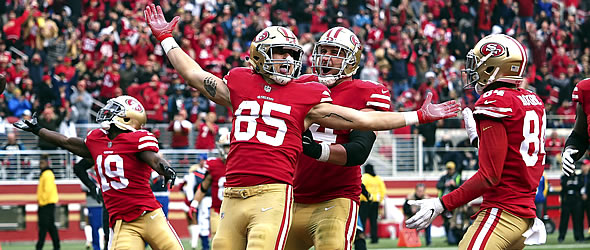 George Kittle is getting love from the fantasy community as a low-end TE1 in redraft leagues.
QB Jimmy Garoppolo
(2017 QB Rank – No. 34, 18.9 FPts/G)
Perhaps the most polarizing player in all of fantasy football heading into the 2018 season, it seems as if fantasy owners are either all-in or all-out on Jimmy Garoppolo. The 49ers acquired Garoppolo via trade in the middle of the 2017 season after other experiments at the position failed. Garoppolo responded in tremendous fashion, leading the then 1-10 49ers to five straight wins to close out the season. The offense took a huge step forward with Garoppolo behind center, going from just 17 points per game in their first 11 starts without their new franchise quarterback to 28.8 points per game with him.
Garoppolo threw for over 300 yards per game as a starter and was tremendously efficient, throwing for 8.76 yards per attempt - a number which would have led the league by a wide margin if he had started enough games to qualify. Despite being in a new offense that he had to learn mid-way through a season and without a true WR1 on the roster, Garoppolo showed that he possesses the physical skills to be an excellent NFL quarterback, even outside the system in New England.
What's a bit odd, though, is that despite the hype he's getting heading into 2018, Garoppolo's fantasy production during his stretch as the starter was really not all that spectacular. Much of that was due to him throwing just six touchdowns in those five games (he threw a touchdown in garbage time the previous game before taking over as the starter) with five interceptions. Garoppolo's 18.9 fantasy points per game ranked just 21st in the league. It's true that this stat is skewed due to him technically playing an additional game where he threw just two passes, but even if you remove that game, he'd still only be at 21.2 FPts/G, which would be good enough to narrowly edge out Philip Rivers for 11th at the position on the season.
There's plenty of reason to be excited about Garoppolo's upside as he'll have a full offseason to prepare and master the playbook, but his draft price might just be too high in some leagues. Even with Pierre Garcon returning, the 49ers still lack a true high-end WR1 and they're mostly an offense filled with unproven options in the passing game. Garoppolo signed a gigantic contract that almost guarantees that he'll be the starter for the entire 2018 season, which does bring some certainty to an otherwise questionable situation, but he's far from a guaranteed QB1 heading into 2018.
RB Jerick McKinnon
(2017 RB Rank – 24, 8.1 FPts/G)
Former Minnesota Viking Jerick McKinnon has to be one of the more interesting fantasy running backs heading into the 2018 season. McKinnon hit free agency this offseason and the 49ers made a strong offer to him, securing the back with a four-year contract that makes him one of the leagues' highest paid players at the position. Even better for fantasy purposes is that the team let their 2017 starter, Carlos Hyde, walk away in free agency, further solidifying their commitment to McKinnon.
McKinnon has long been one of the league's premiere athletic specimens. At 5'9", 215 lbs, he ran a 4.41 second forty-yard dash at the NFL combine, while also putting together tremendous scores in the broad jump, vertical jump and bench press. The physical profile is there, but McKinnon has never really been given a full workload. Of course, part of that is because he spent the first couple seasons of his career stuck behind Adrian Peterson in Minnesota, but he also hasn't been all that impressive when he's been given heavier workloads. McKinnon's has been below 4.0 yards per carry in each of his past two seasons in Minnesota, splitting carries with the likes of Latavius Murray and Matt Asiata.
Where McKinnon has been spectacular, however, is in the passing game, where he's racked up 152 receptions in his four-year career, including 94 catches in his past two seasons. His 8.3 yards per reception in 2017 were among the best in the league at the running back position and that number dwarfs the 5.9 yards per reception that Carlos Hyde put together on 59 catches in 2017. The increased passes to Hyde in 2017 are a clear sign that the 49ers want to use their running backs in the passing game, even if it meant passing to an inefficient back. Needless to say, McKinnon is stepping into an ideal situation from a pass-catching standpoint and there's a real chance that he could be among the league leaders in receptions at the running back position this season - an obvious added value for those playing in PPR formats.
The situation and the talent appear to be ideal for McKinnon but the concern continues to be that he hasn't snatched the opportunities he's been given in the past. With that said, this Kyle Shanahan offense in San Francisco appears to be much better suited for a player with his skill set and that should allow McKinnon to safely finish as an RB2 with RB1 upside as long as he can stay healthy.
RB Matt Breida
(2017 RB Rank – 45, 5.2 FPts/G)
Carlos Hyde leaving in free agency would have been a great thing for Matt Breida's prospects as a fantasy contributor this season if the team hadn't immediately then signed Jerick McKinnon, an all-purpose back with explosive measurables. While he will likely still play a role in the 49ers offense, particularly in the running game, the chances of him usurping McKinnon for the lead role in the backfield seem low. Breida was effective when he caught passes as a rookie, but his catch rate was below 60 percent which is quite low, especially when compared to McKinnon's 75 percent rate.
Breida does have great speed and athleticism but at 195 lbs, one of the critiques on him coming out of college was that he lacks the size to be an every down workhorse at the NFL level. Still, 120 touches or so on the season seems reasonable for Breida, with the possibility of getting the biggest chunk of a multi-back committee in the event that McKinnon goes down with an injury. That doesn't leave a lot for fantasy upside, unfortunately, but head coach Kyle Shanahan has mentioned visions of McKinnon and Breida being San Francisco's version of Devonta Freeman and Tevin Coleman. Breida would almost certainly be the Coleman in this situation, with an even lower workload, but that could still mean some splash plays here and there which could make him an interesting late-round selection in best ball formats.
WR Pierre Garcon
(2017 WR Rank – No. 79, 6.3 FPts/G)
Pierre Garcon missed the second half of the 2017 season with an injury which means that he's one of the few players in this passing game who hasn't had the opportunity to play alongside quarterback Jimmy Garoppolo in a real game. Still, Garcon is by far the most experienced pass catcher in this offense and he is fully expected to resume his role as the team's top option out wide. Reports indicate that he and Garoppolo have been developing chemistry in training camp, which should give them plenty of time to be prepared by Week 1.
He's only being drafted as a WR3 or even WR4 heading into the season largely because he's coming off the season-ending injury, a broken bone in his neck, but Garcon does have WR2 upside, especially in PPR formats. He was on pace for a 1000-yard season in 2017 prior to his injury so it's not as if the wheels have completely fallen off. Although he won't be a sexy name to call on draft day, Garcon could deliver steady enough numbers this season to satisfy fantasy owners, especially in a Shanahan offense that he's found success in earlier in his career.
WR Marquise Goodwin
(2017 WR Rank – 28, 7.0 FPts/G)
Much is made of players like Tyreek Hill and John Ross who dazzle with speed, but few understand just how freakishly athletic Marquise Goodwin really is. Goodwin, who competed in the 2012 Summer Olympics, is not only one of the fastest pure speed players in the league as he ran a 4.27 forty-yard dash, but also posted a 132-inch broad jump. Goodwin has been in the league for five seasons now and his athletic profile has likely taken a half-step back, but he's still an absurdly gifted athlete who is capable of taking the ball to the house in any situation.
Goodwin had never been used much as a receiver until his fourth season in Buffalo where he saw 68 targets. His catch rate that season, 42.6%, was poor, but he took a big step forward when he finally got a fresh start in San Francisco this past season. As the defacto WR1 for the 49ers after Garcon's injury, Goodwin stepped up, catching 56 of the 102 passes that came his way, including an exceptional 17.2 yards per reception number.
Perhaps most interesting for 2018, though, was Goodwin's connection with Garoppolo. In the five games Garoppolo started, Goodwin caught 67 percent of the targets that came his way, 76.8 yards per game on 5.8 receptions per game. That would've put Goodwin at an impressive 16-game pace of 1,229 yards on 93 receptions.
Of course, with Garcon now healthy and the team adding a couple of pieces in the passing game, it seems unlikely that Goodwin will continue to be targeted this season quite as often as he was down the stretch in 2017, but Goodwin is the kind of player who can still contribute even on fewer targets because of his big play ability. Goodwin is actually being drafted ahead of Garcon in most drafts, but both players are much safer as WR4s than they are WR3s.
WR Dante Pettis
(2017 WR Rank – N/A)
A dangerous playmaker at the college level, Pettis is already being worked into the San Francisco offense and could see significant playing time early in the season, particularly in three-receiver sets. Reports are that Pettis is succeeding so much that he's being taught all three receiver positions, which could make him an extremely dangerous weapon in the Kyle Shanahan offense.
Pettis scored nine touchdowns as a kick and punt returner during his four years at Washington and we've seen that type of special teams talent translate into playmaking ability at the NFL level. In addition, Pettis had some huge production in the receiving touchdown department, as he scored 22 combined times in his final two collegiate years, including 15 scores as a junior. Pettis lacks superstar size but he does have tremendous hands and shows the ability to attack the ball in jump ball scenarios.
Like most rookies, Pettis will almost certainly have quite a few bust weeks which will make him frustrating to own as a rookie. The unpredictability of players like Pettis can make for difficult start/sit decisions, which makes him much more ideal to own in best ball formats where we can take advantage of his big weeks and not worry about his down weeks. Pettis is also among the top rookie wide receivers available in dynasty drafts, but he will likely go undrafted in most seasonal leagues.
WR Trent Taylor
(2017 WR Rank – No. 73, 3.7 FPts/G)
A fifth-round draft pick in 2017, Trent Taylor quietly finished third among all rookie wide receivers in catches, with his 43 receptions on 60 targets. Taylor isn't a particularly gifted athlete but he has similar measurables to and plays a lot like Danny Amendola. Like Amendola, Taylor doesn't give you much in the red zone but he can become a PPR monster when given the targets.
Unfortunately for Taylor, with both Pierre Garcon and Marquise Goodwin ahead of him on the depth chart, as well as pass catching specialists Jerick McKinnon and George Kittle emerging in the backfield and at tight end, there just aren't a lot of targets to go around. Perhaps worse yet is that the team invested a second-round draft pick on wide receiver Dante Pettis who could also battle Taylor for playing time in three-receiver sets.
Taylor's best path to consistent playing time would be an injury to one of the players in front of him, and even then he'd likely only settle into the slot where he'd be getting low-value targets over the middle of the field. He's a player to avoid for now in fantasy drafts but keep an eye on him if Goodwin, Garcon or Pettis end up missing time with injuries.
TE George Kittle
(2017 TE Rank – No. 20, 4.2 FPts/G)
One player to keep an eye on who's moving up draft boards this offseason is 49ers tight end George Kittle. The 24-year-old, who's heading into his second season, seemed to form a nice connection with Jimmy Garoppolo down the stretch this past season and should find himself on the field more often than he did as a rookie.
Kittle is another one of San Francisco's extraordinary athletes at a skill position, and he actually might be the most impressive of the bunch. At 6'4" and 247 lbs, Kittle ran a 4.52 forty-yard dash and posted ridiculous numbers in just about every workout drill that he participated in. Not only that, but like Rob Gronkowski, Kittle is known as a fierce blocker in the running game which allows him to be on the field more often to catch passes when the team goes with play action.
What's frustrating, though, is that Kittle had to battle veteran Garrett Celek for playing time as a rookie. While Kittle is clearly the better pass catcher and arguably the better run blocker as well, he has to battle against coaches who prefer the veteran leadership that players like Celek bring to the table. Celek played 51 percent of the 49ers snaps in 2017 to Kittle's 53.7 percent. While we expect that Kittle will see more snaps, more targets and thus more overall production this season, Celek isn't just going to go away.
Fantasy owners who are looking for a late-round flier on a tight end could certainly do worse than Kittle, who could very well lead the team in red zone targets this season. Those who are predicting a huge year from Jimmy Garoppolo have to ask themselves where all of those passing touchdowns are going to come from. Garcon, Goodwin, Pettis and Taylor are all average to below-average-sized wide receivers, so it makes sense to look to a player like Kittle, who has reportedly added bulk this offseason, in the red zone. Kittle caught nine passes in the red zone as a rookie, which was one of the highest totals of any tight end in the league, but suffered some misfortune as he only scored two touchdowns on the year.
It's certainly possible that Kittle doesn't improve substantially on his rookie numbers, but given his late-round draft price and his ceiling to finish as a mid-level TE1, Kittle could very well represent one of the best value at the position this season.