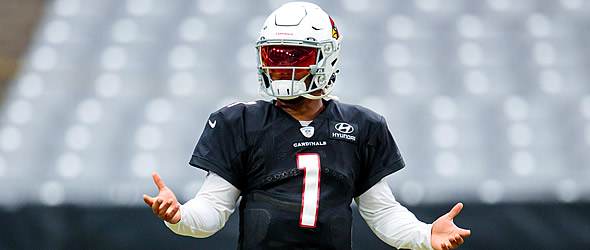 Kyler Murray's rushing ability matched with Kliff Kingsbury's up-tempo offense is tantalizing.


There may not have been a bigger change in offensive philosophy this offseason than what took place in Arizona. A season after drafting Josh Rosen in the top 10, the Cardinals have already opted to move on. They traded Rosen away and selected quarterback Kyler Murray at the No.1 overall spot in this year's draft. Without a quality veteran on the roster, Murray will be given the reigns to start right away and that, combined with a head coach change, will almost certainly mean that Arizona's offense looks completely different in 2019 than it did in 2018.

The Cardinals ran the second-fewest plays per game in 2018 as the team simply hoped to win games based on defense and running the football. That won't be the case this season. Under new head coach Kliff Kingsbury, the Cardinals offense will almost certainly be near the league lead in total offensive plays run and that should benefit every member of this offense, particularly Murray.

Everyone knows that Murray is an athletic freak who is capable of putting up big numbers as a runner, but his ability as a passer seems to almost be forgotten by some fantasy analysts. Yes, it's true that college production does not always equal NFL production, but we saw Baker Mayfield put up some very impressive rookie numbers after coming out of the same offense that Murray did at Oklahoma. It's also worth noting that Murray actually had a slightly higher QB rating than Mayfield did in each of their final collegiate seasons. Both quarterbacks put up record-breaking numbers, but the difference is that while Mayfield was stuck in an archaic offense in Cleveland, Murray will be running a relatively similar offense in Arizona to the one that he and Mayfield ran in college at Oklahoma. That, combined with Murray's running ability, makes him one of the most interesting, if not polarizing fantasy quarterbacks for the 2019 season. It's not often that a rookie is able to step in and produce top-12 fantasy numbers at quarterback in the NFL, but that is well within his range of outcomes.

The only fair criticism that doubters seem to be throwing onto Murray is in regards to his size. At 5'10" and 207 lbs., Murray will be one of the smallest quarterbacks in the league. That's not such a big deal at the college level where the players tend to be smaller on average, but it is a real concern in the NFL. If the Arizona offensive line plays as poorly as it did in 2018 then there is real concern that Murray could take some serious damage behind center which would obviously limit his upside and give him an increased chance for major injury.

From a fantasy standpoint, though, there may not be a better fantasy value than Murray, especially in normal single-quarterback leagues where we can drop him and simply stream the position if he were to get injured. Murray is currently being drafted within the top 10 at the position but his upside makes him a great value in most leagues.

RB David Johnson
(2018 RB Rank – No.10, 12.4 FPts/G)
While many look at David Johnson's 2018 season as a bust, it should be a cautionary tale of not overvaluing players - even good players - who are in bad offenses. Even while "busting" in a way, Johnson still delivered a top-10 fantasy finish on the season in 2018. He just did it without anywhere near as many big games as we had hoped for, which often made it feel like he wasn't much of a difference-maker. The raw numbers weren't anything special, but Johnson still displayed tremendous physical skill on the field which should give us some optimism heading into 2019.

Johnson will go from one of the league's worst offensive schemes for fantasy production in 2018 to potentially one of the best in 2019, especially given that he'll be playing alongside new quarterback Kyler Murray. We've seen it countless times throughout the league that an agile quarterback might end up taking some carries from his running back, but his mere presence on the field makes defenses hesitate prior to engaging on handoffs to the back. Murray should do this for Johnson, which should help open up running lanes. The offensive line woes are still a concern, but Johnson should have more room to run in a much better, more explosive, higher-paced offense.

Johnson is locked in as a top 10 overall fantasy draft pick but some fantasy owners have completely sworn him off due to a disappointing 2018 season. Don't be that guy in your draft room. If you miss out on the top-tier of backs, there's no shame in selecting Johnson, who we're almost certain will produce RB1 fantasy numbers if he can stay healthy.

RB Chase Edmonds
(2018 RB Rank – No.77, 2.7 FPts/G)
After seeing just 80 total touches in his rookie season while being firmly stuck behind David Johnson on the Cardinals' depth chart, it's hard for many fantasy owners to envision a scenario where Chase Edmonds suddenly takes a significant step forward here in 2019. Johnson should still lead the team in touches out of the backfield by a wide margin, but there is hope for Edmonds.

The obvious path to touches for Edmonds is through an injury to Johnson. We never hope for those things to happen in fantasy, but it is a realistic possibility given the position he plays. However, in addition to simply being a "handcuff," the overall offensive system in Arizona should benefit Edmonds in terms of touches.

The Cardinals ran just 56.4 plays per game in 2018 - second-fewest in the NFL. The massive change in philosophy will almost certainly mean a significant step forward in that number. It would not be surprising at all to see the Cardinals move into the top 10 in plays per game, which would put them closer to the 65 play per game range. If they're effective, there's even a possibility that they finish the season as the highest-paced offense, which would mean something like 70 or more plays per game. That simply increase in pace could mean 200 or more total offensive plays for the Cardinals this season than what we saw in 2018. Certainly the majority of those plays will be passes, but that could still mean something like 70 to 80 additional running plays - and that doesn't even account for the additional pass plays to running backs. While Johnson is certainly the workhorse, he already finished in the top five with over 300 total touches in 2018 despite the snail-paced offense that the Cardinals were running. Sure, he'll touch the ball a bit more if he stays healthy this year, but he's not suddenly going to get almost 400 touches. So where do those additional touches go? You guessed it - Chase Edmonds.

Edmonds is still a late-round flier in standard leagues, but he does have the potential for some weekly contributions even if Johnson remains healthy all season. If he doesn't, however, Edmonds would almost certainly instantly become one of the hottest waiver wire adds in fantasy.

WR Christian Kirk
(2018 WR Rank – No.58, 6.7 FPts/G)
While he never eclipsed 100 yards in a single game as a rookie, Christian Kirk's 49.2 yards per game put him at a pace that should give us optimism for a potential 2019 breakout. Unfortunately, he did break his foot which ended his season short, but that's a much easier injury to overcome than something like a torn ACL and much less recurring than something like an ongoing hamstring injury.

Kirk was able to produce quality numbers as a rookie in one of the league's worst offenses, on a team that threw the ball the fourth-fewest amount of times in 2018. With only veteran Larry Fitzgerald alongside him as a pass catcher who has actually produced something in the NFL, Kirk should have the inside edge to lead the team in targets. While the Kingsbury offense does spread the ball, Kirk should exceed 100 targets this season and in an offense that should be much improved from where it was a season ago.

He's a player with a relatively high floor given his average draft position, but with the potential to break out and become an every-week starter for your fantasy teams. Kirk will be highly sought after in drafts by savvy fantasy owners.
WR Larry Fitzgerald
(2018 WR Rank – No.34, 6.8 FPts/G)
After producing three straight 100-catch seasons, we finally saw the drop off for Larry Fitzgerald in 2018 when he caught just 69 passes for 734 yards. He did still match his touchdown total (6) from both 2017 and 2016, but it became glaringly obvious that Fitzgerald's once-elite skills have deteriorated beyond the point of return.

Still, an aging wide receiver in a better offense with other weapons around him and a quarterback who can deliver the ball with the type of accuracy that Murray possesses is intriguing from a fantasy standpoint. Fitzgerald is being selected around the likes of Geronimo Allison, Sterling Shepard, Sammy Watkins and other receivers who have never - or at least haven't recently - produced quality fantasy seasons. Even in seasons that were cut short by injury, Fitzgerald has never finished with fewer than 725 receiving yards and he hasn't been below 60 receptions since his rookie season all the way back in 2004. Only twice in his career has he finished with fewer than six touchdowns in a season. Perhaps most importantly, he has never finished with fewer than 100 targets in a season, giving him a tremendous floor despite playing in some of the league's most sluggish offenses.

Fitzgerald isn't suddenly going to shoot back into being a WR1 for fantasy, but there's really no reason to think that he won't improve on his 2018 numbers. Sure, there is arguably more competition for targets, but Fitzgerald is still the only veteran pass catcher on the roster and he'll play a heavy snap share, as long as he's healthy, in an offense that could be one of the highest-paced in the league.

Don't worry about selecting him with anything other than a very late-round pick in dynasty formats, but Fitzgerald does have value in seasonal leagues for 2019.
Wide receiver Andy Isabella caught the attention of the new regime in Arizona and the team made a significant investment by selecting him with a second round draft pick. Isabella's incredible speed jumped off the page as he turned in the fastest 40-yard-dash time at the NFL Combine, tying fellow second-rounder Parris Campbell with his 4.31 sprint.

Isabella isn't just a fast player with no production, however. He absolutely lit up the stat sheet during his time at UMass, including back-to-back 1,000-yard, 10-plus-touchdown seasons in his junior and senior years. His final season at UMass saw him catch 102 passes for 1,698 yards and 13 touchdowns. While undersized at 5'9", 188 lbs, Isabella produced primarily from the outside in college where he was a deep threat specialist who used his world class speed and agility to absolutely torch defensive backs.

Despite being an outside receiver throughout most of his time in college, he was moved to play primarily out of the slot at the Senior Bowl. Jon Gruden and the Raiders coaching staff seemed to stereotype him into being a slot receiver and, not surprisingly, he was not particularly successful in a role where he was running almost exclusively short routes.

Kingsbury and the Cardinals obviously see something in Isabella, however, and it would not be surprising to see him play significant snaps for the Cardinals this season, particularly in three-or-more receiver sets where he can play on the outside while Christian Kirk and Larry Fitzgerald man the slot. The Kingbury offense makes use of the deep passing game better than almost any other system, however, so there could be some big plays for Isabella here in 2019. Those plays are often difficult to predict and even harder to trust for fantasy owners, so Isabella will almost certainly remain undrafted in many leagues. He does have interesting weekly upside in best ball formats, and he could become a starting wide receiver in a potentially high-powered offense which makes him very intriguing as a late-first or early-second round pick in dynasty leagues.
The NFL seems to be slowly shifting away from the traditional prototypical "X" wide receivers like Hakeem Butler, but at 6'5" and 227 lbs with a 4.48 forty-yard-dash, there's still a real possibility that Butler eventually breaks out and becomes fantasy-relevant despite falling down all the way to the fourth round of the NFL Draft.

The big concern with Butler is that he really was not very effective until his final season at Iowa State despite playing with lackluster target competition. Not every great NFL player has an early college breakout but that certainly had something to do with him falling so far in the NFL Draft after many film graders viewed him as a potential first-round pick.

Still, aside from Fitzgerald who will almost certainly retire after the 2019 season, Butler is the only receiver on the Arizona roster who stands above 6'1" and he's the only receiver who weighs above 220 lbs. If he has the desire to do so, Butler could use his frame to become one of the more physical receivers in the league not only as a contested ball receiver but also as a downfield blocker. The latter, interestingly enough, might be the thing that he needs to develop and prove in order to get early playing time.

Butler is not draftable in standard fantasy leagues, but he's an intriguing second-round dynasty pick and could see some additional playing time this season if there is an injury ahead of him on the depth chart.

TE Ricky Seals-Jones
(2018 TE Rank – No.33, 2.7 FPts/G)
Many scouts touted tight end Ricky Seals-Jones as a potential breakout player at the position in 2018, but that simply didn't happen. Seals-Jones did see his targets more than double from his rookie season but he became significantly less effective with those targets at his yards per reception dropped from 16.8 to 10.1 and his touchdowns went from three in 2018 to just one in 2019. He also caught just 34 passes.

The reality is that Seals-Jones was stuck in a terrible offense with questionable quarterback play and it just wasn't going to happen for him. He's still a very fast player for the tight end position and that should give him some potential to play significant snaps for the Cardinals, but he does also have increased competition for targets with Christian Kirk returning from injury as well as the additions of wide receivers Andy Isabella, Hakeem Butler and Keesean Johnson.

There's a possibility that Seals-Jones enjoys an increase in targets just given the offensive system, but a true breakout into becoming an elite fantasy tight end seems unlikely.