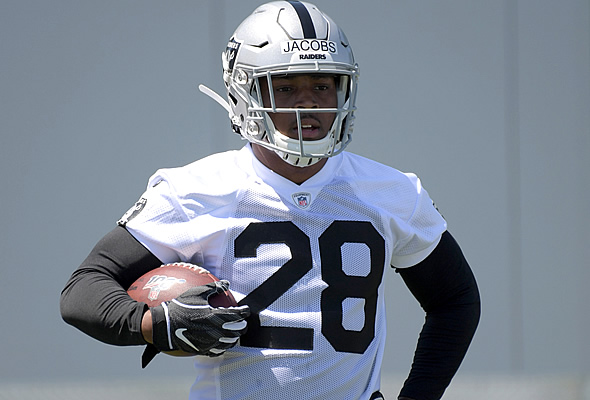 Rookie RB: Josh Jacobs landed in one of the best possible situations for his fantasy value.
QB Derek Carr
(2018 QB Rank Ė No. 18, 18.1 FPts/G)
Veteran quarterback Derek Carr has to be one of the NFL offseasonís biggest winners as the team completely revamped their wide receiver group for the better. The biggest addition is obviously one of the leagueís top overall players, Antonio Brown, who comes to the team after a Hall of Fame-level career in Pittsburgh. At 31 years old once the season starts, Brown is certainly past his physical prime, but heís still performing at an elite level and will easily step in and be the best pass catcher Carr has ever had the pleasure of throwing the ball to. In addition, the Raiders added Tyrell Williams from division rival Los Angeles, along with veterans Ryan Grant and J.J. Nelson and Clemson rookie Hunter Renfrow.

It wasnít all good news this offseason, however, as Carr did lose tight end Jared Cook, who led the team with 896 yards and six touchdowns, as well as Jordy Nelson who finished the 2018 season strong after a very slow start.

It seems like a long time ago, but itís worth considering that Carr was coming off of offseason surgery for a broken leg heading into the 2018 season, so he wasnít exactly at full strength to start the year. He finished 18th in total scoring at the position, but just 25th out of the 37 QBís who started at least eight games in points per game.

Carr avoided the Raiders drafting a QB, but this is likely still a ďmake or breakĒ year for him. He wonít be drafted in most fantasy drafts, but heís the kind of player who does have the upside to be a valuable fantasy asset in two-quarterback formats or as a streaming option in single-quarterback formats.

RB Josh Jacobs
(2018 RB Rank Ė N/A)
The first back selected in the 2019 NFL Draft was Alabama running back Josh Jacobs. Jacobs landed in one of the best possible situations in terms of likely playing time as he joins a backfield that lost Marshawn Lynch and only has competition from subpar veteran Doug Martin and pass catching specialist Jalen Richard.

The question about Jacobs is whether or not heís built to be an every-down back at the NFL level. Jacobs split touches all three years in college and never eclipsed even 650 rushing yards in a season for the Crimson Tide. His yards per carry were impressive and he was a reasonably useful pass catcher, but he only touched the ball a total of 299 times on offense in his three college years combined. Sure, Alabama had other talented backs for him to compete with so some of his lack of usage can be written off due to the team likely just wanting to keep their players healthy, but itís also a bit concerning that he wasnít able to completely run away with the lionís share of the teamís running back touches.

If heís able to stay healthy, thereís almost no way that Jacobs doesnít finish as at least an RB2. If heís as good as the Raiders seem to believe he is, and they feature him in a way that would justify them selecting him in the first round of the NFL Draft, then thereís even a chance that he sneaks in as a fantasy RB1 this season.

RB Doug Martin
(2018 RB Rank Ė 33, 6.7 FPts/G)
It feels like heís been around forever, but would it surprise you to hear that Doug Martin is only 30 years old? Yeah, heís only one year older than Mark Ingram and heís a whopping six years younger than Frank Gore. Thatís not to say that his best years are yet to come, but perhaps Martin isnít quite as close to retirement as we mightíve believed.

Even if he is in the league for a few more years, though, Martinís effectiveness makes him a tough player to trust for fantasy purposes. He barely finished as a top-50 back in fantasy points per game in 2018 as he was stuck on the depth chart behind Marshawn Lynch for most of the season. He did, however, eclipse 100 rushing yards in each of Oaklandís final two games, with 21 carries in each of those contests.

Martin was practically a non-factor prior to the Raidersí Week 7 bye, then saw nine or more carries in each game to finish the season, averaging 14.5 carries per game over that span, but saw more than two targets just twice.

Martin seems to be a ďGruden-likeĒ player, but the team did invest a first round pick in rookie Josh Jacobs, so donít expect Martin to be a significant fantasy contributor unless Jacobs goes down. Sure, Martin will probably see between five to ten touches per game, depending on Jacobsí health, but his main value is in the fact that the team does not have another proven runner on the roster. If Jacobs were to go down with injury, look for Martin to step up and contribute a few fantasy relevant games just due to high usage in this stone age-like Raiders offense.

RB Jalen Richard
(2018 RB Rank Ė 41, 6.5 FPts/G)
Running back Jalen Richard caught a career-high 68 passes for 608 yards in 2018 - good enough for seventh-most receptions among running backs. In fact, Richard was one of only a few running backs who caught more passes (68) than he had carries (55).

This obviously makes Richard one of the most affected players by PPR scoring formats. PPR makes Richard a viable depth option on fantasy rosters, but heís almost completely useless in non-PPR leagues.

The Raiders drafted rookie Josh Jacobs, which certainly hurts Doug Martin, but it likely doesnít affect Richard all that much. Jacobs is an above average pass catcher coming out of college but heís by no means elite in that area, which should mean that Richard keeps most of his role as the teamís primary pass catcher out of the backfield.
WR Antonio Brown
(2018 WR Rank Ė 3, 14.6 FPts/G)
Rumors of Antonio Brownís demise have been greatly exaggerated. Despite teammate JuJu Smith-Schusterís breakout season, Brown quietly led the NFL in touchdown receptions with 15 in 2018, including a near-1,300-yard season on 104 receptions. Brown caught over 100 passes for the sixth straight season, extending his own NFL record in that category. Simply put, Brown continues to be a monster producer and itís going to be jarring to see him suiting up for a new team this season as he heads across the country to Oakland.

Brownís huge season has been downplayed by some analysts and itís true that he was not nearly as efficient with his targets as he had been in the past, but he still managed to produce an elite fantasy season. Itís also worth considering that Roethlisberger, despite leading the league in passing yards, wasnít particularly accurate with his passes.

The Raiders will almost certainly continue the trend that Brown saw in Pittsburgh where he was peppered with targets nearly every single week. Tyrell Williams is the only other receiver on the team who has any history of substantial production, and even he has failed to reach 70 targets in each of his past two seasons despite playing in all 16 games for the Chargers. Given the Raidersí lack of pass catching options, thereís a realistic chance that Brown leads the league in targets. Heís never quite achieved 200 targets, but thatís not out of the realm of possibility here in 2019.
That massive target floor and ceiling makes Brown an extremely safe option despite the assumed quarterback downgrade from Roethlisberger to Carr. Sure, we know that itís often difficult for a player to produce his typical numbers on a new team, but Brownís not just any player. This is an all-time great player who will continue to be the focal point of his teamís passing game and thus is likely being underrated for fantasy purposes even if the rest of his teammates are not particularly good.

WR Tyrell Williams
(2018 WR Rank - 48, 6.5 FPts/G)
A big play specialist who is a nearly ideal complement for Antonio Brown, Tyrell Williams heads from Los Angeles to a division rival in Oakland. Williams has quietly been producing elite per-catch numbers throughout his career and now heíll get the opportunity to potentially see even more playing time as the teamís presumed No.2 option out wide, while playing alongside one of the best wide receivers of all-time.

Williams himself isnít likely to produce great fantasy numbers, at least with any sort of consistency, here in 2019. The Raiders arenít likely to be a pass-happy offense and when they do pass itíll likely be heavily focused on getting the ball to Brown. Still, Williams should see an uptick in targets this season as alongside Brown, heís the only other proven pass catching weapon in this entire offense -- well, aside from running back Jalen Richard.

If Williams can push for nearly 100 targets on the season, he does have the upside to be a low-end WR2 at the end of the season. The frustrating thing is that he might accumulate half of those stats in two or three games, and that production has been very difficult to predict throughout his career.

TE Darren Waller
(2018 TE Rank – 79, 3.2 FPts/G)
The Raiders lost tight end Jared Cook in the offseason, who is coming off of career highs in targets (101), receptions (68), yards (896) and touchdowns (6). Cook's departure leaves a huge hole in the Oakland offense which will be extremely hard to fill by the team's current crop of tight ends.
The best option to step up, however, seems to be fifth-year tight end Darren Waller, who is heading into his second season with the Raiders. Waller didn't get on the field much this past season and he didn't produce much with the Ravens early in his career, but his athletic measurables are certainly something that should not be overlooked. At 6'6", 255 lbs, Waller ran a ridiculous 4.46 forty-yard dash at the 2015 NFL Scouting Combine. That type of speed and size combination is almost completely unheard of.

Of course, his athleticism hasn't translated to much at all on the field, but both head coach Jon Gruden and Mike Mayock have been raving about Waller this offseason, with Mayock even comparing him to one of this season's top rookie tight end prospects, Noah Fant.

The Raiders did draft another tight end, Foster Moreau, who will likely see some work at some point this season, but all signs point to Waller being the tight end to own if there is one in Oakland. Still, don't expect Waller and Moreau to even combine for the type of production that Cook put up in 2018. Neither player is worth drafting in anything other than deep tight end premium leagues.