QB Kyler Murray
(2019 QB Rank – No.7, 21.5 FPts/G)
The No.1 overall NFL Draft pick from 2019, Kyler Murray burst onto the fantasy scene with a top-10 quarterback season as he finished with 3,772 passing yards, 20 TDs and 12 INTs. Those numbers aren't particularly exciting, but Murray proved those hyping him for fantasy to be correct as he delivered an additional 544 rushing yards along with four scores on the ground.

The Kliff Kingsbury Air Raid offense didn't exactly work to perfection as the Cardinals struggled to move the ball at times, but there are certainly takeaways that should give some hope that this could be one of the league's next great fantasy-rich environments. The Cardinals finished the season with the fourth-most offensive plays run per second, which by definition provides more opportunity for fantasy points than the slower-paced offenses. That certainly benefits Murray, as he quietly finished inside the top 10 quarterbacks in pass attempts as a rookie despite the Cardinals having a very productive rushing attack. It should be assumed that Kingsbury is going to do what it takes to put points on the board, but the Cardinals didn't select Murray with the No.1 overall pick in 2019 and trade for DeAndre Hopkins in order to grind the ball between the tackles. They want to pass, and that should make Murray a fairly safe bet to produce an upper-half QB1 fantasy season here in 2020.

In addition to what will likely be even more volume through the air, the Cardinals passing offense could also be more efficient this season. While the passing game wasn't particularly bad in 2019, they also missed out on quite a few touchdowns. In fact, Arizona scored 47 percent of their touchdowns by running the ball in 2019 – a number far higher than the league average. That happened despite Murray finishing in the top 10 in passing attempts within the red zone, with 75 attempts. This should tell us that Murray is almost certainly due for some positive regression in the way of touchdowns through the air, if for no other reason than that he was statistically unlucky in that category as a rookie.

Of course, part of the reason that the Cardinals struggled when passing the ball in the red zone is that the team lacked a real difference-making red zone target. They addressed that issue this offseason by trading for perennial All-Pro wide receiver DeAndre Hopkins. Hopkins joins the Cardinals after delivering three straight top-10 fantasy wide receiver seasons with the Texans. He's one of the best jump ball receivers in the league and is a strong candidate to lead the NFL in receiving touchdowns. Hopkins' 31 touchdowns over the past three seasons are most in the league over that stretch.

With the addition of Hopkins, the Cardinals are fairly stacked at wide receiver with Hopkins, Larry Fitzgerald and Christian Kirk as the perceived starters, alongside 2019 rookies Andy Isabella, KeeSean Johnson and Hakeem Butler down the depth chart. There's a lot of firepower and diversity in that group, so look for Kingsbury to get the best players on the field for each situation, which should only serve to help Murray.

One thing that's a bit concerning from a fantasy standpoint is that the Cardinals did struggle to protect Murray as he was sacked a league-most 48 times in 2019. Much of that can be attributed to Murray wanting to do too much with the ball and not getting rid of it quickly enough, but the risk of injury is always higher for quarterbacks when they're taking big hits. Unfortunately, the Cardinals didn't make any significant additions to their offensive line this offseason other than when they selected potential starting tackle Josh Jones in the third round of the NFL Draft. Rookie quarterbacks often do take a big step forward in reading defenses in their second season so this could become a non-issue for Murray, but given his small frame, it's still something that does make him a bit riskier than the other quarterbacks being selected around him in fantasy drafts. Still, he's a dark horse candidate to win NFL MVP if the Cardinals take a big step forward as he's one of the few players who could rival Lamar Jackson as a dual-threat pass-run quarterback.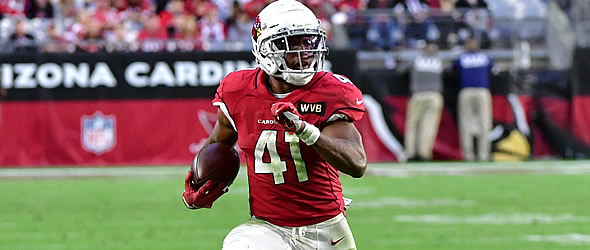 RB Kenyan Drake
(2019 RB Rank – No. 18, 11.7 FPts/G)
After multiple seasons stuck in committee backfields in Miami, Kenyan Drake finally got an opportunity to show that he can produce as a bell cow running back when he was traded to Arizona mid-way through the 2019 season.

Drake made his debut for the Cardinals in Week 9, against a very stout San Francisco defense. He carried the ball 15 times for 110 yards and a touchdown, while adding an additional 52 yards receiving. With Chase Edmonds out due to an injury, Drake proceeded to take over the backfield down the stretch, becoming a league-winning fantasy back as he produced monster games in the championship weeks.

While most would assume that Drake has run away with this backfield, there is a chance that this backfield remains somewhat of a committee here in 2020. Yes, we know that Drake was the best fantasy producer in the Cardinals backfield in 2019, but one of the most under-reported realities of the 2019 season is that David Johnson was a fantasy RB1 for the first six weeks of the season before he got hurt. He did it without going over 100 rushing yards in a single game, but he – like Drake – was a serious threat in the passing game and he scored five touchdowns in those six games. The Cardinals were quietly one of the best run-blocking offensive lines in football in 2019, which helped backup Chase Edmonds produce a 126-yard performance on 27 carries in his only full game as the Cardinals' starter before he too, got injured.

It wasn't until both Johnson and Edmonds were out that the Cardinals finally made the move to acquire Drake and while it paid off for Drake, Edmonds also never looked fully healthy when he came back and there's no guarantee that the coaching staff is suddenly going to completely hand over the backfield to Drake this season. We do expect that Drake will lead the backfield but don't be surprised if he's not a complete workhorse. Prior to 2019, Drake had never touched the ball more than 200 times in a season going back all the way to his four years in college at Alabama. He showed that he's capable of shouldering a full workload for at least some of the season, but Edmonds may be more involved than some people want to admit.

The memory of Drake dominating and being a real reason why some people walked away with their fantasy football championships has been ingrained in our minds all offseason and it's led to Drake shooting up draft boards to the point that he's now being selected as high as the late-first round in some leagues. Fortunately, Drake is a quality contributor in the passing game and 50 receptions would seem to be close to his floor if he stays healthy. He could be a league winner again this season if he does remain the team's bell cow back, so he's probably worth taking a shot on if he does fall to the mid-second round in PPR drafts.

RB Chase Edmonds
(2019 RB Rank – No. 51, 7.1 FPts/G)
After spending his first two seasons stuck behind David Johnson, Chase Edmonds is still second in the Cardinals backfield this season behind Kenyan Drake. Drake had some truly gigantic fantasy performances down the stretch and there's no question that he deserves to be valued highly in drafts, but fantasy owners might just be sleeping on Edmonds.

He saw the field only sparingly for the first few weeks of the 2019 season, but Edmonds quietly began to sneak onto the field a bit more in the weeks leading up to Johnson's injury. Then Edmonds proceeded to absolutely crush in his one starting opportunity, as he accumulated 150 total yards and three touchdowns on 29 total touches. Fantasy owners were ecstatic that they might have struck gold off the waiver wire, but the ride didn't last long as Edmonds unfortunately suffered a hamstring injury that would keep him off the field for three weeks. By the time he returned, the Cardinals had traded for Kenyan Drake who had taken over the backfield and Edmonds simply didn't look like the same player in the limited opportunities he did get to spell Drake down the stretch.

The Cardinals did draft Eno Benjamin who himself was a serious weapon out of the backfield at Arizona State, but Edmonds appears to be entrenched as at least the primary backup for Drake. He may even see between eight to 12 touches per week when Drake is healthy, given that the Cardinals run a fast-paced offense that regularly requires them to give breathers to their starters.

Now healthy after a full offseason, Edmonds could have fantasy-viable weeks even if Drake remains healthy as the starter. He's a solid contributor in the passing game and he's shown an ability to find the end zone near the goal line. He also looks to be one of the few late-round handcuff-type running backs who has real upside to provide RB1 weeks in the case that he does become the starter.

WR DeAndre Hopkins
(2019 WR Rank – 10, 10.7 FPts/G)
In perhaps the most shocking off-season move we saw this year, the Cardinals acquired one of the league's most productive pass catchers in DeAndre Hopkins. It was part of a bizarre trade that also saw the Cardinals move running back David Johnson to the Texans, but Hopkins was certainly the shining jewel in the transaction.

Hopkins will have to learn to play in Kliff Kingsbury's air raid offense, which should give fantasy owners a bit of a pause as it is not often that wide receivers move from one team to another and maintain, let alone improve, their statistical production right away. Hopkins has been a top-10 fantasy wide receiver in three straight seasons so we should have no worries about him as a player, and his floor remains a quality weekly starter in just about any matchup, but it could be a bit more difficult for him to produce the elite WR1 numbers that some are expecting now that he's in an offense that is known to spread the ball to different targets.

Still, there's some hope that Hopkins can remain an upper-half WR1 this season as Arizona clearly saw a reason to trade for him. After struggling to finish drives with touchdowns in the red zone in 2019, particularly through the air, it became apparent that the Cardinals needed to find a contested catch stud. It's not often that a need gets filled so perfectly, but they found perhaps the very best jump ball receiver in the league. There's a real chance that Hopkins leads the league in end zone targets this season and those opportunities alone could lead to him remaining one of the league's best fantasy assets despite the difficulty involved in switching teams.

WR Christian Kirk
(2019 WR Rank – No.47, 7.6 FPts/G)
On pace to catch nearly 100 passes prior to his Week 4 injury, Christian Kirk's breakout season was unfortunately put on hold due to an ankle sprain that caused him to miss three full games. While he did get back on the field and produce some more fantasy-relevant weeks, Kirk would only score a touchdown in one game for the entire season. Of course, he scored three touchdowns on six catches for 138 yards in that Week 10 blowup performance against the Buccaneers, but Kirk wasn't much of a fantasy factor after that.

Now with the Cardinals bringing in superstar wide receiver DeAndre Hopkins, a case could be made that Kirk is no longer someone worth targeting in fantasy drafts. We have to assume that Hopkins will see a strong target share which leaves the other receivers in this offense to fight for scraps. Future Hall of Famer Larry Fitzgerald will be back again in 2020 and he will likely again push Kirk for playing time.

Looking back to 2019, Kirk was on the field for over 75 percent of Arizona's total offensive snaps. He did that despite missing three games and perhaps more importantly, he actually out-snapped Fitzgerald in 10 of the 13 games they played together. With Fitzgerald primarily operating as the team's slot receiver, Kirk may have the inside track to be on the field with Hopkins in two-WR sets and that's a big reason why he's going ahead of the veteran in fantasy drafts.

Fortunately for Kirk, the team has no real TE of consequence, so that should give him a bit higher of a target floor than if he was competing in an offense with more proven pass catching weapons. Arizona's top-scoring TE in 2019 was Charles Clay, who is now a free agent, and he was targeted just 24 times on the season. Perceived starter Maxx Williams was targeted just 19 times in 2019 and neither player was on the field for even 50 percent of Arizona's snaps.

Kirk is well behind Hopkins in the pecking order, but don't forget about him in your fantasy drafts. He saw over 100 targets in 13 games and could exceed that number in 2020 even if he finished second on his own team in that category.

WR Larry Fitzgerald
(2019 WR Rank – 41, 6.5 FPts/G)
Most expected that 2019 would be Larry Fitzgerald's swan song, but the veteran announced that he'll be back in 2020 for his 17th – and likely final NFL season. While it's been two years since he's eclipsed 1,000 receiving yards, Fitzgerald has remained a productive player well into the twilight of his career. In fact, he led all Cardinals pass catchers in by playing nearly 85 percent of Arizona's snaps in 2019.

Now expected to be third in the target pecking order behind Christian Kirk and the newly acquired DeAndre Hopkins, Fitzgerald will likely see an even bigger drop in his statistical output, if for no other reason than that his volume will almost certainly be down. It's difficult for NFL teams to have two relevant pass catching weapons, let alone three, and at age 37 when the season starts, Fitzgerald just doesn't seem likely to suddenly produce great fantasy numbers again.

However, there is hope that he can once again be at least a productive third option in this fast-paced air raid offense. Fitzgerald took nearly 80 percent of his snaps out of the slot in 2019 and is expected to man that role again. Certainly the Cardinals will want to have Hopkins and Kirk on the field as often as possible, but that doesn't necessarily mean that Fitzgerald will find himself on the sidelines. The Cardinals offense as a whole ran over 60 percent of their plays with three wide receivers on the field in this past season and they did it with Damiere Byrd as the most common player on the field alongside Kirk and Fitzgerald. Needless to say, Kliff Kingsbury wants to have three or more receivers on the field as often as possible, so there's a real chance that Fitzgerald again approaches the 100 target mark. In 16 NFL seasons he's never seen fewer than 109 targets so it'll be interesting to see if he can get there again despite being in the most crowded wide receiver room he's ever competed in.

He's not a sexy pick in fantasy drafts anymore, but Fitzgerald is being selected so late in fantasy drafts that it'd be very difficult for him to not exceed his cost as long as he stays healthy. That makes him a value, even though he is unlikely to finish as anything higher than a low-end WR3 for the season.