QB Derek Carr
(2020 QB Rank – No. 13, 21.6 FPts/G)
Las Vegas quarterback Derek Carr quietly finished just outside QB1 range in 2020 and was even a mid-range QB2 in fantasy points per game. Carr threw for a career-high 4,103 yards while maintaining an impressive three-to-one touchdown-to-interception ratio, nearly leading the Raiders to a playoff berth.
Unfortunately, Carr lost his top receiver from 2020 in Nelson Agholor, but the real question is - did Agholor suddenly become a truly quality receiver, or did Carr and the Raiders offense just elevate him to look like that? Agholor had been considered a bust by just about everyone prior to landing in Las Vegas and now after the one season where he actually looked competent making plays down the field, the team opted to not re-sign him. This would seem to indicate that the Raiders are content with what they have at pass catcher, especially after signing veteran field stretcher John Brown. Of course, it's easy to have some confidence when you've got one of the league's best tight ends on the roster, that being Darren Waller, who has now put together back-to-back 1,100-yard seasons.
Henry Ruggs III and Bryan Edwards are now entering their second seasons and should have a better grasp on not only the offense, but also their respective roles. Both players were disappointments as rookies for varying reasons, but it's hard not to believe that Jon Gruden at least has some sort of an idea of what he's doing, as the Raiders have been able to put together top-12 offenses in terms of total yardage in back-to-back seasons, despite a seeming lack of high-end skill position players.
Carr lacks the mobility and the Raiders lack the offensive firepower for Carr to realistically finish as a quality QB1 in fantasy, but he's being disrespected a bit by fantasy gamers right now. He's currently going off the board in the 20s at the quarterback position - an ADP that he will almost certainly exceed. Sure, he's not an exciting pick and he won't win you a fantasy league, but he's a decent second quarterback in 2QB and Superflex formats, especially considering that he doesn't have much competition at all behind him.
RB Josh Jacobs
(2020 RB Rank – No. 7, 13.5 FPts/G)
Former first round NFL Draft pick Josh Jacobs was able to stay relatively healthy which allowed him to finish as a mid-level RB1 in both standard scoring and PPR fantasy leagues in 2020. While many fantasy owners were disappointed that he didn't provide a truly league-winning performance in his second season, it's tough to be too hard on Jacobs, as he was actually fairly efficient given the horrendous run blocking that was in front of him. It would've been easy, in fact, to slot Jacobs in as an easy second-round pick in fantasy drafts this season if the Raiders hadn't brought in significant competition for touches, in the form of former Arizona and Miami running back Kenyan Drake. Now there appears to be significantly more concern, and rightfully so.
Jacobs owners should be particularly worried about Drake because there's much more of an overlap between these two backs' skill sets than might meet the eye. One area that is particularly worrisome, if you're a Jacobs owner, is the goal line. Drake quietly finished second among all running backs in 2020 with 19 goal line carries, holding teammate Chase Edmonds to just one of those such touches on the season. Drake was able to convert those carries into 10 rushing touchdowns on the year - eighth-most among all running backs. Jacobs, meanwhile, saw 16 goal line carries which was good enough for third among all running backs. Jacobs converted at a higher rate than Drake did as he scored 12 touchdowns on the year, but the obvious concern is that Jacobs and Drake could end up splitting goal line carries in an already relatively low-volume Raiders offense.
With touchdowns buoying both backs' season-long finishes, it's hard to believe that either Jacobs or Drake will finish 2021 with as many points as they accumulated in 2020 unless the other one goes down with a multi-week injury.
RB Kenyan Drake
(2020 RB Rank – No. 15, 12.9 FPts/G)
Kenyan Drake is coming off of the least-efficient season of his career as he was only able to scrape together a 4.0 yards per carry average despite playing in one of the league's most fast-paced offenses in Arizona. That yards per carry drop could be due to a number of different things, but he had never been held below 4.5 yards per carry in a season prior to that. Additionally, teammate Chase Edmonds completely obliterated Drake's 4.0 yards per carry by posting a whopping 6.1 yards per carry in the same offense, albeit on less than half as many carries. The Cardinals opted not to re-sign Drake this offseason, instead choosing to sign former Steelers starter James Conner, which allowed Drake to move to the AFC and sign with the Raiders.
Drake leaves an offense in Arizona in which he was the perceived top running back to join an offense in Las Vegas where he's likely to be the complementary back to former first round NFL Draft pick Josh Jacobs. Jacobs isn't much of a pass catcher which would seem to lend itself to the idea that Drake could carve a niche out in the passing game, but Drake wasn't that type of back in Arizona. The obvious pushback would be, with a mobile quarterback like Kyler Murray, the Cardinals weren't likely to pass to their running backs much to begin with. However, a closer look at the numbers would tell you that while Drake was targeted just 31 times in 2020, it was Edmonds, who more than doubled that with 68 targets - tied for sixth-most among all running backs this past season. Drake does have a 73 and a 68-target season on his resume from his days in Miami, but that was also a number of years ago and in a severely depleted backfield.
It appears most likely that Drake will do enough to cut into the touches that Jacobs will no longer be an RB1 this season, but probably not enough that Drake will be a reliable fantasy option himself. However, Drake's ADP is currently in the ninth round and he's being selected alongside players like Jamaal Williams, Alexander Mattison and Latavius Murray who are almost exclusively handcuffs in their respective offenses. Drake offers that high-end handcuff upside, but could actually have some weekly value as well. This makes him a potential value where he's currently being drafted.
WR Henry Ruggs III
(2020 WR Rank – 89, 6.8 FPts/G)
Speedster wide receiver Henry Ruggs III was the top player selected at his position in the 2020 NFL Draft, but fell far short of the lofty expectations as a rookie. Ruggs finished with just 26 total catches for 452 yards and two touchdowns, despite playing in 13 games. His season was disappointing from a standpoint of other rookies, as players like Justin Jefferson, CeeDee Lamb, Brandon Aiyuk - who were also first round picks - far exceeded Ruggs' production; but it was equally disappointing in the context of the Raiders' offense as he finished fourth on his own team in receiving yardage and fifth in catches.
It's not a complete death sentence that a rookie wide receiver fails to produce, but Ruggs' season is already looking dangerously similar to that of former Bengals first round bust wide receiver John Ross. Ruggs was highly regarded due to his speed, similar to Ross, but failed to etch out a prominent role in his team's offense. That type of comparison certainly has to be worrisome for fantasy players as there really wasn't anything about Ruggs' rookie season that would give us confidence that he's suddenly going to take a big step forward in 2021.
Now that the team has moved on from 2020 top wide receiver Nelson Agholor, however, Ruggs sits arguably atop what has to be one of the least-skilled wide receiver groups in the league. There's a very high likelihood that his target share increases enough that he at least delivers a few splash games this season - the question is whether or not we're going to be able to rely on him beyond those few games that really would only benefit best ball teams.
On the surface, the Raiders' offense looks like an offense that's just waiting for another player to step up. We know that Darren Waller is the alpha pass catcher, but there's still plenty enough volume for another pass catcher to step up, similar to what Agholor did in 2020. If Ruggs can be that player, he will far exceed his current ADP. What's perhaps most interesting is that the Raiders' current front office and coaching staff is firmly invested in him being a success. The team has struggled to find players in the Draft and even a moderate level of success from Ruggs would be one of their best achievements thus far.
He's a risk to start the season, of course, but you could do worse than Ruggs if you're looking for a later-round dart throw. He's being drafted later than the 10th round in most leagues and that makes him a fairly cheap option who does have some serious upside if he can put things together in his sophomore season.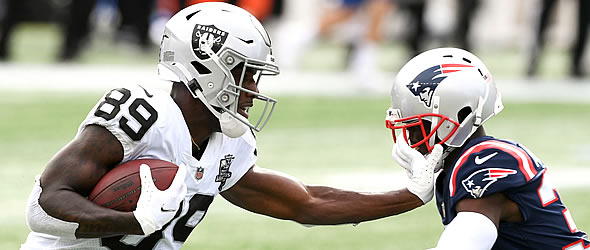 WR Bryan Edwards
(2020 WR Rank – 132, 4.0 FPts/G)
While Henry Ruggs is certainly the receiver with the most draft capital on the roster, perhaps the most interesting wide receiver on the roster is fellow 2020 rookie Bryan Edwards. Edwards was actually widely regarded as a prospect, particularly in the analytics community, as he was productive in all four seasons of college while also possessing a prototypical "X" receiver body type at 6'3", 215 lbs. Edwards' speed doesn't necessarily jump off the page, especially when compared to Ruggs, but he was a good enough prospect that the Raiders still spent a third round pick in him this past season.
Like Ruggs, Edwards' rookie season was a disappointment, but perhaps for different reasons. He suffered multiple lower body injuries that derailed him getting on the field and he was limited in many of the games he did play. He finished the season with just 11 catches for 193 yards and a single touchdown, although his 73.3 catch percentage dwarfed that of Ruggs, despite the two players having almost identical yards per reception.
Edwards stands alone as the only wide receiver currently on the Raiders roster who is taller than 6'0" and he's really the only player equipped to play in a true go-to role We've seen quarterback Derek Carr compare him to his college teammate, Davante Adams, and that has to be considered a good sign heading into his second professional season.
He's going off the board almost 60 picks later than Ruggs and there's a fair argument to be made that he has the most upside of any Raiders wide receiver this season. He doesn't cost enough to actually affect your fantasy team in a negative way, so he's pretty much the perfect late-round target in fantasy drafts this season.
TE Darren Waller
(2020 TE Rank – No.2, 17.5 FPts/G)
Raiders tight end Darren Waller proved that his 2019 breakout wasn't a fluke by putting together one of the truly great fantasy tight end seasons of all-time in 2020. His 1,196 yards receiving was 13th-most in the history of the position and his 280.6 standard scoring fantasy point total in 2020 made him the second-highest scorer at the position on the year, behind only Travis Kelce's record-breaking performance.
Waller's 2020 season might actually be going underappreciated in fantasy, because it's easy to compare him to Kelce, but he outscored the next-highest-scoring tight end, Robert Tonyan, by a ridiculous 104 fantasy points. In fact, Waller's 2020 season would've been the highest-scoring fantasy tight end season in 2019, the second-highest-scoring in 2018, and the highest scoring in 2017, 2016, 2015, and 2014. You'd have to go back all the way to 2011 before there was a season where more than two tight ends outscored Waller's 2020 totals, and even then Waller would've been third-best by only 16 fantasy points on the year, and he would've outscored the next-best player at the position by over 70 points.
With the Raiders losing their top wide receiver, Nelson Agholor, in free agency, there are now more questions than perhaps ever before at the position. This only furthers the likelihood that Derek Carr will look to make Waller the focal point of their passing game.
Waller is one of only two tight ends (alongside George Kittle) who has a realistic chance to supplant Travis Kelce as the top-scoring tight end this season. His price might sound steep as an early-to-mid-third round pick in fantasy drafts, but when you consider that you're getting truly difference-making production at a position that lacks depth as a whole, Waller could again be a big value in fantasy drafts if he's able to replicate - or even come close to replicating his 2020 season here in 2021.