QB Josh Allen
(2021 QB Rank – No.1, 28.0 FPts/G)
Buffalo's Josh Allen became the first quarterback to finish as the No. 1 fantasy quarterback in back-to-back seasons since Drew Brees in 2011 and 2012. Allen has thrown for at least 4,400 yards and 36 touchdowns in each of the last two seasons while also adding nearly 1,200 total rushing yards and 14 touchdowns on the ground. With Allen still being just 26 years old, it makes sense that he would still be looked at as the top fantasy quarterback headed into 2022 and there's even reason to believe that we may not have seen his best form quite yet.
Even though he took a bit of a step back in overall passing production from 2020 to 2021, the only real significant difference that we saw was in the interceptions department which saw him go from 10 in 2020 to 12 in 2021. Sure, his yards per attempt were lower as well, but that number was still higher than in either of his first two seasons in the league.
The one thing that we really have to love about Allen is that his athleticism isn't hampered by his size. At 6'5" and 237 lbs, he's significantly larger than the other more athletic quarterbacks like Kyler Murray, Lamar Jackson and Jalen Hurts. This allows him to withstand more impact on hits from defenders (and even run over those defenders from time to time), reducing his relative risk of being injured. Allen is like Cam Newton as a runner, with much better box-stuffing numbers as a passer.
While Allen's weapons have taken a bit of a hit this offseason, losing both Emmanuel Sanders and Cole Beasley, the late-season emergence of Gabriel Davis along with the continued elite play of Stefon Diggs should give fantasy managers all the confidence they need to select Allen first among quarterbacks in drafts.
RB Devin Singletary
(2021 RB Rank – 19, 9.3 FPts/G)
The Devin Singletary vs Zack Moss debate was hotly contested heading into the 2021 season, but by Week 11, it became obvious that Buffalo had chosen Singletary to be the top back on the roster. Not only was Singletary far out-performing Moss, but the team actually made Moss inactive - a healthy scratch - in multiple games toward the end of the season and he failed to exceed 10 touches in any game that fell within the second half of the season. Meanwhile, Singletary enjoyed the most productive season of his NFL career, totaling over 1,000 total yards for the first time while also scoring a career-high of eight touchdowns.
Things looked good to Singletary heading into the offseason, but rumors quickly began to circulate that the Bills were looking to add some additional versatility to their backfield, particularly in the way of pass-catching. The team offered a substantial contract to Washington running back J.D. McKissic, but the Commanders ended up matching the deal, which meant that McKissic would stay in Washington. But Singletary wasn't out of the danger zone yet, as the team would go on to use a second-round pick in the NFL Draft on running back James Cook.

While the Bills did use Singletary in essentially a bell cow role down the stretch in 2021, they're telling us with their personnel decisions that they don't view him as that type of player. At 5'7" and just over 200 lbs, it's not hard to imagine why the Bills would be worried that it's only a matter of time before he suffers some sort of significant injury. Not only that, but despite his smaller frame, Singletary has not been a particularly efficient pass catcher thus far in his professional career, which is certainly a concern for a team that passes as much as the Bills do.
It should be expected that Singletary starts the season in at least the top end of a shared backfield, but don't be surprised if he eventually begins to lose snaps to Cook throughout the season. That type of backfield split is typically not conducive to high-end fantasy production, so be aware of that if you end up drafting him and seeing early season return on your investment.
RB James Cook
(2021 RB Rank – N/A)
The younger brother of Vikings running back Dalvin Cook, James Cook has a lot of fantasy managers excited about the future, especially those in the dynasty community. Cook split a backfield at Georgia with fellow 2022 NFL Draft pick Zamir White, accumulating over 1,000 total yards and 11 touchdowns in his senior season. His landing spot in Buffalo has to be one of the more enticing for fantasy because, despite Devin Singletary's production late in 2022, the Bills don't have a ton invested in him going forward. Not only that, but they've obviously been looking for other options in the backfield to either split the workload with or entirely replace Singletary.
Cook's ability as a pass catcher immediately makes him interesting as that has been a major flaw in recent Bills backfield iterations as Singletary, Zack Moss, Matt Breida and others have proven themselves to be subpar receivers. Cook isn't a Christian McCaffrey-level pass catcher, but he's someone who has versatility and explosiveness which should allow him to get on the field sooner rather than later.
Those drafting Cook will need to make sure that they're not relying on him too early in the season as it's rare for rookie backs to step in and immediately take over a backfield from a veteran but don't be surprised if Cook is the best fantasy running back on the roster down the stretch. The Bills invested their second-round draft pick on him so they'll want to see a return on that investment eventually.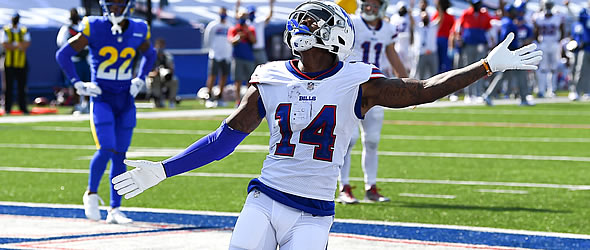 WR Stefon Diggs
(2021 WR Rank – 8, 10.7 FPts/G)
It's wild to think that a 1,225-yard, 10 touchdown season was a statistical dip and even a bit of a disappointment for Stefon Diggs in 2021, but that just goes to show how strong his 2020 season really was. Diggs once again finished as a rock-solid WR1 for fantasy and he's now finished with at least 1,000 receiving yards in four straight seasons while accumulating 33 touchdowns over that stretch. Many predicted that he'd struggle to find chemistry with what was a fairly erratic quarterback in Josh Allen, but Diggs has enjoyed the best two years of his professional career while in Buffalo. Now headed into his third season with the team, the sky is truly the limit for this dynamic duo.
Diggs' target share fell about five percentage points in 2021 from where it was in 2020, but a quick glance at the roster indicates that he should see more passes coming his way this season. The team lost both Cole Beasley and Emmanuel Sanders this offseason and while they did make some additions like veteran Jamison Crowder and fifth-round NFL Draft pick Khalil Shakir, they really didn't invest much in the position. This often means that a team will lean even more heavily on their already established weapons and Diggs is really the only player on the roster who has a long-term track record of production.
With many top wide receivers finding themselves in new homes this off-season, Diggs really does have the upside to finish as an elite option at the position once again here in 2022. He's an extremely safe bet to see a high target share in a heavy passing offense and his 25 end zone targets far out-paced any other player in the league a season ago, leaving us hopeful that we may see another double-digit touchdown season from the veteran wideout.
WR Gabriel Davis
(2021 WR Rank – 47, 6.1 FPts/G)
One of this draft season's most controversial players, Gabriel Davis really showed out down the stretch for the Bills in the 2021 season. Many will remember the absurd eight-catch, 201-yard, four-touchdown performance he had in the divisional round playoff game against the Chiefs, but it's worth noting that Davis had been performing well prior to that as well. Davis scored four touchdowns over his final five regular season games while also being targeted 36 total times in those contests despite competing with other, more established pass catchers for targets. Davis now finds himself in a very interesting spot as he has all but already locked up the team's WR2 spot opposite Stefon Diggs in what should again be one of the league's most pass-heavy offenses.
The problem with Davis in the past is that he just wasn't seeing enough playing time and targets coming his way to be a viable fantasy option. In fact, Davis saw more than five targets in just two of his first 31 professional games, including playoffs. Since that point, Davis saw at least five targets in four of his final six games to close out the 2021 season and he was a fantasy monster in most of those contests.
It's always a risk to be overly enthusiastic about small samples sizes for players, but we also don't want to completely disregard them. Clearly, the Bills have a belief that Davis can be the second option in their passing game as they opted not to invest much in the wide receiver position this off-season.
Davis might end up being a better option in best ball formats, but he still has plenty of upside in traditional formats as well. Don't sleep on him in your draft.
WR Dawson Knox
(2021 TE Rank – 7, 7.5 FPts/G)
Despite catching an outlandish nine touchdowns on just 49 receptions, Dawson Knox narrowly made the cut as a top-10 fantasy option in 2021. His 587-yard season was by far the best year of his professional career, but it ranked 15th at the position and his targets per route run were staggeringly low for a player who finished the season ranked as high as he did.
Touchdown rate regression is practically inevitable with his type of production, but if there's any hope for Knox to repeat as a top 10 option at the position, it has to be because the team moved on from multiple pass-catching options this offseason, including Emmanuel Sanders and Cole Beasley. Certainly, not all of those targets will go to Knox, especially if you're expecting a breakout season from Gabriel Davis, but there's certainly hope that Knox could see more passes come his way this year.
Unfortunately, the team did also invest in the tight end position this offseason when they signed former first-round NFL Draft pick O.J. Howard. Howard spent five seasons with the Bucs and while he certainly has to be looked at as a bust, he's also not a complete zero at the position. Knox played over 76 percent of the Bills' offensive snaps this past season, while Tommy Sweeney, who is still on the roster, played about 22 percent. The risk here is that Howard and Sweeney could end up cannibalizing enough snaps away from Knox that he's just not able to get on the field enough to see his target share spike, thus limiting his true potential for a breakout season.
Knox is a player who will have his weeks, but like many tight ends, he's going to disappoint you on a fairly regular basis. There are other players who have less competition on their rosters and may cost less in your drafts, so avoiding Knox is probably a wise option here in 2022.