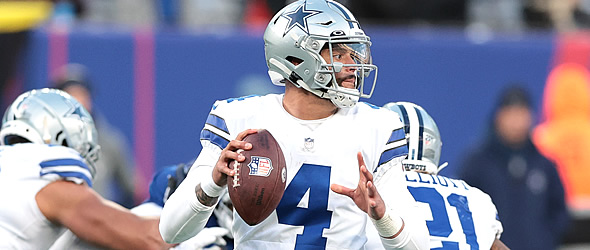 QB Dak Prescott
(2021 QB Rank – No.6, 24.4 FPts/G)
2021 saw the Cowboys finally take the steps forward that many had been expecting them to take for a long time now. Dallas led the NFL in both total yards per game and points per game, making them one of the most fantasy-friendly teams in the league. While those totals led to quarterback Dak Prescott being a quality mid-level QB1 on the year, he was surprisingly inconsistent on a week-to-week basis. He finished with 25 or more points in 11 contests but also finished with fewer than 17 points in five other games. That left only two games where he finished between 17 and 25 fantasy points.
These types of dramatic swings from week to week can be good if you're in a format like best ball, but many traditional fantasy gamers don't have the patience to deal with a quarterback who gives them 12 points one week and 33 the next. Sadly, it's unlikely that Prescott is suddenly going to ascend into being a weekly elite option here in 2022. While the Cowboys did bring in new weapons in veteran James Washington (foot) and rookie Jalen Tolbert, they lost their former WR1 in Amari Cooper. Add in the reality that Michael Gallup will likely start the season on the PUP list after his ACL surgery and it looks like we could see a noticeably worse passing game in Dallas this season.
Many experts are projecting the Cowboys to be even better defensively than they were in 2021, which would presumably mean fewer situations where the team needs to pass and thus a lower ceiling for Prescott. Still, he's a safe option once the high-upside options are off the board. He may not be a league winner, but he's also unlikely to be a league loser at the QB position.
RB Ezekiel Elliott
(2021 RB Rank – No.6, 11.8 FPts/G)
Is this the year when the wheels finally fall all the way off for Ezekiel Elliott? Many fantasy managers seem to think so as the former perennial first-round fantasy pick is now falling to the third and even fourth round in some drafts. It seems as though the late-season dropoff in his statistical output is still fresh in the minds of fantasy gamers, many of whom seem to be expecting that Tony Pollard will take over the backfield this season.
Elliott's statistical descent in 2021 saw him start the season averaging well over 5.0 yards per carry over the first month of the season, only to fall to 3.7 yards per carry over the remainder of the year. Dallas' ever-deteriorating offensive line certainly played a part in that, but we shouldn't expect that to be any better this season. The Cowboys lost both right tackle La'el Collins and left guard Connor Williams this offseason and while they did draft Tyler Smith in the first round of the NFL Draft, there's likely to be some growing pains along this offensive line here in 2022.
If you're looking for some positive outlooks on Elliott, consider that he battled through multiple injuries throughout the 2021 season, including a partially torn PCL early in the year, and was still able to start all 17 games. In fact, other than a suspension which saw him miss six games in his second season, Elliott has never missed more than one game in any season throughout his professional career. Major injuries are mostly unpredictable, but Elliott has shown us that he is more than willing to play through a ton of minor injuries that would knock most players out for multiple weeks. Having that type of reliable workhorse in your fantasy backfield is always nice, even if he's not the same guy who led the league in rushing earlier in his career.
While Pollard is almost certainly going to break into Elliott's workload, Elliott is still listed atop the depth chart and he's still likely to see a 60/40 backfield split at worst in 2022. With the Cowboys still expected to be a pretty good offense, he'd need to be injured or lose his starting role in order to not return value given his offseason ADP.
RB Tony Pollard
(2021 RB Rank – No.30, 7.8 FPts/G)
One of the most explosive playmakers at the running back position, fantasy owners have been begging for Pollard to take over as the starter in Dallas for multiple seasons. Despite carrying the ball over 100 fewer times than him, Pollard finished less than 300 yards behind Elliott on the ground while also out-producing him by 50 yards on eight fewer receptions in the passing game.
All of these numbers would seem to indicate that the Cowboys would be wise to get Pollard more involved in the offense and begin to phase Elliott out, but word out of Cowboys camp continues to be that the team is fully in on Elliott. While they're excited about what Pollard can bring to the table, and perhaps he'll end up being the lead back in the future, it's going to be tough to imagine that Dallas opts to hand the keys to the backfield over to Pollard here in 2021.
With that in mind, the ever-converging ADPs of Elliott and Pollard doesn't seem to make a ton of sense. Sure, we may want Pollard to take over the backfield, but unless the team is in agreement, the best-case scenario looks to be more like what we saw from the Broncos in 2021 when Melvin Gordon and Javonte Williams were touching the ball almost equally each week. Both of those backs were productive and viable starters, but neither was a big difference maker primarily due to the other player.
Of course, if Elliott does go down with an injury, it's definitely Tony Pollard's time to shine. There's some value in that lottery ticket, but paying a sixth-round pick for a guy who's yet to even be hinted at as being the starter by his own coaching staff seems like it could end up being a decision that fantasy managers end up regretting.
WR CeeDee Lamb
(2021 WR Rank – No.14, 9.6 FPts/G)
It's hard to look at CeeDee Lamb's 2021 season and not be a bit disappointed. While he finished as the Cowboys' top wide receiver with 79 receptions for 1,102 yards and six touchdowns—all of which were an improvement over his rookie campaign in 2021—the way he got there just wasn't very exciting. He topped 10 standard scoring fantasy points just six times on the season while reaching 20 points just twice. Worse yet, his end-of-season numbers were truly abysmal as he finished with six straight games with below eight fantasy points, including the Cowboys' Wild Card playoff loss to the 49ers.

The downward trend on his season should have fantasy owners a bit worried as he heads into his third professional season, but the reality is that Lamb still has a lot going forward. Most notably, the Cowboys moved on from star wide receiver Amari Cooper this offseason, leaving behind a sizable portion of the team's targets from 2021. Additionally, wide receiver Cedrick Wilson left in free agency. Certainly, these targets won't all end up going to Lamb, but he stands to see the biggest increase, especially considering that the new receivers the Cowboys brought in are almost completely unproven. Perhaps best yet, the Cowboys will likely be without Michael Gallup (~17 percent target share) to start the season, leading to an even higher likelihood of targets coming Lamb's way.
We all love to see more targets coming the way of our receivers, but actual talent does still matter. While he hasn't broken out in the same way that Justin Jefferson did from the same class, Lamb is still just 23 years old and it seems likely that his best work is still in front of him. The Cowboys were the No. 1 offense in the NFL a season ago, so being the top dog in that situation makes Lamb a strong candidate for a real breakout season with potential league-winning upside.
WR Michael Gallup
(2021 WR Rank – No.84, 6.3 FPts/G)
The departures of Amari Cooper and Cedrick Wilson should benefit Michael Gallup perhaps more than any other player on the Cowboys roster, but after tearing his ACL late into the 2021 season, Gallup's early-season status is still very much in question. While some reports indicate that he might be ready as early as Week 1, it seems much more likely that we're going to be looking at him being a PUP candidate to start the season, and then he'll be eased into the offense before potentially being a full-go by mid-season or so.
While Gallup definitely has some big-time upside when he does get back on the field, drafting him in your fantasy league, especially if you don't have a designated IR spot, is very risky. Even if he does avoid the PUP to start the season, it's unlikely that he's going to be someone you're confident to start right away, especially if the Cowboys aren't giving him a full snap count. The worst-case scenario, of course, is that he could never even get back to full health.
The positive, of course, is that the Cowboys made the decision to re-sign Gallup after he suffered the ACL injury. A five-year, $57.5 million deal indicates that the Cowboys expect him to be a big part of their passing game going forward and he'll be given every opportunity to do it once he's back on the field. Even if another receiver on the team breaks out early in the season, Gallup should return to being the second wide receiver in the lineup when he's back on the field.
Gallup has averaged just over 50 receiving yards per game over his past two seasons with the Cowboys, but that's been while he's operated as the third wide receiver in the offense. When he was last the WR2 in Dallas, before the team drafted CeeDee Lamb, Gallup accumulated a 1,107-yard, six touchdown campaign in just his second season in the league. That type of per-game production is not out of the realm of possibility when it comes to Gallup as long as he's able to get back to full health.
The Cowboys wide receiver group saw a bit of an overhaul this offseason with the subtractions of Amari Cooper and Cedrick Wilson, along with a torn ACL from Michael Gallup. The two new notable additions are former Steelers wide receiver James Washington (foot) and rookie Jalen Tolbert.
It seemed reasonable to assume that Washington would be ahead on the depth chart to start the season, but a foot injury early in camp has put him on the shelf for possibly two months. Even when he comes back, keep in mind Washington has failed to reach even 400 yards receiving in three of his four years in the league. That lack of production should lead fantasy owners to lean more toward Tolbert if you're looking to take a late-round shot on a Cowboys receiver.
Tolbert is coming off of back-to-back collegiate seasons in which he exceeded 1,000 yards, including a 2021 season in which he went for nearly 1,500 yards and eight touchdowns at Southern Alabama. The competition might not have been great and that's probably a big part of why Tolbert went in the third round as opposed to earlier, but his downfield pass-catching skills are an interesting fit with the Cowboys and give him by far the highest likelihood of breaking out amongst Dallas wide receivers not named Lamb and Gallup.
TE Dalton Schultz
(2021 TE Rank – No.4, 7.6 FPts/G)
There was a hot debate heading into the 2021 season between those supporting Dalton Schultz and those supporting Blake Jarwin. Practically everyone agreed that the Cowboys' tight end position had some excellent potential heading into the year, but a split tight end situation is rarely great for fantasy production. Jarwin struggled to stay on the field for the second straight season which gave Schultz an opportunity to run as the unquestioned TE1 in Dallas.
Schultz responded by ending the debate, delivering the fourth-most fantasy points at tight end in standard scoring formats. His 808 receiving yards were sixth-most at the position and his eight touchdowns were fifth-most, narrowly finishing behind Mark Andrews, Travis Kelce, Hunter Henry, and Dawson Knox who all had nine touchdowns.
Now heading into his third season as the Cowboys' top tight end, there's some serious potential for an even bigger year from Schultz, particularly early in the year. The Cowboys losing both Amari Cooper and Cedrick Wilson, along with likely being without Michael Gallup to start the season, means that the team will really only have two pass catchers—CeeDee Lamb and Dalton Schultz—on the roster who have any real history of production in the NFL. Schultz finished the 2021 season with the sixth-most total targets at the tight end position and that was when he was competing with much better receivers for passes.
Don't expect a Travis Kelce-like season from Schultz, but an even higher target share in a good Dallas offense should lead to a high floor for those investing in him in fantasy. Schultz is a safe option who could be a legitimate needle mover this season, especially early in the year.