QB Tua Tagovailoa
(2021 QB Rank Ė No. 26, 17.5 FPts/G)
The Miami Dolphins will look a lot different this season, but one thing thatís not changing is the teamís leader behind center, Tua Tagovailoa. Tagovailoa has now started 21 games for the Dolphins throughout his first two seasons, totaling 27 touchdown passes with 15 interceptions and throwing for 4,427 yards. While his six rushing touchdowns have helped, those passing numbers just have not been enough to make him a viable weekly starting option in normal, single-quarterback fantasy formats.
The team did make significant changes this offseason, however, including adding superstar wide receiver Tyreek Hill. They did lose DeVante Parker, but the acquisition of Hill is perhaps the most significant non-quarterback move that any team made this past offseason. Hill immediately expands the teamís offensive versatility as heís perhaps the NFLís best deep threat since Randy Moss. While itís true that Tagovailoa has not been much of a downfield thrower thus far in his career, itís worth considering that he hasnít had the receivers to make that a consistently viable option. Weíve seen players like Josh Allen take huge steps forward when he got an elite downfield threat upgrade with Stefon Diggs so it would not be at all surprising to see Tua start chucking the ball down the field at a higher rate.
Even with the addition of Hill, the continued development of 2021 breakout rookie Jaylen Waddle, and the addition of former Dallas Cowboys receiver Cedrick Wilson, Tua remains a tough player to trust in single quarterback formats. Heís not much of a runner despite his six career rushing touchdowns and the Dolphins are likely to lean heavily on their running game, following the offensive philosophy that McDaniel will inevitably carry over from his days in San Francisco where he worked under Kyle Shanahan. Tagovailoa could be an interesting option in two-QB or superflex formats, however, as he will unquestionably have the best weapons of his career and he narrowly missed out on being a top-24 option in 2021.
RB Chase Edmonds
(2021 RB Rank Ė No. 37, 8.5 FPts/G)
With Mike McDaniel taking over as head coach after spending the past five years in San Francisco, it shouldnít be surprising that the Miami backfield looks like a complete nightmare for fantasy purposes. The fantasy football graveyard is littered with the broken dreams of managers whoíve tried to predict where that backfield was headed. The 49ers consistently rostered numerous viable options and many times the players who consensus thought would lead the backfields end up being completely worthless, and vice versa.
The Dolphins backfield looks a lot like those situations headed into 2022, with Chase Edmonds, Raheem Mostert, Sony Michel, and Myles Gaskin all having a realistic chance of scoring significant fantasy points. Certainly not all of them will be able to do it, but like what we saw in San Francisco, this could easily be a situation where the team rotates around, utilizing the ďhot handĒ approach and causing headaches for those whoíve invested draft picks in any of these players.
If weíre going to take a stab at predicting the backfield, it makes sense to start with the teamís financial investment in each player. The Dolphins had already rostered Gaskin and Salvon Ahmed, but they brought in Mostert and Michel on relatively team-friendly deals while giving Edmonds by far the biggest contract in the backfield. While that alone doesnít mean that Edmonds will step in as a bell cow back in 2022, it likely means that the coaches would need to see someone else step up in a big way to supplant him as the teamís top running back.
Edmonds spent the first three years of his NFL career primarily playing a complementary role to David Johnson and then Kenyan Drake in Arizona. He never reached 100 rushing attempts or 500 yards on the ground until 2021 when those two backs were gone. While the Cardinals brought in James Conner who then far out-scored Edmonds, itís worth noting that Edmonds played in just 12 games and much of the out-scoring that happened was due to role, as Conner was the teamís red zone back, which allowed him to score a ton of touchdowns in a very good offense. What those fantasy totals donít tell you is that Edmonds was actually quite a bit more efficient than Conner as he averaged nearly a yard and a half more per carry.
Edmondsí best asset is not his between-the-tackles running but rather his ability in the passing game, where heís caught 96 passes over his past two seasons. He delivered these totals despite playing with one of the leagueís most elusive runners at quarterback, which rarely leads to many pass catching opportunities for running backs. A move to Miami and a chance to play with a more traditional pocket passer in Tagovailoa should actually allow Edmonds to have even more opportunities to make plays in the passing game, which should give him the inside edge to be the top-scoring back in Miami. Still, fantasy owners should go into the season expecting some frustration from Edmonds as it would not be surprising to see him lead the backfield in touches only for some other back to come in and steal some of his touchdowns.
RB Raheem Mostert
(2021 RB Rank Ė 147, 2.0 FPts/G)
While Miami is financially most invested in Edmonds among the players in this confusing backfield, itís interesting to note that new Dolphins head coach Mike McDaniel has first-hand experience with only one of them, that being Raheem Mostert. Mostert and McDaniel were both in San Francisco for the past five seasons and now they join up again in Miami, this time with McDaniel being the one calling the plays.
Mostertís run with the 49ers will be remembered by countless big plays, but also with numerous injuries that kept him from ever really becoming the teamís primary back for any extended period of time. Mostert was poised to be that player heading into 2021, but he suffered a knee injury that ended his season in Week 1. Certainly, there have to be injury concerns when youíre drafting a player like Mostert for your fantasy squad, but if his own former coach is willing to take the chance on him again, it seems likely that heíll be given at least some sort of an opportunity to get on the field here in 2022.
Assuming heís fully ready to go for Week 1, expect that Mostert will have a role right away. With Edmonds being a much more proven and effective pass catcher but lacking in between-the-tackles rushing ability, perhaps a direct complementary role would be best for Mostert. This could be similar to the role played by James Conner as Edmonds' complement in Arizona this past season. Donít expect that crazy touchdown efficiency, of course, and there will almost certainly be other backs who see the field, but Mostert has the potential to lead this backfield in carries in 2022 and thatís worth taking a shot on in the double-digit rounds where heís currently being drafted.
RB Myles Gaskin
(2021 RB Rank Ė 28, 7.4 FPts/G)
Running backs Myles Gaskin and Salvon Ahmed are carryovers from the previous regime and while they have history with the franchise, the team is not exactly heavily invested in either of them going forward. That has to be the primary concern for both players at the moment, as the Dolphins could easily move on from one or both of them prior to the regular season kicking off.
Right now it would appear that Gaskin is more likely to make the roster than Ahmed given that heís been the significantly more effective back between the two, even though neither player was very impressive in 2021. Gaskin averaged just 3.5 yards per carry which is terrible, but it looks like monster production in comparison to the horrendous 2.8 yards per carry that Ahmed delivered. Of course, much of that was due to a terrible run blocking from the offensive line in front of them, but neither player was good enough to guarantee themselves a roster spot heading into this season.
If Gaskin does make the roster, it will likely be almost as an insurance policy for Edmonds. Gaskin hasnít been an effective runner thus far in his NFL career, but heís quietly caught 90 total passes over his past two seasons. That kind of production in the passing game has kept a lot of players floating around the league for way longer than they otherwise would have and Gaskin could be the next player on that list.
In the scenario that Edmonds does get hurt, Gaskin could absolutely deliver some fantasy-relevant weeks, but itís tough to think of a scenario where he steps in and leads this backfield in 2022 like he did this past season. In fact, if he does end up seeing significant touches, itís almost certainly going to be because one or more of the other Dolphins backs got hurt, or because heís on a new roster to start the regular season.
Keep an eye out on this situation as the preseason and regular season inch closer. If we start to hear grumblings that the Dolphins are interested in moving on from him, thatís probably a good sign for his fantasy value in 2022.
RB Sony Michel
(2021 RB Rank Ė 27, 7.5 FPts/G)
Former first round NFL Draft pick Sony Michel spent his first three seasons with the Patriots before being traded to the Rams prior to the start of the 2021 season. Michel would go on to lead the Rams backfield with 208 carries after injuries to both Cam Akers and Darrell Henderson led to him shooting up the depth chart. While Michel was not particularly efficient with his touches and he remains a low volume pass catcher, he was obviously good enough to spark the interest of the Dolphins who signed him this offseason.
Michelís contract is not nearly that of Chase Edmonds or even Raheem Mostert, but itís one that almost guarantees that heíll make the roster based on how itís structured. The team would save very little money by cutting him before the start of the season, so the chances that another back like Ahmed, Gerrid Doaks or ZaQuandre White makes the roster over him are very low. If one of those players ends up being on the 53-man roster, itíll almost certainly be due to injury or because the team moves on from Gaskin.
This roster security makes for an interesting fantasy situation as Michel has not proven to be a great pass catching back and is instead similar to Mostert as a more traditional ball carrier, only with less explosiveness. A Dolphins backfield consisting of Mostert and Michel being the primary runners with Edmonds getting around 100 carries on the season and being the teamís primary passing down back seems to make a lot of structural sense.
Assuming everyone stays healthy, Michel wonít start the season as the teamís top back. This backfield is full of players with long injury histories, though, and it just seems like there will eventually be an opportunity for him to lead the backfield this season. Heís been effective as a multi-week fill-in before, so donít be surprised if that happens again.
WR Tyreek Hill
(2021 WR Rank Ė 7, 11.0 FPts/G)
Elite-level wide receivers moving to new teams has been a surprisingly common occurrence in recent years, but this offseason was unlike any other as studs like Davante Adams, A.J. Brown, Amari Cooper, and Allen Robinson all found new homes. But perhaps none was more surprising than when Kansas City decided to trade Tyreek Hill to Miami.
Now in his new home with the Dolphins, Hill will no longer be playing with a certified generational quarterback in Patrick Mahomes. Heíll now be tethered to Tua Tagovailoa who, despite having valid excuses, has not been particularly great through his first two professional seasons.

Hill immediately injects dynamite into the Dolphins offense as heís perhaps the leagueís quickest player and heís been one of the most explosive downfield playmakers for many years now. While Mahomesí cannon of an arm made for more exciting big plays, itís worth noting that Hill was actually still pretty effective prior to playing with Mahomes. Hill went for nearly 1,200 yards and seven touchdowns in his second professional season with Alex Smith, a notoriously safe and low depth-of-target passer, behind center.
Hill was considered by most to be a top two fantasy wide receiver heading into the 2021 season and while he finished seventh at the position, he was a slight disappointment overall. Heís now being selected around the fifth to eighth wide receiver off the board, which doesnít give him a lot of opportunity to outperform that ADP. Itís tough for receivers to make a transition to a new offense and weíve seen it take many weeks or even a full season for them to get completely acclimated in their new environments.
With numerous other viable pass catchers and an offensive philosophy that is likely to be more run-heavy than what he experienced in Kansas City, Hill is going to need to up his efficiency in order to deliver the fantasy production to match his draft day cost. Heís not going to completely burn you given the target share heís likely to see, but understand that heís also unlikely to produce the same type of numbers that we saw from him during his top years with the Chiefs.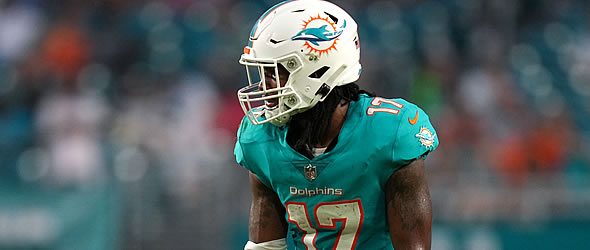 WR Jaylen Waddle
(2021 WR Rank Ė 20, 9.0 FPts/G)
Wide receiver Jaylen Waddle was a controversial pick when the Dolphins selected him in the first round of the 2021 NFL Draft. The stylistic comparisons to his college teammate Henry Ruggs did him no favors, but Waddle was also coming off of a final season at Alabama in which he played just six games. Miami was in desperate need of pass catching weapons, though, so they pulled the trigger and thankfully for them it worked out. Waddle was one of the draftís most productive offensive playmakers as he was one of just 10 players, and the only rookie, who reached 100 receptions in 2021. Waddle proved himself to be a playmaker at the NFL level and he has fully recovered from the injury he sustained in his final collegiate season.
Now heading into his second season, Waddle looked poised to take another step forward as Miamiís top pass catcher. The team moved on from veteran DeVante Parker and an even higher target share was in the cards for Waddle. However, the Dolphinsí acquisition of Tyreek Hill now makes things quite a bit more volatile for the second-year wideout.
Waddle was a fine fantasy producer as a rookie but he primarily did it with volume and not with efficiency. His 9.8 yards per reception ranked outside the top 100 among all pass catchers. While we should expect that he will see an uptick in per-catch efficiency in 2022 due to the overall team offensive upgrades, Waddle will certainly find himself having to compete with Hill for targets. Both players finished in the top 16 among all wide receivers in total share of their teamís targets in 2021, with both finishing at just over 25 percent. Itís theoretically possible that we could see them both finish around that range, as we saw with Seattleís duo of DK Metcalf and Tyler Lockett in 2021, but that was on a team that had practically no other pass catching weapons on the roster. The Dolphins may not be the most stacked roster ever, but they brought in Cedrick Wilson from the Cowboys and they still have Mike Gesicki along with a couple of effective pass-catching running backs on their depth chart.
Whatís more likely to happen is that both Hill and Waddle see a bit of a dip in their total target share from 2021 and that could also be accompanied by a lower total team pass attempt rate. The Dolphins threw the eighth-most total passes in 2021, while the 49ers were all the way down at 31st. Mike McDaniel was not directly calling the plays for San Francisco, but certainly his offensive philosophy will be more similar to that of Kyle Shanahan than what we saw from the previous regime in Miami.
All of this isnít to say that Waddle canít return fantasy value this season, but heís going to need to do it with increased efficiency and likely a higher receiving touchdown number than the six he scored in 2021. Waddle finished as the WR12 in PPR scoring this past season and 20th in standard scoring leagues. Heís being drafted around those ranges in each format, so, like Hill, heís likely being selected closer to his ceiling than his floor. Nevertheless, heís a relatively safe option given his role as a low-depth-of-target weapon in the offense.
TE Mike Gesicki
(2021 TE Rank – 13, 5.3 FPts/G)
Dolphins tight end Mike Gesicki narrowly missed finishing the 2021 season as a low-end TE1 for fantasy, but he's actually being selected above that spot in most drafts this offseason. This is a bit confusing given that no player was more affected by the additions of Tyreek Hill, Cedrick Wilson and Chase Edmonds than was Mike Gesicki.
Gesicki is technically a tight end, but he's one of those players who's spent most of his time playing out of the slot rather than lining up as a traditional on-the-line tight end. In fact, he led all NFL tight ends in snaps out of the slot this past season and he finished third in total routes run. With the signings of those other players, though, one has to assume that Gesicki is going to be asked to play inside more often and perhaps line up as a traditional blocking tight end much more often than he has throughout his run in Miami.
The obvious case for Gesicki moving up the tight end rankings is, of course, his lack of luck in the red zone. Gesicki scored just two touchdowns in 2021 after scoring six and five touchdowns in his previous two seasons. If he scored just four more touchdowns on the season, Gesicki would've shot all the way up from finishing as the TE13 on the year to the TE7. He would've been within three points of being a top five producer at the position for the season.
Like other pass catchers in this offense, though, for Gesicki to return fantasy value, he's going to need to be more efficient on a per-target basis. He certainly has the physical skill set to do that and it stands to reason that the Dolphins will have more red zone opportunities this season than they did a year ago. Still, Gesicki's volume is almost certainly going to go down from where it was in 2021 now that he is dealing with much better teammate competition.
Normally these concerns would be a red flag for fantasy purposes, but the reality is that after about the top five tight ends or so, you're looking at a ton of volatility at the position and not a huge investment. Like most tight ends, Gesicki will likely have his weeks where he looks like the next big thing at the position and then he'll completely dud out in three of his next four contests. That's just the life of being a non-elite fantasy option at the position.