QB Mac Jones
(2021 QB Rank – No.18, 17.1 FPts/G)
Mac Jones was the laughing stock of many pre-draft podcasts but it'd be tough to deny that he was the best rookie in what was a stacked 2021 first round quarterback class. Unfortunately, despite the fact that he was a productive NFL quarterback, he wasn't so great as a fantasy QB as he finished 18th at the position for the season. That was even worse if you look at points per game, as Jones finished 28th among QBs who played in six or more games, behind the likes of Trevor Siemian, Teddy Bridgewater and Sam Darnold.
Certainly, another year should lead to more trust from his coaching staff and a potentially opened up playbook, but the Patriots are still severely lacking in playmakers. Their best receiver, Jakobi Meyers, is returning but the team's offseason changes at wide receiver included adding veteran DeVante Parker and drafting Tyquan Thornton in the second round. While those moves should make some difference, it's still minimal in the grand scheme of things and Jones lacks the mobility to be a difference maker in that aspect of the game.
Jones is a quarterback who really shouldn't be drafted in anything other than two QB or SuperFlex leagues and even then, he should be at the back-end of the QB2s. Hopefully the Patriots will make some additions next offseason, but this year is not when you want to be investing in the Patriots QB.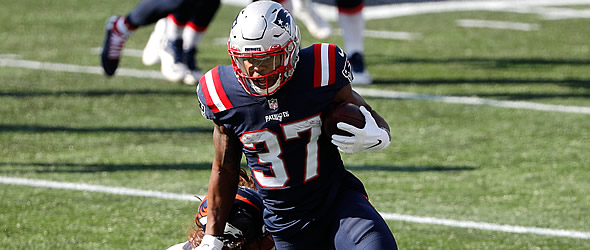 RB Damien Harris
(2021 RB Rank – No.9, 13.1 FPts/G)
Jonathan Taylor led the NFL with 18 rushing touchdowns in 2021, but do you know who finished tied with James Conner for second-most with 15? Yep, that'd be the Patriots' Damien Harris. Harris carried the ball just 202 times on the year - the exact same amount as Conner - but he actually finished with 127 more yards on the ground. Despite his production, Harris was still left splitting carries with Rhamondre Stevenson and even Brandon Bolden.
With James White missing most of the season, Harris had his chance to prove that he could be a reliable receiving option out of the backfield, but that simply didn't happen. Instead, Harris barely exceeded one catch per game and instead it was Bolden who led the Patriots backfield with 41 catches. White re-signed with the Patriots this offseason which only serves to further muddy up this already crowded backfield while ensuring that Harris won't be able to make significant strides forward in the passing game.
He finished ninth among running backs in non-PPR scoring in 2021, but Harris has a tough task ahead of him if he hopes to repeat that type of performance. Not only would he need the Patriots to continue with their run-heavy offensive philosophy as a whole, but he'd also need to repeat being one of the league's top touchdown scorers. Certainly, New England has a history of making one back into their "goal line" specialist and there's no reason to think that Harris won't continue being that, but even that role has its limitations.
Expect Harris to be a solid standard scoring RB2, but he could be frustrating to own at times, especially in PPR formats, when he doesn't get into the end zone.
If you're not interested in Damien Harris for fantasy, may I offer you…Damien Harris who doesn't score touchdowns?
Stevenson had his moments as a rookie in 2021, but he primarily served as a clone to Damien Harris, even matching Harris' 4.6 yards per carry on the ground. Both players finished with fewer than 20 catches, and with only five scores on the season, Stevenson just wasn't much of a weekly contributor outside of deep non-PPR formats.
Heading into his second season, Stevenson should pretty much be looked at as a handcuff for Harris. This scenario certainly has some value as he'd become a borderline RB1 without Harris on the field, but Stevenson just doesn't have enough standalone value to be enticing for fantasy this season.
WR Jakobi Meyers
(2021 WR Rank – No.44, 6.2 FPts/G)
New England's passing game was among the least exciting in the league in 2021, but Jakobi Meyers has to be the NFL's most disrespected team WR1. Meyers caught 83 passes for 866 yards this past season which isn't anything spectacular, but his 126 targets were almost identical with Ja'Marr Chase, DK Metcalf and Terry McLaurin. The main difference, of course, is that those players make their money down the field while Meyers is more of a close-to-the-line-of-scrimmage pass catcher. Still, all three of those receivers are being selected among the top 20 receivers in fantasy drafts, while Meyers is slipping into the 50s at his position.
It's true that Meyers lacks the massive upside of the players mentioned above, but he's being drafted close to the likes of D.J. Chark, Tyler Boyd and rookies like Jameson Williams, Christian Watson and Skyy Moore. His floor is so much higher than those players that it's hardly comparable and his upside isn't much lower than them either. He's an excellent late-round value and someone who should be targeted, especially if you go RB-heavy early in your draft and end up needing to find a solid WR3/4 late in your draft.
WR DeVante Parker
(2021 WR Rank – No.70, 7.1 FPts/G)
The Patriots' biggest offensive weapon acquisition of the offseason directly affects one of their division rivals as they signed wide receiver DeVante Parker who had previously spent seven seasons with the Dolphins. A 1,200-yard receiver in 2019, Parker has not ever reached even 800 yards in any other season. Some of that was due to injuries and mediocre quarterback play, but a lot of it has simply been due to lack of progression as a receiver.

Certainly, Parker is a talent upgrade from what the Patriots were trotting onto the field on the other side of the field from Jakobi Meyers in 2021. The team's second-leading wide receiver a year ago was Kendrick Bourne whose 55 receptions for 800 yards and five touchdowns are really nothing to be excited about for fantasy purposes.
Unfortunately for Parker, the team didn't even move on from Bourne and they still also have Nelson Agholor on the roster, who himself went for nearly 500 yards. He's likely going to be the team's primary red zone weapon which could have some value, but this is a team that loves to run near the end zone anyway, so he's probably not going to be a consistent touchdown scorer anyway. Parker could have his weeks, but he'll likely be extremely frustrating to own like he has been throughout most of his career.
TE Hunter Henry
(2021 TE Rank – No.6, 7.1 FPts/G)
The 2021 offseason saw the Patriots bring in two new tight ends when they signed both former Titans tight end Jonnu Smith and former Chargers tight end Hunter Henry. Fantasy owners didn't know how to predict the situation as both players were relatively productive with their previous teams, but neither had really broken out as a truly top-level tight end and both had injury concerns. As it turned out, Henry was the far better option as he essentially doubled Smith's receptions and receiving yards while also out-scoring him nine to one.
Henry's dependence on touchdowns allowed him to finish tied with Mark Andrews for the most scores at the tight end position in 2021, but it also made him an extremely volatile player to own. That's nothing out of the ordinary as many tight ends are volatile, but now there's even more competition for him to try to fend off for red zone targets after the Patriots signed DeVante Parker.

Henry will likely be a borderline TE1 for fantasy again this season, but don't expect another league-leading touchdown season from the veteran.