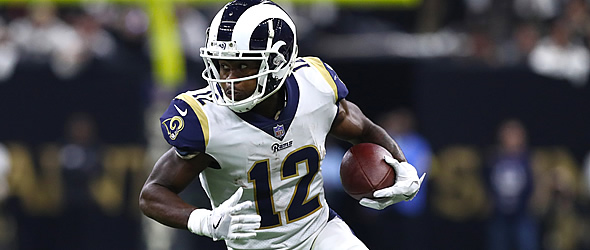 Cooks is good enough to improve your offense but not elite enough to cripple it when he leaves.
Now on his third team in four years, is it safe to say Brandin Cooks is approaching journeymen territory? This typically pejorative moniker usually doesnít apply to guys still in their prime (27), have played in two of the last three Super Bowls, and have been traded for a total of two firsts and a second. So whatís the deal? How is it that an impact receiver who has four 1,000 yard seasons in his six-year career canít seem to stick on a team long enough to play out a contract? Letís take a closer look at the newest Houston Texan.
Letís just be honest here, Cooks has put together a solid career catching passes from Hall of Fame quarterbacks (oh and Jared Goff too), but is nowhere near the well-rounded receiver and technician that DeAndre Hopkins is. Cooks is a burner (with a little more versatility than he gets credit for) but Hopkins is an All-Pro with some of the best body control and hands Iíve ever seen. Cooks to his credit has put up numbers despite the frequent change of scenery, and does find himself in a position to flourish once again, but there are some serious red flags that have fantasy implications.
Cooks is a strange case that Iím not sure weíve seen in recent memory. He seems to be sought after and expendable at the same time. Three teams have dealt him within three years of him being with the team, but three more teams have been there to pony up high round picks to acquire him. So what exactly does Cooks bring to his newest team? Honestly, nothing they donít already have. Houston is chock full of deep threats that struggle to stay healthy. Kenny Stills and Will Fuller are suited to stretch the field. Hopkins gave the offense its sideline/crossing route threat, and was an elite option in the red zone. Cooks has never been a high reception guy (his career high is 84) and despite some solid seasons, seems best suited as a complementary piece, rather than a lynchpin. Heís been dealt so many times because heís been seen as a replaceable talent. Someone good enough to improve your offense, but not elite enough to cripple it when he leaves.

By far my biggest concern with Cooks is his recent concussion history. A serious head injury in the Superbowl two years ago was followed up with several last season. He missed Weeks 9-11 last year, even seeking out special medical advice during the Rams bye week. Sure his numbers were down in 2019, but the entire Rams offense was a dysfunctional mess most of the year so I can chock that up as an outlier for his career. Frankly Iím shocked the Rams were able to dump most of his salary AND recoup an important 2nd round pick. With the recent pandemic itís unlikely Houston could have done a deep dive on Cooksí medicals.
The bottom line here is that Cooks isnít just going to slot in and soak up all of Hopkinsís production. With the entire offseason in jeopardy itís going to be awhile before Watson and Cooks can start building meaningful chemistry, and Iím deathly afraid that the next head injury costs him months rather than weeks. If you can guarantee me he plays 14+ games, there is no doubt in my mind he can be a WR2 in fantasy. With his down year and injury concerns, Iím sure Cooks takes a tumble in drafts this summer. Just remember, he is the 1a option on an offense with an elite quarterback and has more of a chance at being a gigantic bargain than a colossal bust.